Basketball England have helped Let's Do More (LDM) Basketball renovate a court in the heart of one of the countries' busiest cities as part of the #ProjectSwish initiative. 
The outdoor court at the Mandela Community Centre in Chapeltown, a mile from the centre of Leeds, had fallen into a state of disrepair. As a popular spot for LDM to host training sessions and community activities, action was needed. 
Loran Lewis, Founder and Director for LDM said: "We wanted to get more people playing basketball but the facilities were dire, they hadn't been refurbished in over 30 years and it was about time something got done." 
Getting to work
After consulting with people in the community, Lewis got to work - but not before he had taken inspiration from one of Basketball England's other court projects. 
"I saw the project that had been done at Duchess Road in Sheffield last year," he said. "I contacted Peter Griffiths at BE and asked if we could do something like that in Leeds. 
"After that we did a GoFundMe page to try and raise the money needed, then lock down happened which delayed things further, but then we got going." 
With 13 young volunteers happy to dedicate their time to the project and assistance from Leeds City Council, Lewis found one more Leeds native willing and able to help give the court a striking and fitting new look.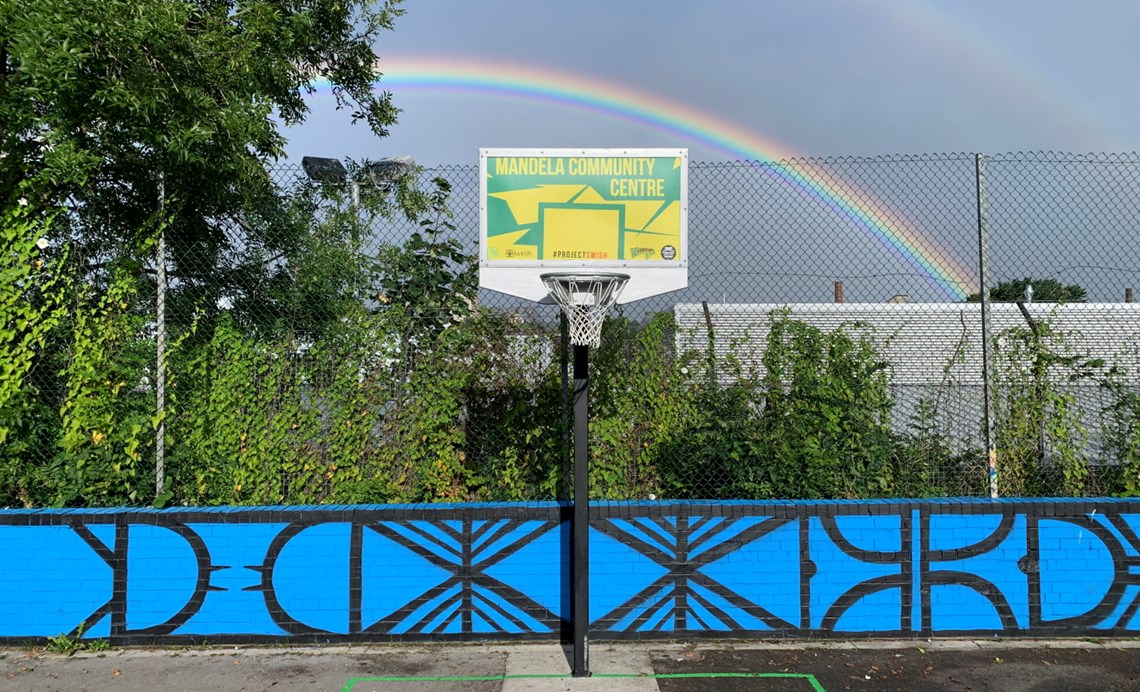 Finding inspiration
Marcus 'Hyro' Browne is a local player and a talented spray paint artist and was more than happy to give the court a distinctive face lift.  
"I lived in the area, and this felt like a natural fit. I've played on this court as a youngster and it's been neglected for a long time," said Browne. 
"When I heard there was a chance to refurbish it and give it a breath of new life, I jumped at it and was happy to be involved." 
Browne researched Nelson Mandela, his Madiba tribe in South Africa and their language. That got the creative juices flowing and allowed Browne to design something truly unique. 
"Ubuntu, meaning humanity, was a word that jumped out to me, and looking into African murals and culture and heritage I found a font, designed from symbols, before putting the two together. 
"I used the letter P from that particular alphabet for the backboard designs as I thought it was very striking and fitting for Mandela, as he was a prisoner for a big part of his life, and then a president as well."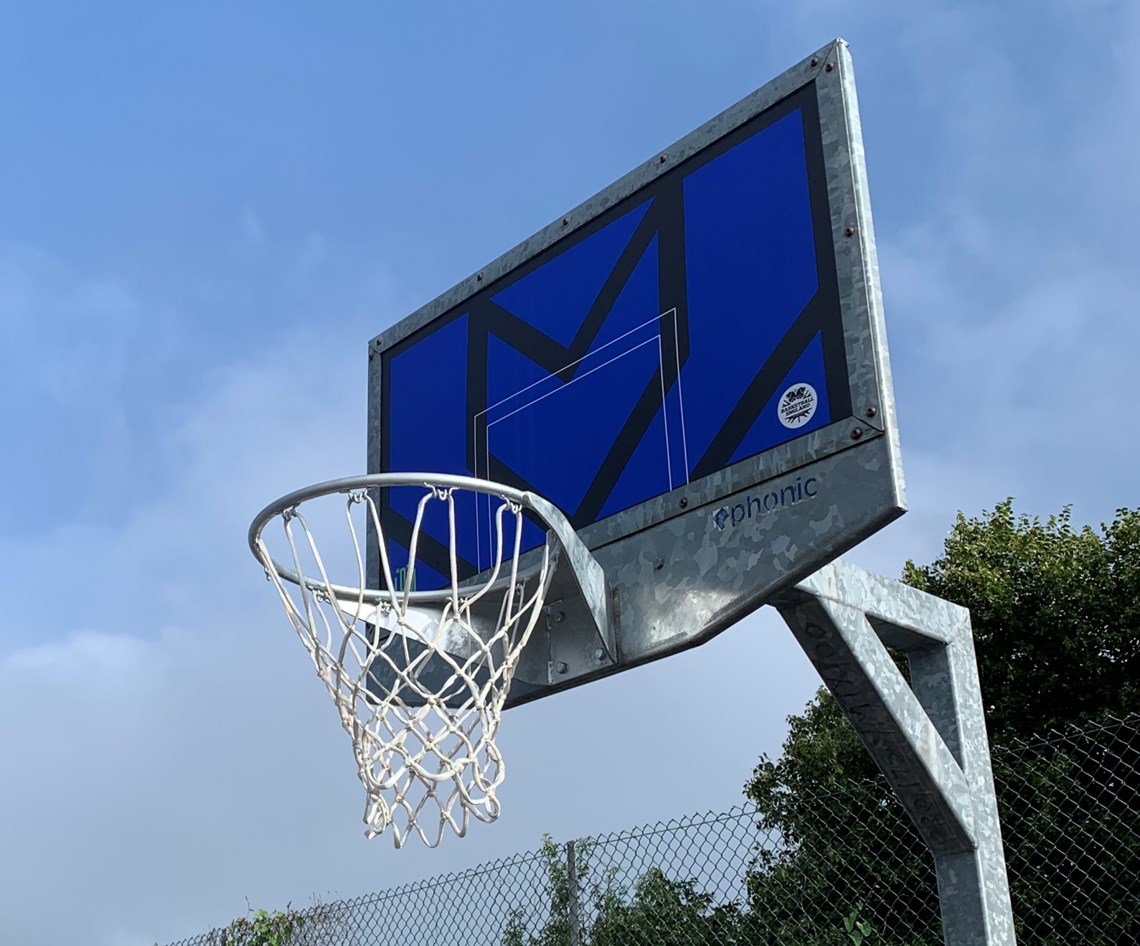 Another success for #ProjectSwish
The result is a finished space that catches the eye and is sure to inspire local players to pick up a ball and get involved. For Basketball England, the project was a logical one to get involved with once Lewis reached out. 
"I heard from Loran that he was interested in renovating the Mandela Court, and through the work he'd already done to raise some funds and find people to help, we were able to offer some advice and assistance to get the project off the ground," said Basketball England's Interim Chief Operating Officer Peter Griffiths. 
"Even with a small amount of input, we were able to help him make a big impact.  
"From our research through #ProjectSwish, over half the courts we've seen don't have line markings. But our research also suggests that lines are something the majority of outdoor players want to see. 
"Helping LDM and Loran to put some markings down and freshen up the Mandela Court was a great first step, and the community is sure to see the benefit."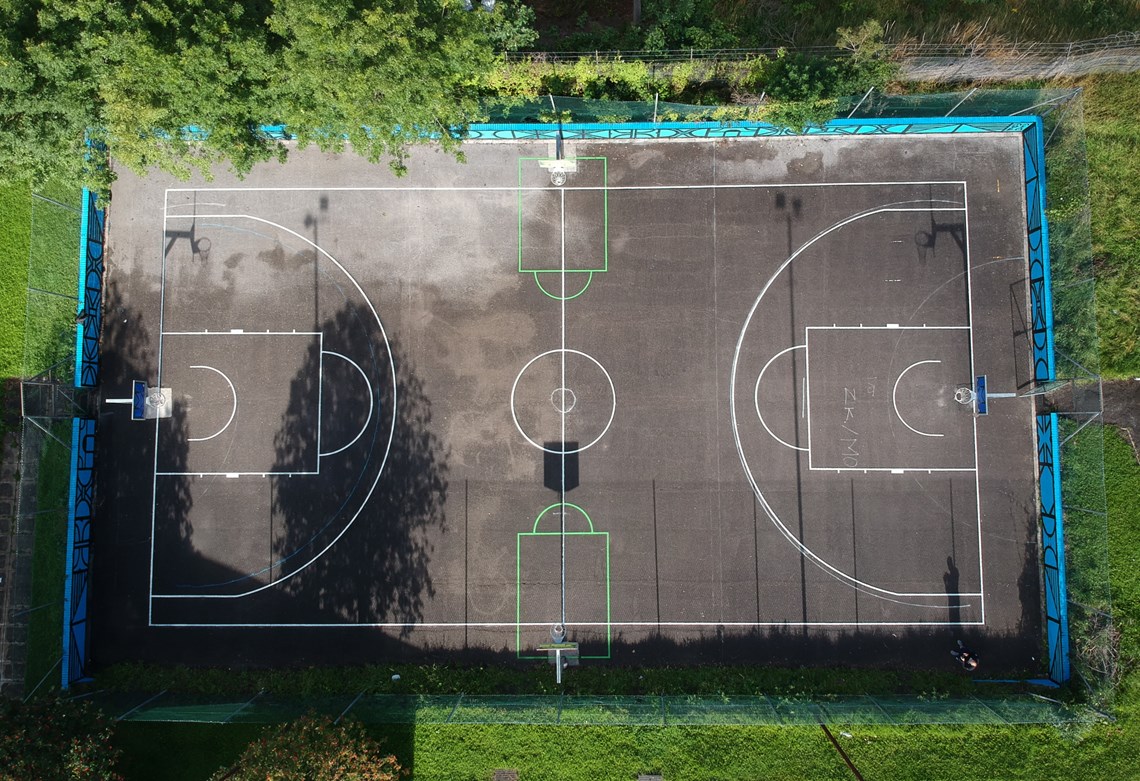 Looking to the future
Following the success of the project, the Mandela court represents the beginning of a journey rather than the end for both Lewis and Browne.
"There's still a lot of work to do. There are not enough courts in Leeds with lines on. I'm under no illusion that we're finished, there's still work to do," said Lewis, who also runs sessions in other parts of the city. 
"This is phase one for me," Browne added. "This is like the framework. In phase two, I want to blast this court with colour, greens, reds, yellows, and work with the court design. Injecting colour into things will make this so vibrant and take things another step forward." 
Basketball England collaborate to help facilitate outdoor court projects, working with court owners, local authorities, funding bodies, clubs, communities and organisations who want to develop outdoor spaces for basketball, as part of the #ProjectSwish initiative. For more information, please use the buttons below.
.