As NBL awards week concludes, we have NBL Division One in our sights as MVP, Team of the Year and Coach of the Year are all revealed. Plus, we announce which team has won the Game Day Experience award for 2019/20.
We'll continue to reveal the winners throughout the day, congratulations to all those chosen!
MVP
It has been an incredible campaign for Team Solent Kestrels and it's no surprise that influential point guard Ian Smith has been given the nod by his fellow teams as the league's MVP.
Smith took the league by storm in his debut season, putting up a stat line of 18.8pts/6.6reb/6.4ast (EFF:24.7) after moving over from NCAA DII programme Northern State University.
Smith finished top of the MVP voting and some way ahead of the chasing pack, providing just how much of a difference maker he was in D1M this year.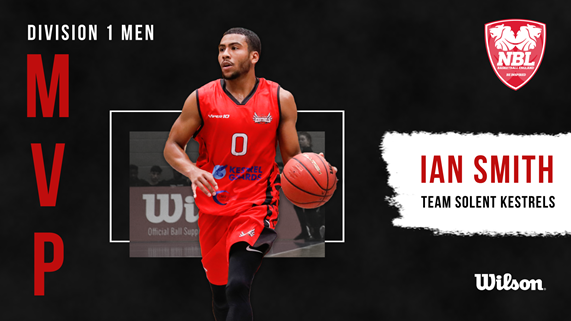 Ian Smith: "It's an absolute honour to be receiving this award! A huge thank you goes to everyone that played a role.
"From management to the coaching staff, my teammates, the fans, to friends, family & my faith, this isn't possible without all of them. I don't get this without having the best teammates in the country!
"It is an honour to be able to play for an organisation like the Solent Kestrels and bring home an MVP award. Thank you to the whole Kestrels Family."
Team of the Year
Using the MVP voting from across the league, we've assembled a team of the year for D1M.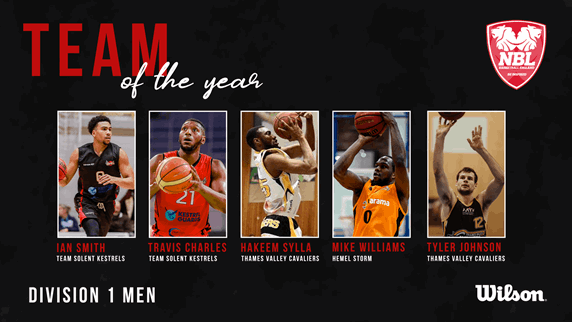 Coach of the Year
After helping Team Solent Kestrels to a fantastic unbeaten season, it will surprise no-one to see that the man behind it all, Matt Guymon, has been selected as the D1M Coach of the Year.
Guymon has not only navigated the side to D1M glory, but he also orchestrated a run to the BBL Trophy Final plus success in the National Cup back in February as Solent beat Reading 90-67.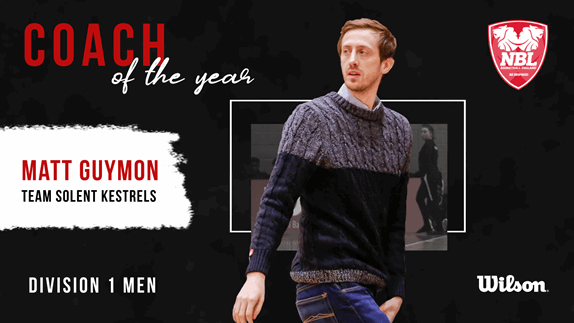 Matt Guymon: "This has been a historic season for our club and I'm honoured to receive this award. The group of players we had this year were unselfish and focused, with each player committing to what was best for the team which was a pleasure to be a part of.
"I want to say a huge thank you to our coaching team (Jack O'Keeffe and Adam Sewell) who have been instrumental in our success, they truly are some of the best in the business.
"Finally, I want to acknowledge James Matthews (General Manager) & Matt Bishop (Chairman) who go above and beyond for the players and coaching staff to create one of the best environments in the country." 
Game Day Experience
Hemel Storm
As one of the league's most well-loved arenas, Hemel Storm's "StormDome" continues to stand out as a quality venue to take in a game of basketball. Packing in the fans, providing value for money plus a quality atmosphere has seen the Storm selected by fellow D1M sides as the #1 game day experience in the division.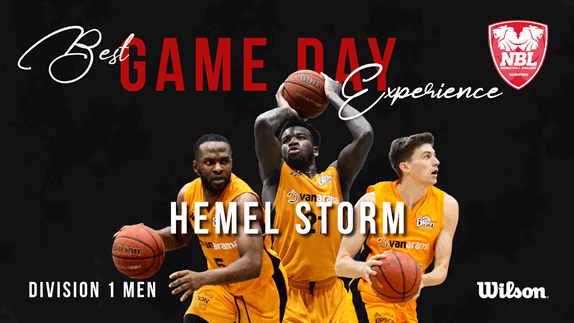 Hemel Storm Chairman Tony Humphrey: "I am so proud that Hemel Storm have been voted the best game day experience for this past season. It means a huge amount to us that visiting teams and their fans feel so positive about visiting the StormDome.
"This year has seen record crowds at our games and that means that each of our army of match night volunteers have worked harder than ever before, often missing most of the game to help others.
"This award is for each and everyone of those guys who make sure that watching basketball at Hemel is such a wonderful and safe experience for all the family."