The top tier of the women's game in the NBL provided quite the spectacle this past year, with teams battling hard no matter where they were in the standings to provide some seriously enjoyable basketball. As we continue our NBL awards week, we've got some worthy winners from across D1W and we'll reveal them throughout the day.
Congratulations to all those chosen!
MVP
After a series of incredible performances regardless of opponent and countless D1W player of the week awards, it was difficult to see anyone other than Ipswich's Harriet Welham taking the league's MVP award.
Now the votes have been counted from the teams and coaches across the division, Welham was a near unanimous choice after putting up some seriously eye-catching stats. Averaging 30.9pts/9.2reb/3.6ast/2.4stl across 17 games, Welham finished with an efficiency rating a touch under 30, at 29.4.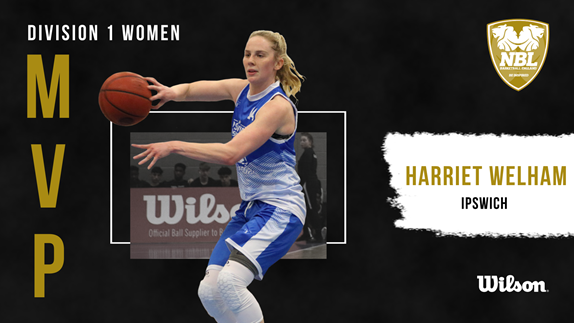 Harriet Welham: "It's a massive privilege to win this award, there are some great players in this league, but it's not just me that's won it, it's the whole team. We've had such an up and down season, battling injuries and only having a full squad for a handful of games but for me personally it's been one of the best and most enjoyable.
"I watched a young group of players grow up into incredible players and even better people, I've watched Danni [Cazey] have the season of her life, we've had Coco [Leung] which has been a major game changer for us and we welcomed Grace [Sinnott] back into the family.
"I must finally thank my Mum and Dad, as well as the rest of my family. It's ten years and counting and I don't think they have missed a game yet! None of this happens without them.
"We might not have won the league the way we wanted to, there were still games to play and battles to be won but its great for us and our programme to get the recognition, and what a better way to celebrate than dedicating it to the NHS staff."
Team of the Year
Using the MVP voting from across the league, we've assembled a team of the year for D1W.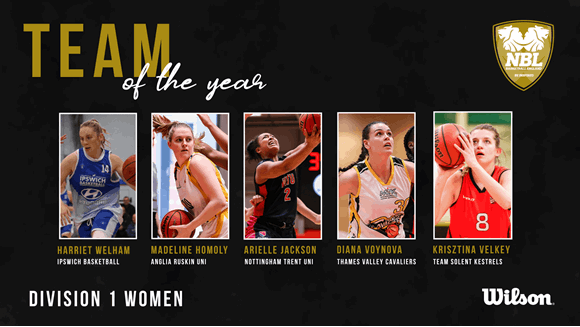 Coach of the Year
As Anglia Ruskin University continue to be a force in D1W, Michael Hanson-Morris has been recognised as league's Coach of the Year.
ARU have managed to claim the last two Playoff Finals, winning it all in both 2017/18 and 2018/19, and they will no doubt be disappointed that they couldn't go for a triple in 2019/20. The club did manage to claim the Women's National Cup back in February, beating Nottingham Trent University 90-80 to add yet more silverware to the Rhinos' collection.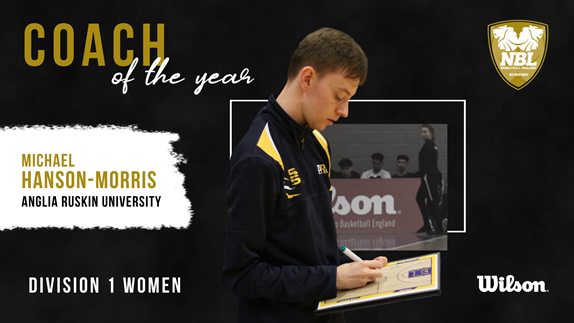 Michael Hanson-Morris: "It's a huge honour to win this award especially because we have so many great coaches in the league. 
"This season was defiantly a unique one for so many reasons but it was a privilege to coach such a great group of people as well as players.
"This is most defiantly a team award and so alongside the players, a massive thanks must go to Matt [Harber, assistant coach] for his consistent support and our outstanding physio team of Richard and Molly who we managed to keep busy all season long!"
Game Day Experience
Team Solent Kestrels
After settling into their new surroundings at the Solent Sports Complex, the Kestrels have set about ensuring that all their fans enjoy their hit of basketball action whenever the team is defending home court. Their efforts have certainly been noted by the other teams across the division as well as they grabbed the Game Day Experience award.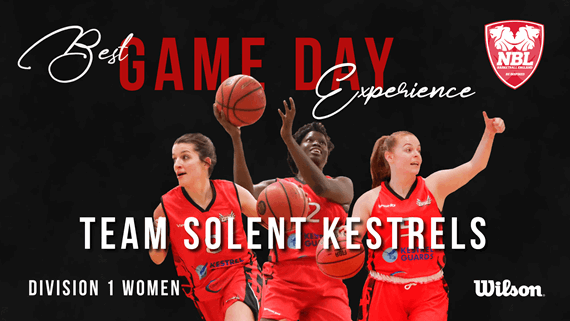 Team Solent Kestrels Chairman Matt Bishop: "I'd like to pay tribute to the many volunteers and club officials we have at TSK who have made this possible. For me as Chairman, to be recognised as providing the best game day experience by your opposition is the best award you can ask for as it shows you're doing something right.
"Here at TSK we strive to make improvements each year and push the boundaries of what we can offer on a game day and we take this seriously throughout the club, including juniors and seniors. We knew that with the opening of the fantastic new performance centre at Solent University we'd be able to boast one of the best facilities in the UK, so this has really allowed us to push forward as a club.
"Special recognition for the D1 Women has to go to the ever present legend that is Cliff Fullbrook who delivers live stats and live steaming for all games, and also Jerry Merrill who's provided live commentary on most of our home games this season." 
We wrap up our NBL award week tomorrow as we cover the winners from NBL Division One.