Division Two produced some incredible basketball throughout 2019/20, with an exciting race for promotion in both the North and South. We've got a number of award winners for the year below, including Game Day Experience, awarded to the club who consistently put a great product onto the floor for fans to enjoy, with a great atmosphere to boot.
We'll reveal the winners throughout the day, and congratulations to all those chosen!
MVP
It's always tough to select league MVP's and this year was no different. Two players managed to get themselves just ahead of the chasing pack though and they've been recognised for their consistent success.
After posting some solid numbers through the season, Thomas Horvat was clearly a key contributor to Team Newcastle's success in 2019/20. Averaging 23.7pts/4.8reb/4.3ast/3.4stl for a final efficiency rating of 23.8, Horvat came to play week in, week out, and refused to give anything but 100% to the Knights' cause.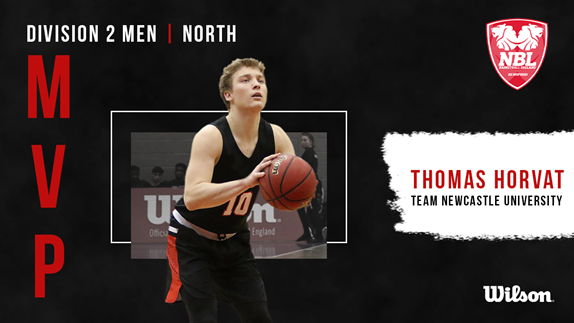 In the South, despite the general dominance from Essex Rebels in our end of season awards, BC Medelynas' standout Ausridas Petraitis was awarded the conference's MVP. After a string of impressive performances, including a 27 point, 10 rebound, 10 assist triple-double in week 17, Petraitis impressed players and coaches across the league to secure the award. His final stats of 21.5pts/9.7reb/2.3ast were good for an efficiency rating of 26.0, highlighting the MVP's worth throughout the campaign.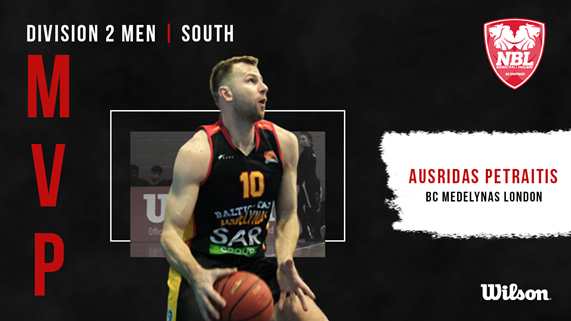 Ausridas Petraitis: "It is not over. Champions extend their limits and make things happen."
Team of the Year
Using the MVP voting for each conference, we've assembled a team of the year for both the conferences in D2M.
Northern Conference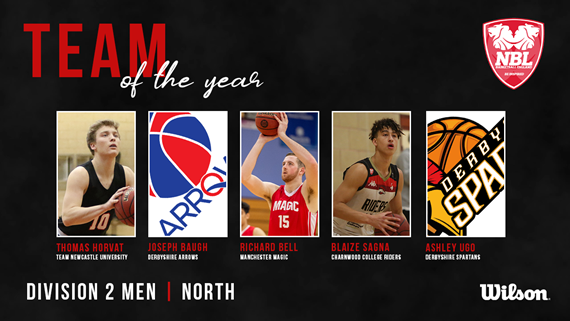 Southern Conference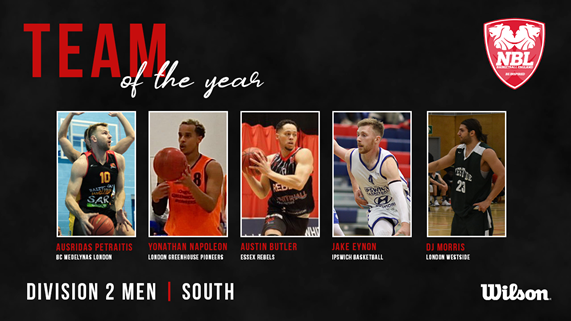 Coach of the Year
There was a runaway winner in the Northern conference voting as Team Newcastle's Mark Elderkin was a clear favourite with his peers. The Knights won the league against some stiff competition, including Myerscough and Charnwood, but the North East side were not to be denied as they set their sights on a potential spot in the top flight.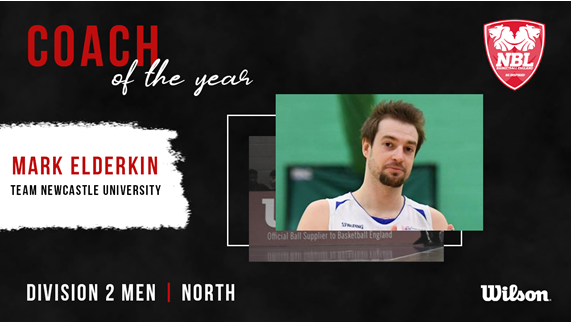 In the South, there was also reward for a conference winning coach as Essex's signal caller Ross Norfolk was chosen for Coach of the Year honours. The Rebels sealed the D2M South crown with a few games to spare, and Norfolk was able to get the best from his squad week after week.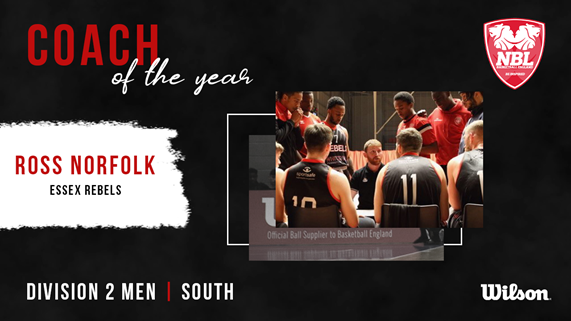 Ross Norfolk: "It's nice to be recognised and I am honoured to be voted for by the quality coaches within the league. I've been extremely fortunate to work with a great group of players.
"A collective and consistent effort to maximise our potential has allowed us to continue to grow as a programme. I want to thank all the Essex staff and players for their commitment and support this season."
Game Day Experience
Northern Conference newcomers Derbyshire Spartans were runaway winners of the league's Game Day Experience vote, providing a quality environment for home and away fans to enjoy their contests at Repton School.
The former D3 side grabbed promotion a year ago following a 17-5 record and second place in the standings, and the club have clearly ensured that their off the court standards have matched the product on court as they took the step up.
It was a season to remember for Essex Rebels as they topped the the D2M South standings, and they were helped to do so by fans that clearly enjoyed getting behind their side. Winning the award for the division's best game day experience, the Rebels went all out to ensure fans from across the league enjoyed their trip to Essex.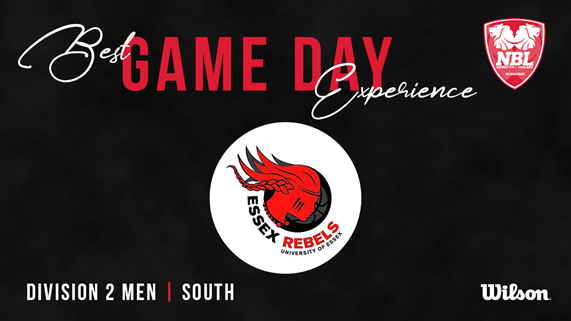 University of Essex Business Development Manager Simon Lister: "The Essex Sport team are thrilled and delighted to have won the NBL end of season award for best game day experience. 
"We wanted to create a fun filled afternoon for spectators that presented great value for money whilst offering something for the whole family. Fans can now expect two high intensity games of elite level basketball whilst being entertained  by our resident  DJ, appearances by Queen B (Essex Rebels official mascot) and half time competitions and performances.
"We also work closely with the University's Cheer Team, the Essex Flames, who enthral fans with their competition winning routines during breaks in play.
"Our player introductions really add a sense of drama and help build electrifying atmospheres across increasingly packed home games at the Essex Sport Arena"
Tomorrow we'll move into the top tier of our NBL awards with the winners from WNBL Division One.