After a thrilling season across the Division's five conferences, we have now announced our end of season award winners for 2019/20.
Congratulations to all those chosen!
MVP
With each team voting for their own conference's choice for MVP, it represents an award for players that have truly enjoyed a standout season to impress their fellow players and coaches.
Northamptonshire Titans' Jason Tucker featured in our Player of the Week winners on more than one occasion this season and it's no surprise he converted that achievement into the Eastern conference MVP award. Averaging an impressive 29.5ppg, he was a real force for the Titans regardless of opponent.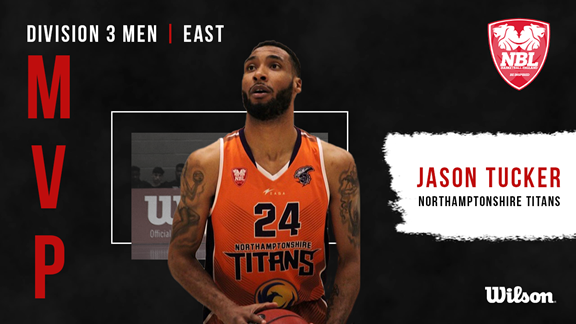 Jason Tucker: "I'm very humble to have won this award and I would like to thank my team mates who have consistently pushed me to be better, day in, day out, and are a big reason why I'm able to accept this award. This has been the most enjoyable year playing basketball I've had in a long time and I know you boys are a big reason for that.

"My coach who constantly inspired me to want and expect more from myself on the court.  The amount of respect I have for coach I couldn't convey in one paragraph.  Also to Angela and Julie who have worked closely with the team all year and are a huge part of what we do.

"To the Titans family, I know the season was unexpectedly cut short but we will be back again ready to put in work and get better the moment we are able to. Thank you for the continued love! l'd also like to thank my family and my daughter Nya who always support everything I do on and off the court."
Doncaster Eagles made it a double in our awards as Mathew Martin followed up coach Josh Metcalf in claiming end of season honours. Martin set the Midlands conference alight in 2019/20 with 21.8ppg and is a worthy MVP winner.
Rob Donaldson is another player that enjoyed a productive season, and after pushing Calderdale Explorers to the upper reaches of the Northern conference he's been rewarded with an MVP selection. Donaldson is a versatile talent and ended the season scoring 20.7ppg.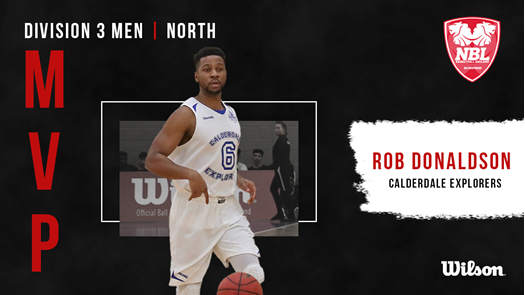 Calderdale Chairman Glenn Hardaker: "Rob has had an outstanding season and has led the team to out best finish since the Explorers returned to the NBL in 2015. I am proud of him and his achievements and think this MVP award is fully merited."
In the South East, Richmond Knights continued to make strides at the senior level and a key driver to that was MVP Aaron Moseley. A major part of the Knights' roster, Moseley contributed 21.2ppg whilst showing the whole conference why he deserved this year's award.
Aaron Moseley: "Thank you, it's an honour to win this award in back to back seasons, even more so on a championship winning year. Big thanks to the whole Knights Men's team, Knights Club, our sponsors and amazing fans, and thanks to my wife and family for travelling around to support all these years."
Oxford Brookes couldn't take our Coach of the Year Award, but they have managed to capture an MVP nod as Ian Mileikis (27.3ppg) has been voted as top player in the South Western conference for 2019/20. Brookes managed to seal a tight title race thanks in part to Mileikis, ended an exciting battle that rumbled on throughout the regular season.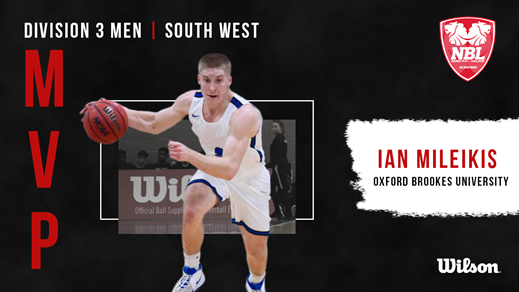 Team of the Year
Using the MVP voting for each conference, we've assembled a team of the year for all five leagues in Division Three.
Eastern Conference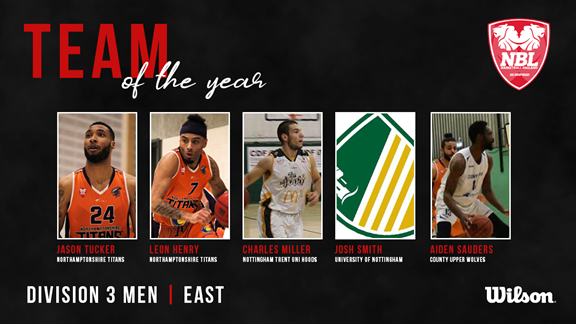 Midlands Conference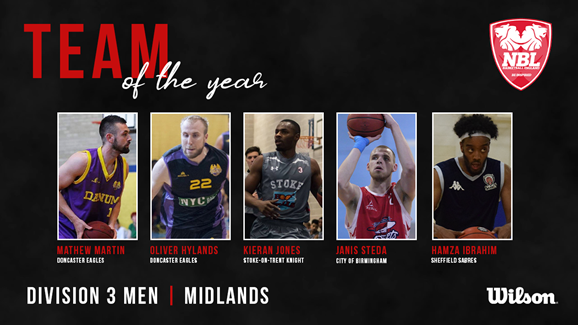 Northern Conference
South Eastern Conference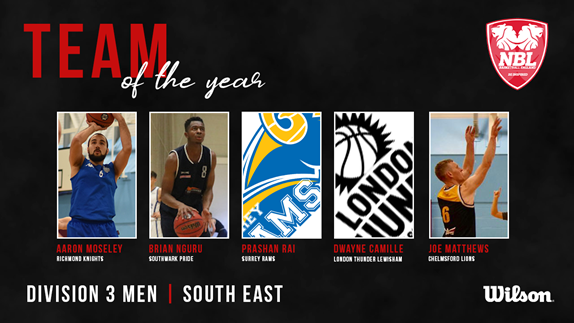 South Western Conference
Coach of the Year
Following impressive campaigns for a number of teams, the Coach of the Year race was a tight one across D3.
In the Eastern conference, Anglia Ruskin finished in 2nd spot with an impressive record and nine wins. Head coach Matt Harber has been selected by his peers as the conference's Coach of the Year.
Matt Harber: "Receiving this award, more than anything, is recognition of our players' commitment to our programme and the 'ARU way' of doing things. Our guys really have no idea how much they help me to be a better coach and how much I enjoy working with them every day. I'll remember this season for many years to come."
After topping the standings in the Midlands conference, Doncaster's Josh Metcalf follows up his ABL COTY award with another here in the NBL. The Eagles were worthy Conference winners, finishing six points ahead of City of Birmingham in 2nd place.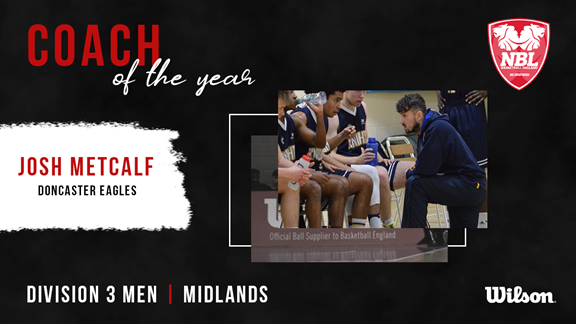 Moving North, Troy Culley took his Myerscough II team into the thick of the playoff race before the early end to the season, but getting the best from his young squad impressed his fellow coaches. The recently appointed GB U16 Boys Coach was a popular selection and a solid choice for COTY.
Troy Culley: "To be recognised by your peers is quite a humbling experience and to be honest something that was totally unexpected. As a programme, we take pride in doing whats best for our guys and having them playing in a senior league as juniors has been hugely beneficial for their development.
"We can take a lot of positives from the experiences we endured as group and I believe this award is a great reminder to everyone involved that amidst the adversity what we were building was both positive and heading in the right direction!"
Chris Michaelides has been selected as our coaching winner in the South East, as Chelmsford Lions finished 4th overall in a tight conference where just six points separated the top five teams.
Chris Michaelides: "I'm honoured to win the award this season and the votes from my fellow peers. The league this year was extremely competitive with many great teams and coaches. Whilst I have enjoyed this season it has not been without its struggles and this recognition means a lot to me.
"Many thanks and appreciation must go to my teammates, but also to the players and coaches in our league who have all made the same sacrifices I have and given their all to the game."
And in the South West, RCT Gladiators' Steve Williams has been recognised for his efforts across the boarder, taking charge of a strong campaign that saw the South Wales based side in the mix for the conference title. His efforts clearly made a mark on those around him as he narrowly edged out Oxford's Ken Walton for the award.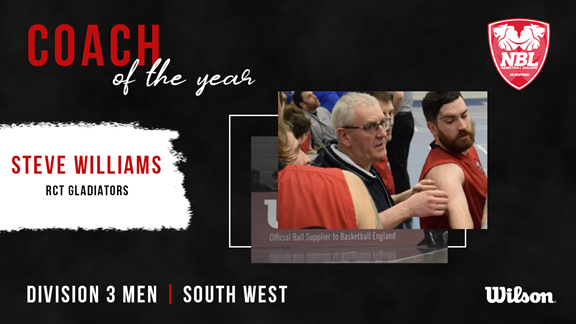 Steve Williams: "It is great to be recognised for any award but you can't coach without the players. From a coaching point of view any award is down to the team. We have a group of players who have a great attitude and work ethic and are a pleasure to coach.
"I would like to thank everyone who voted and that we all keep safe in this difficult period. Let us hope we can get back playing as soon as possible."
Tomorrow we'll continue our NBL awards week with WNBL Division Two.