The WNBL season continued last weekend as we take a look back at the top performer from week 2.
Each week we'll pick out a star player from our top divisions and shine a spotlight on their performance, paying attention to the following criteria:
Efficiency
Stats
Team and opposition strength
Periods of influence in the game
NBL Division One will also get underway this weekend, so for now we're just concentrating on the WNBL. There was a POTW from the third round of the L Lynch Trophy that we've also included below.
WNBL Division One
Esther Little - Ipswich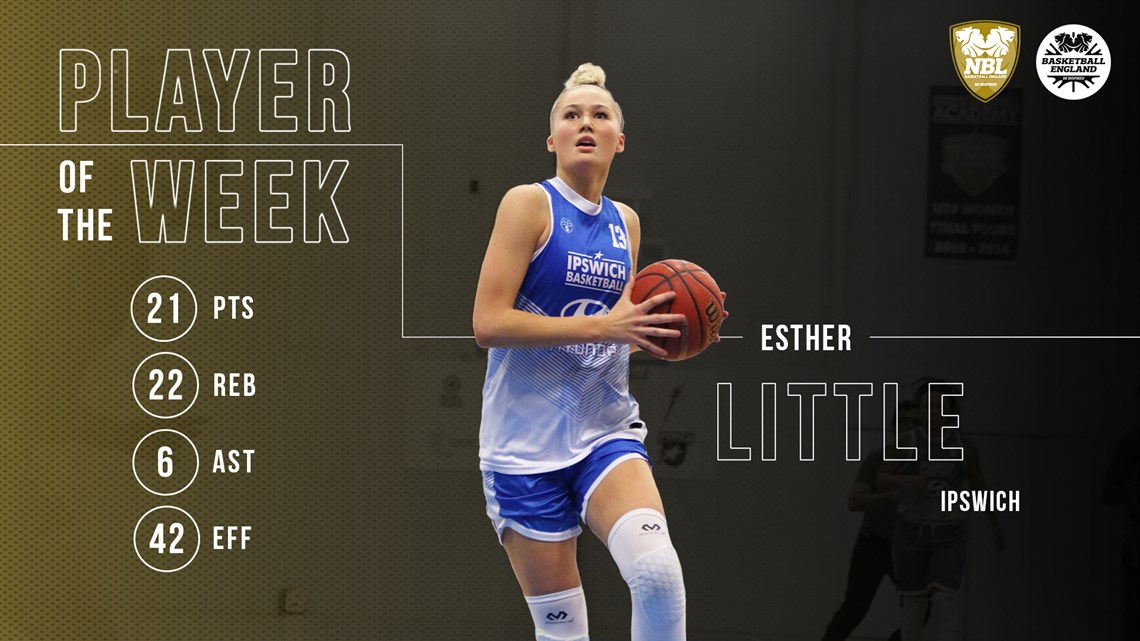 The Gonzaga commit put up Playstation numbers in her stat line this weekend, helping her team to a 99-60 win over BA London Lions II.
Little did a bit of everything in the victory, scoring 21 points, erasing mistakes with three blocks, as well as grabbing an eye-watering 22 rebounds, with seven coming on the offensive glass.
The GB age-group star also shot an efficient 8/12 from the floor, and played almost the full 40 on her 2020 debut.
"It means a lot to win this award, especially so early in the season, but all credit goes to my team," said Little. "We are getting better every day and I can't wait to see what this season holds for us. It was so good to be back playing again!"
Head coach Nick Drane added: "Esther was outstanding, as were the whole team, especially given the lengthy lay off from competitive basketball.
"This was only Esther's sixth game for the women in the last year, due to injury and then of course Covid. Having her back with the team and playing at this level is an exciting prospect."
You can enjoy highlights from Little's week two performance from the video below!
L Lynch Trophy
Hakeem Sylla - Thames Valley Cavaliers
Hakeem Sylla once again showed that he is one of the NBL's top rebounders and second-chance shooters in the league (eight of his 13 boards were at the offensive end), enjoying an impressive 66 FG% efficiency this past weekend.
Depending on your take as to whether this game was a battle of the guards or the bigs, Thames Valley Cavaliers out rebounding Hemel 53-37 overall and 26-24 in Storm territory (TVC offensive rebounds vs Hemel defensive rebounds), and Sylla was a player who helped to make a difference.
"It is a great honour to be named player of the week," confessed Sylla. "The league is full of talent this year so every week will present us with a different challenge. The coaching staff had a plan, we trained the whole week with a different line up and the dividend paid in the end.

Click here or on the image above to take advantage of this great offer
"I'm really excited about what's to come because we can only improve from here on."
Head coach Robert Banks said: "It is always a pleasure to see Hakeem receive recognition for his work. He is a joy to coach and watch play.
"Due to line-up adjustments he was requested to modify his role on both defence and offence and he did what was requested to a high level. His stat line is always outstanding, shooting 66.7% here, with 8 offensive rebounds and 3 blocked shots just highlights how effective was on Saturday.
"A well deserved selection!"
Hakeem's highlights can be enjoyed below!
.