To recognise the stand-out players and performances each week, NBL observer Chris Hughes from basketball website Rebound picks his team of the week.
Chris, also a YouTube host and commentator, gives his view based on games from the second round of L Lynch Trophy involving the NBL1 teams.
With only two games in WNBL1 this weekend - we'll be spotlighting the women's game from next week onwards.
Have your say on this week's choices and give a shout-out to the players you think deserve one using the hashtag #NBL2021. Don't forget to tag us!
Twitter: @NBLengland / @Rebound__
Facebook: @NBLengland  / @ReboundNBL
Instagram: @nblengland / @reboundnbl
How it works
The Basketball England NBL Player of the Week goes straight into the starting line-up.
The other four players are picked with the following factors in mind:
Efficiency
Stats
Team and opposition strength
Periods of influence in the game
The Rebound team of the week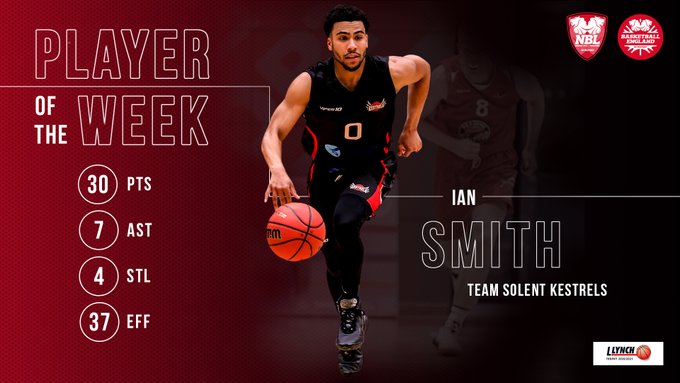 Ian Smith – Team Solent Kestrels, guard



30 points, 7 assists, 4 steals, 37 efficiency
Last season's MVP and this week's NBL player of the week needs little introduction. He was one of two players to reach 30 points this weekend. Smith was equally impressive handling the ball as the floor general, registering a weekend-high seven assists and zero turnovers versus Essex Rebels.
A deeper dive into the box score showed the Kestrels dominated on assists and turnovers, 35-15 and 13-32 respectively.
Blayne Freckleton - Thames Valley Cavaliers, guard
19 points, 3 rebounds, 5 assists, 3 steals, 18 efficiency
Freckleton backed up his reputation as one of the best shooters around with a 19p/3r/5a/3s performance, and showed he can do more besides against Reading Rockets. Rebounds aside, it was an above-average performance compared to last season's 16.7p/5r/4.8a/1s.
Freckleton led all scorers with nine points in the first quarter which contributed to a 27-10 lead that Rockets never recovered from. A game-high field goal percentage of 50 also impressed.
Evan Walshe - Oaklands Wolves, guard
33 points, 5 rebounds, 3 assists, 2 steals, 1 block, 27 efficiency
When your GM goes on the microphone and predicts a big loss you kind of expect just that. But for three quarters Evan Walshe and Co said no against Hemel Storm. Walshe led all scorers this weekend with 33 points and finished on 33p/5r/3a/2s/1b.
What stood out for me was that he was the most fouled player this weekend (11), making 11/13 from trips to the free throw line. 
Mike Williams Jr - Hemel Storm, forward
26 points, 5 rebounds, 1 assist, 22 efficiency
With Oaklands breathing down Hemel's neck in the fourth quarter, the Storm needed a big performance. After a shaky first frame the hosts lead quarters two and three, making it a five-point game in Hemel's favour. Mike Williams Jr had sat out a big portion of the third due to foul trouble.
He told me after the win what he needed to do in the fourth after picking up three fouls. "Yeah, had to compose myself." He certainly did that, starting the fourth with an 11-2 run to restore a more comfortable lead. The US import finished on 26p/5r/1a.
Greg Poleon - Hemel Storm, forward
28 points, 14 rebounds, 1 steal, 2 blocks, 32 efficiency
The American got a big double-double and was impressive in a 28p/14r/1s/2b performance shooting 61FG%. Head Coach Dru Spink obviously trusts him on the floor by giving him almost 35 minutes.
Last season Poleon recorded a personal NBL D1 high of 30 points against Liverpool, seconded by a 27-point performance versus Loughborough. After a 21-point opening weekend game vs Reading and 28 points this weekend, it seems he may well beat his personal NBL high sooner rather than later.
Team basketball
Team Solent Kestrels' 43-point third-quarter masterclass against Essex saw scoring shared as follows: Andre Arissol (11 points), Ian Smith (8), Chris Scarlett (6), Orlan Jackman (5), Jonathan Lashley (5), Brendan Okoronkwo (4), Travis Charles (2) and Luke Busumbru (2).
Bradford Dragons' comeback win. After the 26-16 deficit in the second quarter they came back to win 74-71 with a double-double from Ricky Fetske and a game-high in steals from Rihard Sulcs. In the closing minutes the pair took vital defensive rebounds to steal the win.
Honourable mentions
Taylor Johnson - 27P/9R/2A/1S/24EFF
Leon Henry - 28P/4R/1A/2S/29EFF
Great Osobor - 15P/11R/2A/3B/20EFF
Laurits Juffer - 19P/13R/3A/25EFF
Sam Grant - 21P/8R/2A/2S/1B/20EFF
Main image credit - Lizzy Harrison