For the final time in 2020, Rebound's Chris Hughes picks out his top five NBL performances for the Team of the Week.
Chris, also a YouTube host and commentator, cast his eye over the trio of games from week 10 before making his selections.
Have your say on this week's choices and give a shout-out to the players you think deserve one using the hashtag #NBL2021. Don't forget to tag us!
Twitter: @NBLengland / @Rebound__
Facebook: @NBLengland  / @ReboundNBL
Instagram: @nblengland / @reboundnbl
How it works
The Basketball England NBL Player of the Week goes straight into the starting line-up.
The other four players are picked with the following factors in mind:
Efficiency
Stats
Team and opposition strength
Periods of influence in the game
The Rebound team of the week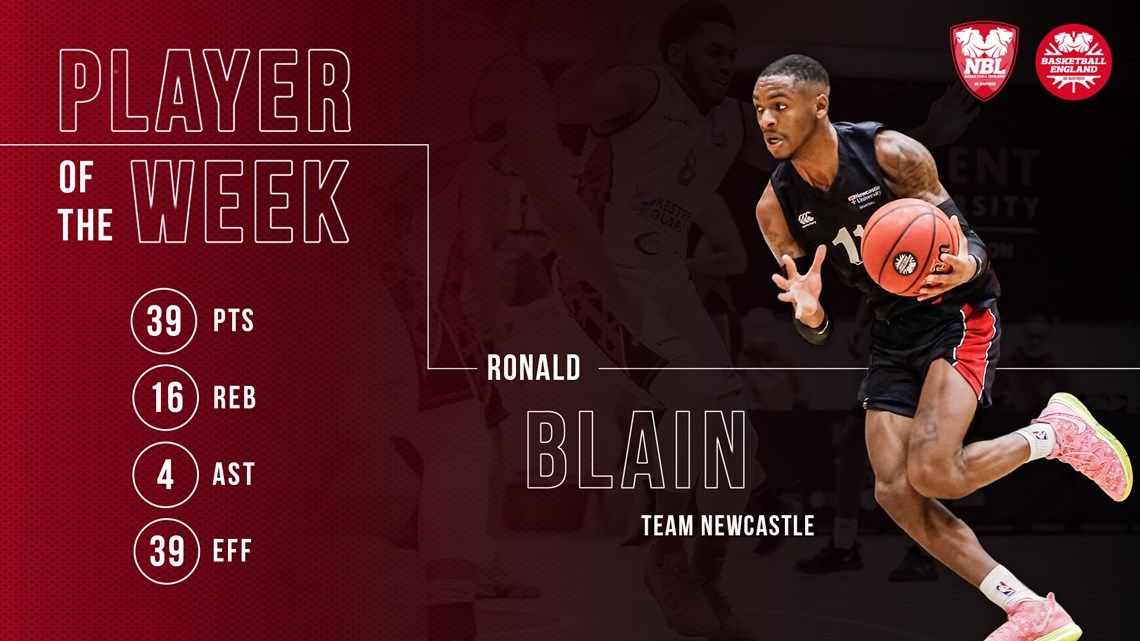 Ronald Blain – Team Newcastle University, forward
39 POINTS, 16 REBOUNDS, 4 ASSISTS, 3 STEALs, 39 EFFICIENCY
If the NBL did a sixth man of the year awards, Ronald Blain has effectively called shotgun on it.
The former Hawaii Pacific forward is averaging a double-double off the bench with 24.3p/10.8r/2.5a/1.7s/0.8b with over 50 FG%.
Blain was trusted with the lion's share of the shooting with 31 FGA to his name this weekend, and was also one of only three players to shoot 10 or more shots in the one-point win.
The talented scorer impressed me in the second quarter as he got his side going after a shaky first frame. The American put up 12p/4r/2a including an and-one play as Newcastle finished the half trailing by a single point.
With 84 seconds left in the game, Blain was a man on a mission.  He made a shot, missed the and-one but regained possession and was then fouled once again.
The next trip to the free throw line was more fruitful, making the first before grabbing the rebound on his own miss to get two more points.
It didn't end there though as with just over a minute to go and with his side trailing by two, the forward made a clutch basket before David Moya hit a triple to call game on a thrilling comeback win.
Cameron Hildreth – Worthing Thunder, guard
30 POINTS, 5 REBOUNDS, 4 ASSISTS, 2 steals, 1 block, 25 EFFICIENCY
There are few certainties in this challenging time, but Cameron Hildreth going off with 30 or more points in NBL D1 action seems to be one of them.
The league's leader in average points (33.3ppg) from three NBL games, recorded his lowest points tally so far (30) but his highest FG% (50) versus the Oaklands Wolves this weekend.
Seventeen of those 30 points came in the third quarter. Heading into the second half Thunder were trailing by six and needed something big, Hildreth delivered.
Worthing really took control of the game in that third frame, winning it 32-15 as Hildreth contributed 17p/1r/1a.
A recent personal highlight surely must be a debut call up to the recent GB men's squad and as we approach 2021, we look forward to seeing many more highlights from the young star!
Victor Olarerin – Nottingham McDonald's Hoods, guard
33 POINTS, 10 REBOUNDS, 1 assist, 3 STEALs, 36 EFFICIENCY
A NBL D1 season-high in points and a double-double both contributed to Olarerin's inclusion in my Team of the Week.
The lightning quick guard is a tough cover as he races to the basket, and against Newcastle he was efficient in getting his points to.
Out of the players to make 30 or more points this weekend, Olarerin managed it in the second least number of shots taken (22, two behind Hildreth).
It is no surprise to see the Nottingham man get 30+ points as he has faced teams who typically are some of the better defensive sides in D1M (Bradford, Derby x2 and Loughborough) and he still posted impressive numbers.
In a tough December playing two sides who made the playoffs in 2019/20 and an strong Newcastle side, the Hoods are 1-2 with one of those loses being a one-point game.
Perhaps Olarerin and Nottingham should be taken seriously as play off contenders.
Ricky Fetske – Bradford Dragons, forward
19 POINTS, 9 REBOUNDS, 2 assists, 2 blocks, 29 EFFICIENCY
For the third time this season, Bradford forward Fetske displayed his ability from range, going 3-4 to prove his early form wasn't a one off.
The added shooting versatility mixed with impressive performances from team mates has pushed the Dragons to an early 3-1 record.
A dominant shooting performance for the veteran forward meant Fetske led all players in FG% in the 10-point road trip win against Leicester.
Fetske secured Bradford's win in style, and both of his last two buckets showcased his talent. Firstly with a long-range dagger from deep then a dunk with 15 seconds left on the clock.
Brandon Federici – Team Newcastle University, guard
11 POINTS, 5 REBOUNDS, 9 ASSISTS, 4 steals, 1 BLOCKs, 29 EFFICIENCY
Federici played a pivotal role in getting the dub for Newcastle this weekend and this is the second game in a row where Federici has been directly involved in a late Newcastle comeback.
Against Loughborough last weekend, the former Franklin & Marshall graduate shot the winning three and this weekend he assisted the winning shot as David Moya knocked down a dramatic triple.
In the last five and half minutes of play, Federici posted an unselfish 1r/4a/1s without shooting to help his team get the win.
The W seemed a tough ask at times with the deficit at one stage passing into double digits with just a few minutes remaining
Federici's individual performance this weekend included new NBL D1 season highs in assists, steals and blocks and a tied season high in FG% (66.7) and rebounds.
Team basketball
Newcastle comeback in the second half (again)
Another week, another comeback!
This time Nottingham Hoods were caught napping as the visitors made light work of what was a 10-point game in the closing minutes
During the L Lynch Trophy, not much was known about this side with the assumption being that the best was yet to come. This seems have been a fair assessment as the Knights now sport a tied third-best win percentage in D1M.
With only two NBL losses to Newcastle's name (vs Solent and Bradford respectively), they could continue to be high flyers. Early 2021 road trips vs Hemel, Derby and Loughborough will give us more perspective on their top four credentials.
Dragons roar to victory against valiant warriors
Bradford got a big win as they continue to cement their play off position, rising to fifth place.
Last season these teams finished eighth and ninth, but based on results so far the gap between these two clubs may be much bigger this season.
Three-point shooting was a factor in this road win, with the hosts shooting 25 3P% versus Bradford's 41 3P%. As mentioned above, Fetske was shooting the lights out from beyond the arc, though an honourable mention should go to Andreas Lycoudis who went 4-8 from deep as well
Sulcs and Fetske combined for five blocks to contribute on the defensive end, whilst Bradford matched Leicester with 12 turnovers but limited the opposition to three fewer points from the mistakes.
Honourable mentions
Jordan Santiago (OAK) – 31P/11R/4A/3S/1B/29EFF
Max Richardson (WOR) – 20P/10R/3A/1S/1B/20EFF
Howard Crawford (WOR) – 18P/6R/1A/1S/2B/20EFF
Rihard Sulcs (BRA)– 15P/10R/3A/3B/19EFF
David Moya (NEW) – 15P/4R/7A/2S/19EFF