As the calendar turns to December, Rebound's Chris Hughes continues the tough task of selecting the NBL1 Team of the Week.
Chris, also a YouTube host and commentator, had plenty of action to choose from after five D1M games and an L Lynch Trophy game all went ahead this past weekend.
Have your say on this week's choices and give a shout-out to the players you think deserve one using the hashtag #NBL2021. Don't forget to tag us!
Twitter: @NBLengland / @Rebound__
Facebook: @NBLengland  / @ReboundNBL
Instagram: @nblengland / @reboundnbl
How it works
The Basketball England NBL Player of the Week goes straight into the starting line-up.
The other four players are picked with the following factors in mind:
Efficiency
Stats
Team and opposition strength
Periods of influence in the game
The Rebound team of the week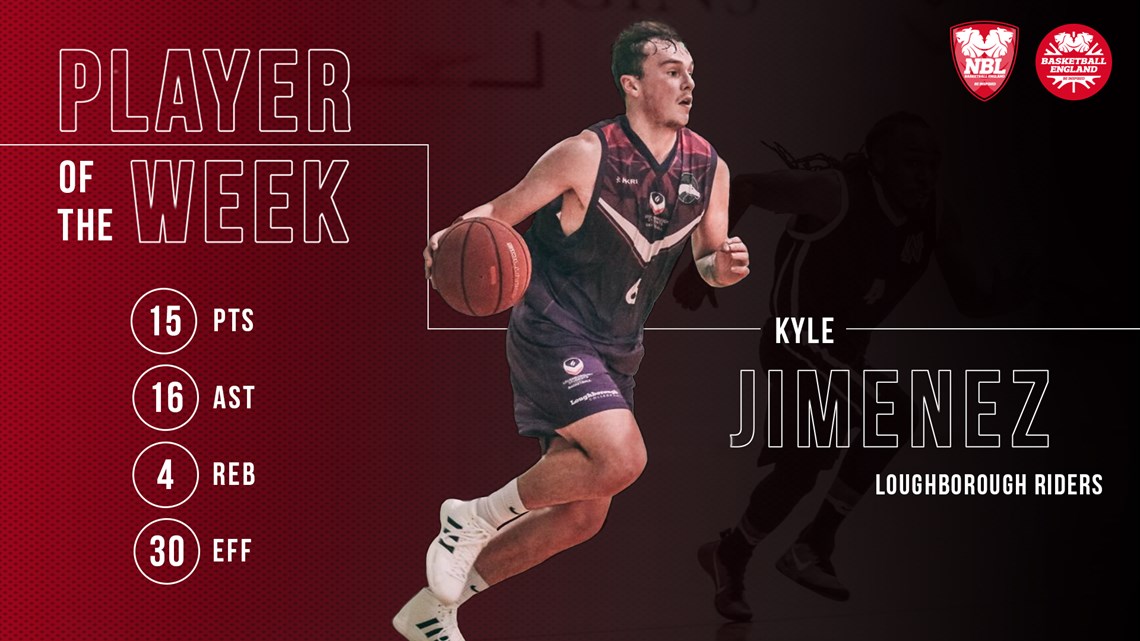 Kyle Jimenez – Loughborough Riders, guard
15 POINTS, 4 REBOUNDS, 16 ASSISTS, 30 EFFICIENCY
Kyle Jimenez is making a real name for himself in both D1M and the L Lynch Trophy this season.
The talented Loughborough guard put in not one but two Team of the Week worthy performances over the last seven days, kicking things off with a nine point, 16 rebound, 13 assist effort in the L Lynch Trophy against Nottingham, before this weekend's monster 15 point, 16 assist effort on the road against Leicester in NBL1.
The guard is posting NBA 2k numbers, currently averaging 10 assists a game and already putting up two triple-doubles so far this campaign. Someone needs to increase the difficulty on his save!
Don't just take our word for it though. In a recent poll, 86% of the votes cast suggested overwhelmingly that Jimenez is a top 25 or higher NBL D1 player. From the highlights below, it's easy to see why.
Zaire Taylor – Worthing Thunder, guard
23 POINTS, 7 REBOUNDS, 8 ASSISTS, 6 STEALS, 1 block, 29 EFFICIENCY
Another week, another closely contested win for Worthing Thunder, combined with another top performance from last week's NBL Player of the Week Zaire Taylor.
Taylor's influence could be seen throughout the game, even with other contributors on form. In the dominant 21-point second quarter that put Worthing on top, the veteran guard really took the reins with 10p/4r/2a/1b.
Also during that second frame, Worthing enjoyed good scoring runs (7 and 16) with Taylor playing a part in both. The latter was split over two quarters and was the game's biggest scoring run, a key factor in a tight contest.
Ricky Fetske – Bradford Dragons, forward
18 POINTS, 14 REBOUNDS, 1 ASSIST, 29 EFFICIENCY
Fetske and co. got the job done for Bradford this weekend, travelling to newly promoted Newcastle and recording a 81-67 road win.
The Dragons' forward shot 2-3 from beyond the arc in a double-double performance, showing why his skill set is so important to coach Mellor's team.
Last season saw Fetske average his best 3P% in a Bradford jersey (36.8%). With an array of shooters to space the floor, will this among other factors see the Bradford veteran post another season high in 3P%?
The 28-20 second quarter was pivotal in helping Bradford to a win. Fetske recorded both of his triples during that frame, finishing with 12p/5r to pace his team in that quarter.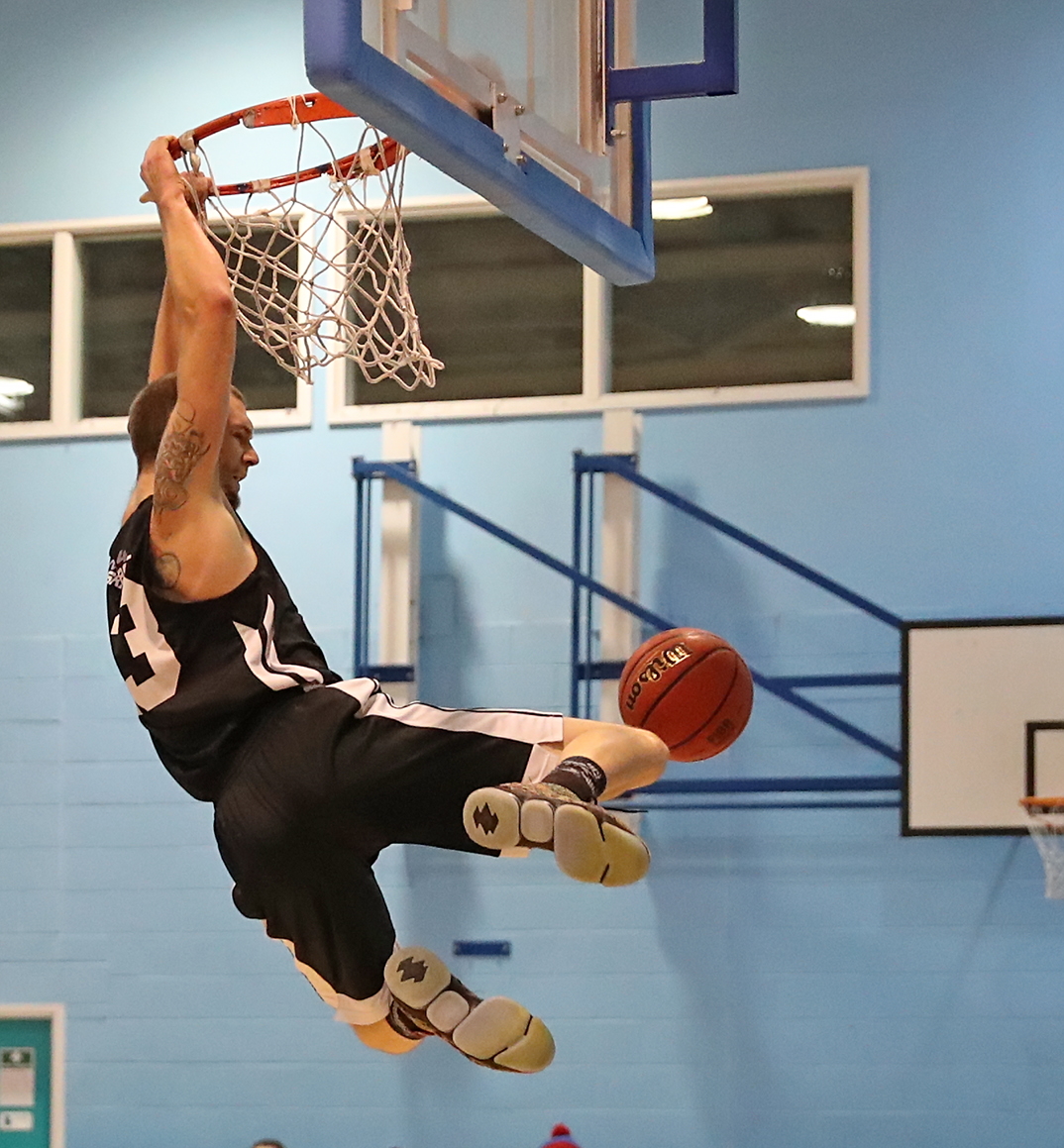 Blake Bowman – Derby Trailblazers, forward
14 POINTS, 10 REBOUNDS, 3 ASSISTs, 1 block, 24 EFFICIENCY
I was impressed by an all-round performance from Bowman this weekend. The Missouri Kansas City commit made several stops, leading his team in steals and blocks in a mature performance at both ends of the court.
Bowman was trusted with the ball in his hands, shot well with a 66 FG%, (4-6) 50 3P% (1-2) and 100 FT% (5-5), He was also one of four Trailblazers to make 4 or more assists.
The only knock against the talented young forward, and his teammates for that matter, was the need to protect the ball better in future. Multiple Trailblazers registering three turnovers or more but fortunately, Derby's 18 turnovers only amounted to 17 points for Nottingham.
Jordan Santiago – Oaklands Wolves, guard
33 POINTS, 13 REBOUNDS, 4 ASSISTs, 5 steals, 1block 31 EFFICIENCY
This wasn't a one off performance from the 5"11' guard versus the most dominant rebounding side in the league from last season. So far, Jordan Santiago has been impressing across the board, regardless of opponent.
After three outings this season, the former Loughborough guard is currently averaging 26.7PPG and is also making waves on the top 10 leader boards as well. Santiago is currently the league's 8th most efficient player, plus he's 3rd for points and steals as well as 8th in rebounds.
Putting in the work at the other end of the court, this weekend Santiago also enjoyed a season high in defensive rebounds (9), steals (5) and blocks (1).
Although it wasn't enough to beat a highly rated Thames Valley side, even without Taylor Johnson, it was still a top effort worthy of recognition.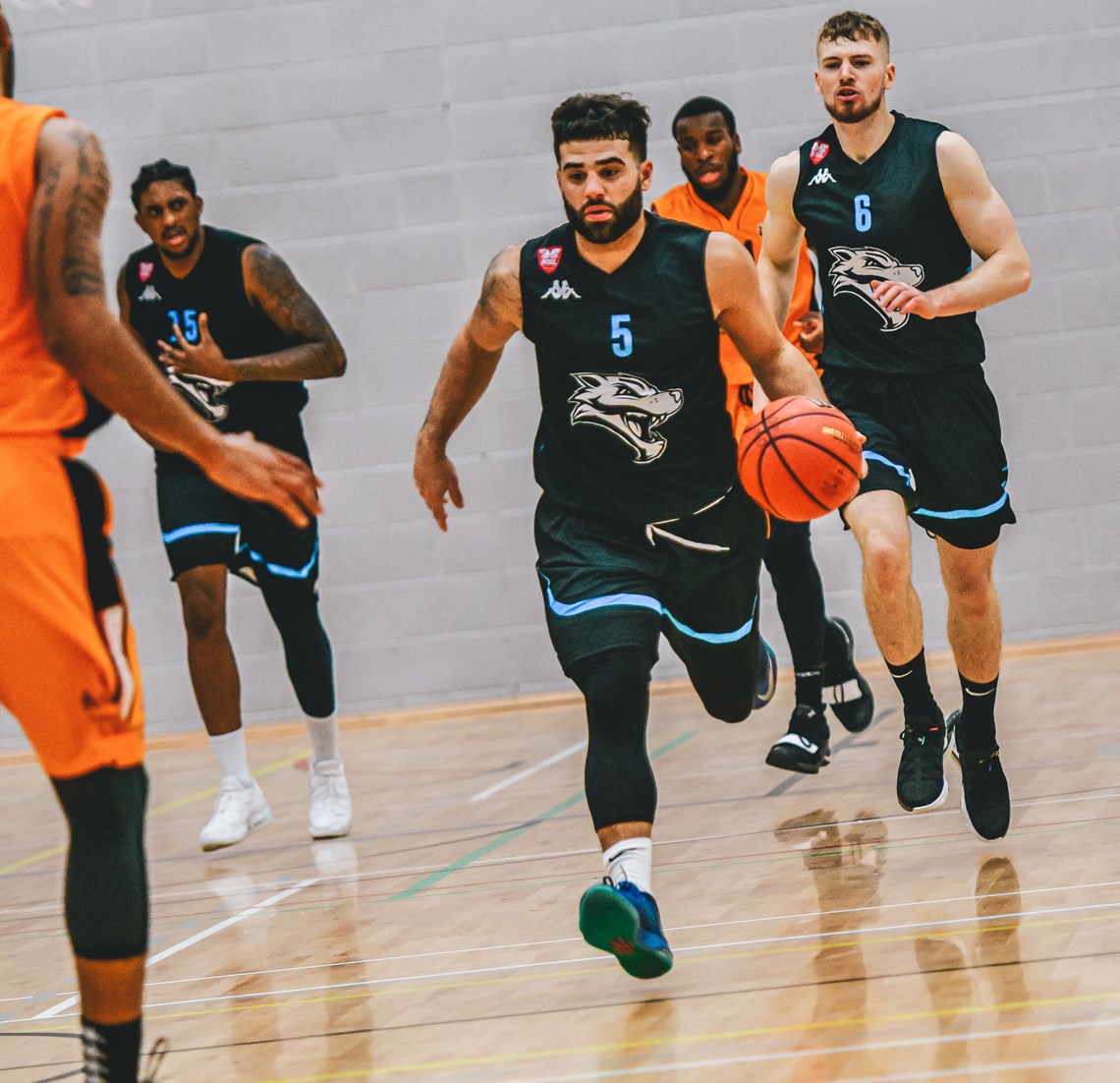 Team basketball
Dragons on fire as they condemn Team Newcastle to back-to-back defeats
Bradford really impressed me at both ends of the court this weekend. A few players, including Albert Margai, were unlucky not to be in the honourable mentions.
Offensively, the likes of Fetske (2-3) plus Margai (3-4) shot well from beyond the arc.
Playmaking wise, good ball movement was on display to find open looks or the easy bucket. Bradford also out rebounded the hosts 64-41, allowing the Dragons to get important second chance points (23) and limit Newcastle to nine second chance points in return.
Defensively it was also a good performance with high energy plays across the board. Individual plaudits go to Andreas Lycoudis for a game high five steals.
nottingham put on a shooting clinic to qualify for the l lynch quarter finals
Nottingham was looking to bounce back from two defeats and did just that, shooting 65% from the floor as a team to ease past D2 Charnwood.
The Riders' point return from each quarter grew as the game went on, maybe symptomatic of fatigue, but the Hoods had enough in the tank to still win by a 21-point margin.
There's no doubting that this weekend they could have had a handful of players make the Team of the Week or honourable mentions.
38 turnovers  spread across the team did hurt the selection potential for some, but Nottingham limited Charnwood to 29 points from turnovers. Matt Ward-Hibbert put in an all round performance, leading his side in steals and FG% for players who shot more than one field goal.
Following the win, Nottingham Hoods have also qualified for the L Lynch Trophy quarter finals, where they will travel to face Thames Valley Cavaliers.
Honourable mentions
Conroy Hayden (LOU) – 24P/9R/1A/29EFF
Jonas Dieterich (LOU) – 23P/9R/3A/29EFF
Matt Ward-Hibbert (NMH) – 15P/2R/3A/6S/22EFF
Ronald Blain (TNU)– 20P/13R/2A/1B/24EFF
Victor Olarerin (NMH) – 23P/6R/1A/5S/24EFF