We once again have another WNBL team of the week thanks to the input of
 

FocusHoops' Darren Paul.

As a writer, commentator, podcaster and more, Darren had four exciting WNBL contests to look over this past weekend, providing plenty of stand out performances.

Chris Hughes from Rebound has also had his say on the NBL Team of the Week, so don't forget to check that out to!

Have a look over this week's choices and give a shout-out to the players you think deserve one using the hashtag #NBL2021. Don't forget to tag us!

Twitter: @NBLengland / @FocusHoops
Facebook: @NBLengland  / @FocusHoops
Instagram: @nblengland / @focushoops
How it works
The Basketball England WNBL Player of the Week goes straight into the starting line-up.
The other four players are picked with the following factors in mind:
Efficiency
Stats
Team and opposition strength
Periods of influence in the game
The FocusHoops team of the week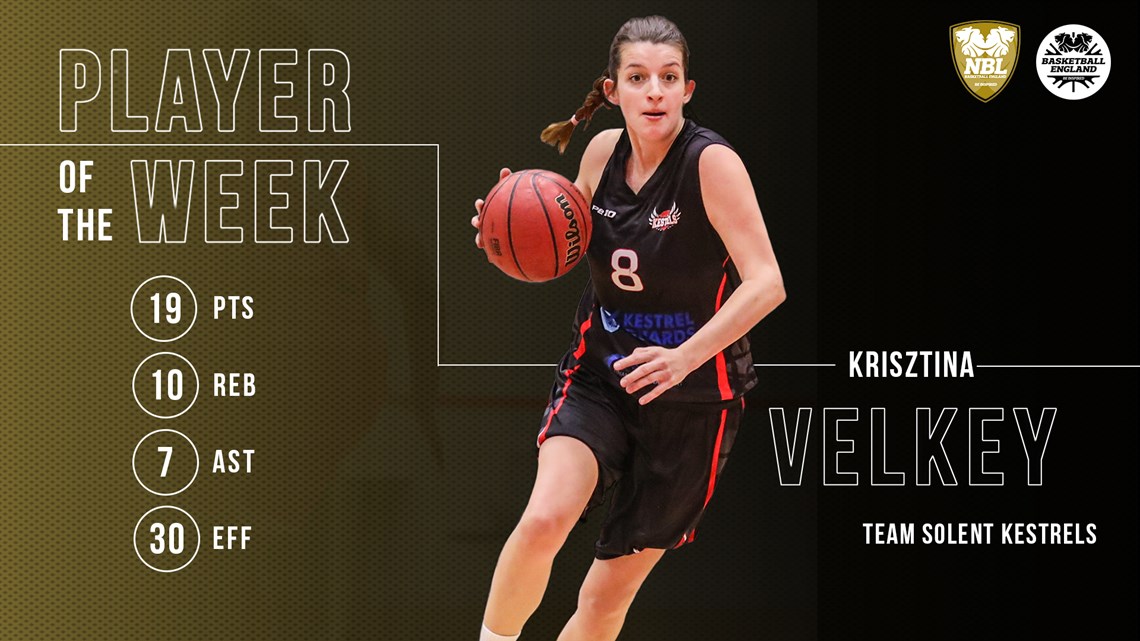 Krisztina Velkey - Team Solent Kestrels, guard
19 points, 10 rebounds, 7 assists, 5 steals, 52 FG%, 30 efficiency
Krisztina Velkey led Team Solent Kestrels to a great bounce-back victory over a tough Nottingham Trent University side. Velkey picked up multiple steals to go alongside her double-double, also snagging four offensive rebounds during the contest.
The talented guard was a constant menace to NTU as she dropped points on them in multiple ways throughout the contest and contributed seven assists in an all-around performance.
Velkey also put in work on the defensive end, picking up five steals, driving the bus for Solent and helping her side to secure the victory.
Robyn Ainge - Loughborough Riders, guard
21 points, 4 rebounds, 1 assist, 3 steals 70 FG%, +/- 35, 20 efficiency
Robyn Ainge led by example on Saturday in the Riders victory over Thames Valley Cavaliers, who were making their first start of the season.
With the excellent Makana Stone by her side dominating on the glass,  Ainge led all scorers with 21 points with a remarkable 70% scoring. She also went 5-6 from the line in a performance that showed her ability to lead and impose her will on a game.
Not content to just score, Ainge was also locked in at defensive end of the floor, picking up three steals and making life tough for the new look Cavs in Loughborough.
Sitota Gines Espinosa - Reading Rockets, wing
22 points, 6 rebounds, 8 steals, 50 FG%, 24 efficiency
Despite falling to defeat on Saturday, Sitota Gines Espinosa put in a fine performance to lead all scorers with 22 points on 50% scoring from the field. The Spaniard put work in on the glass to also grab 6 boards and finished the game with a league leading 8 steals.
The Rockets' wing contributed throughout the whole game, but did some of her best work when the game was in the balance and worked hard to keep Reading in touch.
It was not to be ultimately, but Gines Espinosa showed off her scoring touch and ability to finish through contact when put in tough positions as she keep Trent's defenders honest all afternoon.
Mady Burdett - Nottingham Trent University, guard
20 points, 3 rebounds, 3 assists, 66 FG%, 19 efficiency
Mady Burdett has made a great start to life in the WNBL and this weekend was no exception, with a 20 point outing at home to the Reading Rockets on Saturday.
Burdett has made an immediate impact in the league with her lights-out scoring, and on Saturday she kept that momentum going as she went 4-6 from beyond the arc.
In the first period the American scored five points late in the frame to keep the Rockets within touching distance, and in the fourth she hit a trio of triples to secure victory as the visitors looked to make a comeback.
System.NullReferenceException: Object reference not set to an instance of an object.
   at Umbraco.Web.PublishedContentExtensions.Value[T](IPublishedContent content, String alias, String culture, String segment, Fallback fallback, T defaultValue) in D:\a\1\s\src\Umbraco.Web\PublishedContentExtensions.cs:line 165
   at ASP._Page_Views_Partials_grid_editors_mosquito_Media_cshtml.Execute() in E:\webs\basketballengland.co.uk\htdocs\Views\Partials\grid\editors\mosquito\Media.cshtml:line 7
   at System.Web.WebPages.WebPageBase.ExecutePageHierarchy()
   at System.Web.Mvc.WebViewPage.ExecutePageHierarchy()
   at System.Web.WebPages.WebPageBase.ExecutePageHierarchy(WebPageContext pageContext, TextWriter writer, WebPageRenderingBase startPage)
   at Umbraco.Web.Mvc.ProfilingView.Render(ViewContext viewContext, TextWriter writer) in D:\a\1\s\src\Umbraco.Web\Mvc\ProfilingView.cs:line 25
   at System.Web.Mvc.Html.PartialExtensions.Partial(HtmlHelper htmlHelper, String partialViewName, Object model, ViewDataDictionary viewData)
   at ASP._Page_Views_Partials_grid_editors_mosquito_Base_cshtml.Execute() in E:\webs\basketballengland.co.uk\htdocs\Views\Partials\grid\editors\mosquito\Base.cshtml:line 19
Harriet Welham - Ipswich, guard
22 points, 7 rebounds, 4 assists, 50 FG%, +/- 13, 18 efficiency
Harriet Welham put in a typically excellent performance on her way to 22 points and stood out as a major component in Ipswich's victory over unbeaten challengers Worcester.
Once again flanked by developing star Esther Little, Welham was able to impose her scoring will on the game in both a dominant and efficient fashion.
Welham started to turn it on during a crucial spell in the game. Late in the first quarter and into the second, Welham found her scoring touch at a time when Worcester was looking like causing a major upset.
Team basketball
Ipswich stay unbeaten
Ipswich had a tough road trip this week, going to the previously unbeaten Worcester Wolves and they were in a battle from the word go.
The Wolves took the lead early and looked in control for much of the first but you can never count Ipswich out, especially now they have added Coco Leung back to their roster.
Little, Welham and Ella Pearson all shone in the comeback victory, and they were able to show their class, especially when keeping the game close in the first half.
After the break, Ipswich were able to control the game a bit more and ended what could have been a very difficult day with the W
Coach Drane's side dined out on transition scoring, as they often do, and despite struggling from outside, shot an excellent 58% from within the arc as more than half of their points came from the inside the paint.
Honourable mentions
Inma Bautista (WOR) - 16P/6R/2A/20EFF
Makana Stone (LOU) - 12P/14R/2A/+21/27EFF
Ella Pearson (IPS) - 15P/3R/14EFF
Faye Enedean (TSK) - 19P/4R/2A/20EFF
Esther Little (IPS) - 7P/12R/2A/4B/21EFF