Week 7 contained some quality performances across the NBL and WNBL, but who would grab the title of Player of the Week?
There were plenty of games that went ahead this weekend in both the NBL and WNBL, and the Rebound NBL Team of the Week and the FocusHoops WNBL Team of the Week contain some quality performances.
As always, we picked our POTWs using the following criteria:
Efficiency
Stats
Team and opposition strength
Periods of influence in the game
NBL Division One
Kyle Jimenez - Loughborough Riders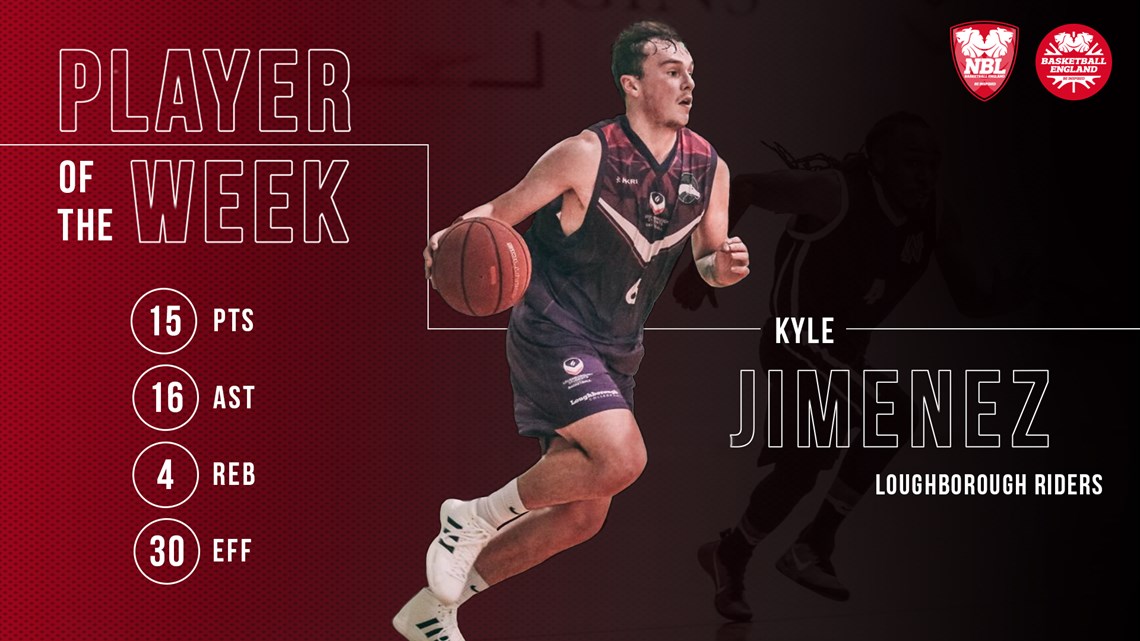 Kyle Jimenez – Loughborough Riders, guard
15 POINTS, 4 REBOUNDS, 16 ASSISTS, 30 EFFICIENCY
Kyle Jimenez is making a real name for himself in both D1M and the L Lynch Trophy this season.
The talented Loughborough guard put in not one but two Team of the Week worthy performances over the last seven days, kicking things off with a nine point, 16 rebound, 13 assist effort in the L Lynch Trophy against Nottingham, before this weekend's monster 15 point, 16 assist effort on the road against Leicester in NBL1.
The guard is posting NBA 2k numbers, currently averaging 10 assists a game and already putting up two triple-doubles so far this campaign. Someone needs to increase the difficulty on his save!
Don't just take our word for it though. In a recent poll, 86% of the votes cast suggested overwhelmingly that Jimenez is a top 25 or higher NBL D1 player.
"There are some talented players in our league, you never know who is going to get it each week," said Jimenez.
"For me it's as much of a team award as it is an individual one. My teammates and coaches put me in great position to excel and most importantly we came out with the win."
"This was coming, Kyle has had an incredible start to the season," added Loughborough head coach Mark Jarram.
"We've had some injuries and player availability issues and Kyle has really stepped up to fill a role we didn't originally have him playing at the start of the season.
"He's embraced it, adapted and has shown over a number of games now that he can make impact doing it.
"It's great that he contributes in many different ways, gets his teammates involved and is about what is the next right thing for Loughborough Basketball. He deserves the credit for the way he is playing. We will be working and encouraging it to continue."  
WNBL Division One
Krizstina Velkey - Team Solent Kestrels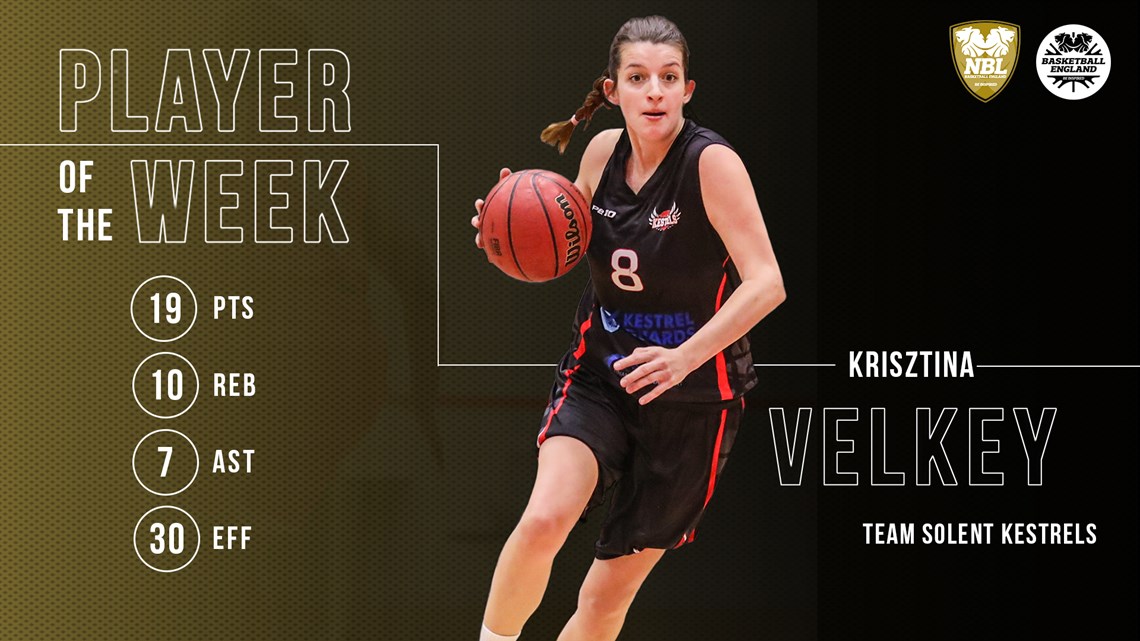 Krisztina Velkey - Team Solent Kestrels, guard
19 POINTS, 10 REBOUNDS, 7 ASSISTS, 5 STEALS, 52 FG%, 30 EFFICIENCY
Krisztina Velkey led Team Solent Kestrels to a great bounce-back victory over a tough Nottingham Trent University side. Velkey picked up multiple steals to go alongside her double-double, also snagging four offensive rebounds during the contest.
The talented guard was a constant menace to NTU as she dropped points on them in multiple ways throughout the contest and contributed seven assists in an all-around performance.
Velkey also put in work on the defensive end, picking up five steals, driving the bus for Solent and helping her side to secure the victory.
"I'm happy to be playing basketball, we all need this fun and passion in our life these days more then ever!" said Velkey. "I am sure we will see other Kestrels in the spotlight."