With only a few weeks to go until the mid-season break, competition is as tough as ever for places in Chris Hughes' Rebound Team of the Week.
Chris, also a YouTube host and commentator, had some top-quality contests to choose players from as week eight of NBL action didn't disappoint.
Have your say on this week's choices and give a shout-out to the players you think deserve one using the hashtag #NBL2021. Don't forget to tag us!
Twitter: @NBLengland / @Rebound__
Facebook: @NBLengland  / @ReboundNBL
Instagram: @nblengland / @reboundnbl
How it works
The Basketball England NBL Player of the Week goes straight into the starting line-up.
The other four players are picked with the following factors in mind:
Efficiency
Stats
Team and opposition strength
Periods of influence in the game
The Rebound team of the week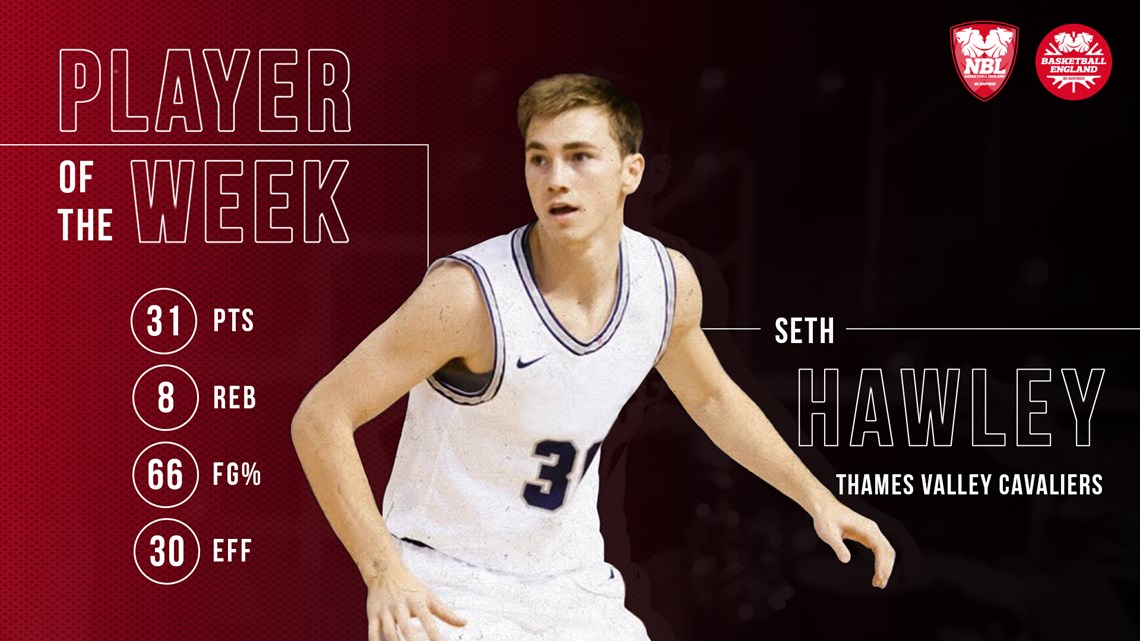 Seth Hawley – Thames Valley Cavaliers, guard
31 POINTS, 8 REBOUNDS, 2 ASSISTS, 2 steals, 34 EFFICIENCY
Even though he started off the bench, the former University of Arkansas-Fort Smith guard led all players in points and three-pointers made in TVC's win over Hemel. Hawley performance ensured his side remained unbeaten, and in the process knocked Storm off their own unbeaten run.
It was an amazing home debut versus last season's fourth seeds Hemel, in a contest that swung from being a two-possession game to a double-digit difference between the two sides.
Hawley was pivotal in adding to the Cavs' advantage, some observers even likened his performance to James Harden after going 6-9 from beyond the arc!
Hawley also missed just six shots across the contest, but five of them did come in the game's final quarter. Even so, the American still caught my eye as he helped the hosts to seal a statement win with 11 points to lead all scorers over the final 10 minutes.
Jacob Conway – Derby Trailblazers, guard
25 POINTS, 4 REBOUNDS, 3 ASSISTS, 4 STEALS, 32 EFFICIENCY
Currently enjoying a stellar debut season, the former Georgetown College Tigers' guard is ninth in the league for points per game. On top of that, Conway has been averaging 21.6p/4.8r/2.8a/1.6/0.2b in NBL D1 action while averaging a 45.2FG%.
This weekend versus the Hoods, Conroy stepped up and once again showed that he is becoming a standout shooter.
A eye-catching performance helped the American produce his best game this season in all competitions, in terms of FG% (71), third in 3P% (40) and for the fifth game out of seven, 100% shooting from the charity strip.
If this was NBA 2K, Jacob Conroy would definitely have earned his 'Ice in Veins' badge by now!
Blayne Freckleton – Thames Valley Cavalier, guard
18 POINTS, 4 REBOUNDS, 7 ASSISTS, 3 steals, 2 BLOCK, 23 EFFICIENCY
An impresive by an all-round performance from Blayne Freckleton this weekend. The former Northumbria man blew his own trumpet earlier this season when asked to weigh in on the best shooters in the country conversation.
This weekend he backed it up in all-round performance.
Freckleton is leading the hype around TVC's off-court progress as well as playing a starring role on it. This weekend was, on paper, TVC's toughest test in the league so far. They passed with flying colours.
A three-game road trip to BA London Lions, Team Solent Kestrels and Loughborough awaits, plus an L Lynch quarter-final game to be played as well. That'll give the Cavs even more opportunity to show they belong in the upper reaches of the NBL.
Coach Banks' team are now 2-0 versus Hemel Storm in all competitions this season and Freckleton's shooting certainly helped this weekend. Going an impressive 4-9 beyond the arc and 9-21 over the two games vs Hemel so far, he's been in top form.
Hakeem Sylla – Thames Valley Cavaliers, forward
23 POINTS, 8 REBOUNDS, 1 STEAL, 2 BLOCKs, 25 EFFICIENCY
Hakeem Sylla led all volume shooters in FG% (72) but also impressively blocked a three-point attempt from Tayo Oyefusi during a 7-0 scoring run.
Sylla would later go on to block Oyefusi again, this time inside the paint, but was unable to prevent the Hemel man getting the offensive board and a second chance play before Mike Williams got the bucket. Still, the plays highlighted just how dominant Sylla can be at this level.
Those two blocks were surprisingly Sylla's first in NBL action this season, though you'd imagine there's more to come for a forward who averaged 1.3 BPG last season.
If judged on this performance alone, it looks like one of last season's most impressive rebounders, efficient ballers and intimidating blocker is just getting started, but an increase of almost +1 to his turnover rate per game may need some attention going forward.
Greg Poleon – Hemel Storm, forward
29 POINTS, 16 REBOUNDS, 1 block, 39 EFFICIENCY
The former Pace University forward is enjoying a great second season at Hemel, especially this weekend as he was one of the contributing reasons why the Storm were able to hang with such a strong Thames Valley side.
Poleon's inside skills are the real deal, creating one of the most feared points and rebound combo threats the league has to offer. The American averages a 25.3p/10r double-double, putting him second and seventh in points and rebounds respectively.
Poleon was at times the spark the Storm needed this weekend, however an unusually low 32 team 3P% hurt the visitor's offence. The forward's inside threat usually complements the 3-point shooters the Storm possess and visa-versa.
Still, it was a quality performance from Poleon as he continues to go from strength to strength.
Team basketball
Myerscough keep l lynch trophy quarter final aspirations intact
A 44-point win versus Team Newcastle University was the best possible result for Myerscough this weekend in their bid to progress to the next round of the L Lynch Trophy.
Admittedly, it was a very weakened Newcastle side but Myerscough got the job done as Great Osobor led the way with 22p/8r/2a/3s. Honourable mentions have to go to the entire bench who contributed 52 team points as only two players got into double figures.
A weekend high of 39 assists also highlighted the team work on display from the North West side, selflessly grafting as a unit to best their opponents in every way possible.
Derby go 2-0 in as many weeks versus local rivals
Not only did Derby dominate this weekend, they did it in style with a 40-point win. Whilst Conway was a standout, honourable mentions need to go to the likes of Blake Bowman, Malcolm Smith, Josh Guddemi and Oliver Stanley who all played their part in the big win.
Derby are currently in first place in the D1M standings, mainly due to the up and down nature of the fixture list right now. Four wins from five is still a great effort, but the likes of Solent, Thames Valley, Bradford and BA London Lions are all still unbeaten as the D1M table takes shape.
Honourable mentions
Rihards Sulcs (BRA) – 16P/2R/4A/3S/26EFF
Obi Egbunike (OAK) – 14P/10R/1A/3B/17EFF
Lewis Champion (TVC) – 17P/1R/6A/1S/20EFF
Malcolm Smith (DTB)– 19P/2R/2A/3S/20EFF
Jack Burnell (HEM) – 11P/2R/1A/11EFF