In a positive weekend for the WNBL and basketball as a whole, spectators were allowed back into venues, providing a real lift for the sport.
Those that were able to make it to Copleston Sports Hall were able to see Ipswich extend their winning start to the season to six games as they beat Team Solent Kestrels. 
In a busy weekend, there were also wins for Loughborough, Reading and Worcester, plus a victory for Anglia Ruskin after their long break for WNBL action.
There's a recap of all the games below, and each result is also clickable if you wish to view the live stats.
Ipswich remain unbeaten
Ipswich did the double over Solent for the season, adding to October's eight-point road win with another tight victory, coming out on top 97-89.
Watched on by a selection of family and friends, Ipswich put on a show and following a solid couple of quarters, the hosts led 56-42 at the half.
As the Ipswich lead touched 18 midway through the third, Solent were spurred into life and began to get after their table-topping opponents.
Saffie Jarju's lay-up with just over two minutes remaining left the score delicately poised at 90-87 Ipswich, but late scores from Harriet Welham (30pts, 4rbs, 8ast, 2stl), Esther Little (10pts, 13rbs, 3blk) and Coco Leung (13pts, 5rbs, 3ast) helped keep the hosts in front until the end.
Solent captain Krisztina Velkey was once again in top form, but her 23-point, six-rebound, seven-assist, two-steal performance wouldn't be enough for the Kestrels.
Worcester bounce back vs NTU
Worcester bounced back from their first defeat of the season at the earliest opportunity, winning on the road in Nottingham 71-66 against NTU.
The Wolves suffered their first defeat of the season last weekend against Ipswich but came good again here thanks to a strong showing from Inma Bautista. The Worcester guard scored a game-high 21 points, adding six rebounds as the visitors came back from a 12-point deficit in the third quarter.
A two-point ball game early into the second half, Trent enjoyed an 11-1 run that pushed the game firmly in their favour thanks to baskets from Evi Dekker (13pts, 3rbs) and Naomi Campbell (10pts, 3rbs). 
Despite a team-high 18 points from Mady Burdett, the hosts were unable to  to prevent Worcester from storming back late and claiming their fourth win of the year.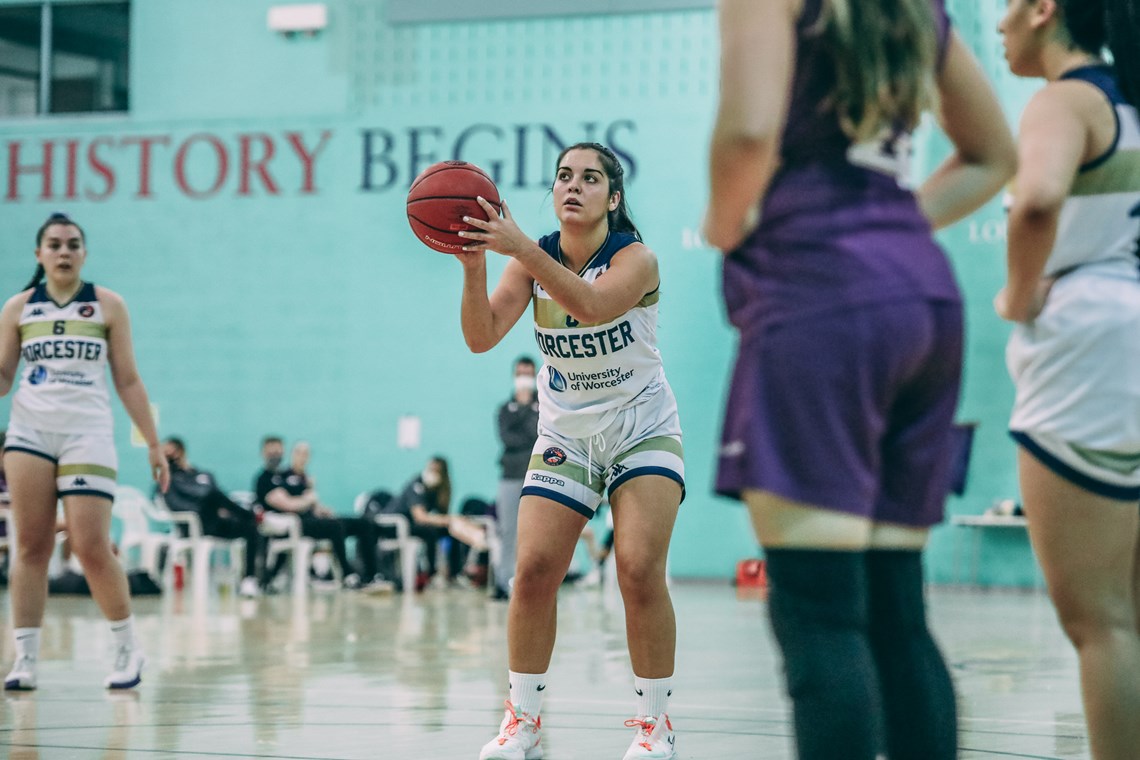 Elsewhere this weekend
Playing their first game since 24 October, Anglia Ruskin needed 20 points from Noa Sanchez Marques to beat Solent 59-54.
Perhaps feeling some rust from their lengthy lay-off, ARU started slowly and fell behind 17-11 after the first quarter and 29-22 by the half.
Leaving themselves plenty of work to do, the hosts pulled out a late 15-5 run over the final five minutes of the game to claim the fourth quarter 24-12, and with it, a hard fought victory.
Loughborough enjoyed their second win in a row as they beat Cardiff Archers 88-71.
Making their season debut, the Welsh outfit got 30 points from Amber Deane as they competed well for the first two periods before falling away after the interval.
American Makana Stone collected yet another double-double for the Riders (18pts, 11rbs) as Molly James (23pts, 4ast, 4 stl) and Hannah Bird (15pts, 4 ast) both provided ample support.
Finally, Reading secured their second win of the season as they knocked off Thames Valley 65-55.
In a see-saw contest that saw multiple big lead changes, it was the visitors who would hold the lead when it mattered most, with Gaila Comesana's double-double of 16 points and 10 rebounds coming in handy for the Rockets.
TVC guard Katherine Goldsby also enjoyed a 16-point outing as the Cavs failed to turn a 49-39 advantage on the boards into a positive result.
This weekend's results:
Saturday 5 December
1pm - Loughborough Riders 88-71 Cardiff Met Archers - LIVE STATS/LIVE STREAM
3pm - Thames Valley Cavaliers 55-65 Reading Rockets - LIVE STATS/LIVE STREAM
3:30pm - Anglia Ruskin University 59-54 Team Solent Kestrels - LIVE STATS/LIVE STREAM
4pm - Nottingham Trent University 66-71 Worcester Wolves - LIVE STATS/LIVE STREAM
Sunday 6 December
1pm - Ipswich 97-89 Team Solent Kestrels - LIVE STATS/HIGHLIGHTS
Main image credit - Nick Winter (taken during 2019/20 season)
.