The NBL season got underway this past weekend with three exciting games across the country.
Due to the quirks of the WNBL season beginning before the NBL one as the L Lynch Trophy played out, our first recap of the season comes in week three.
With big wins for Nottingham, Solent and Derby, we will also take a look at the one L Lynch trophy game that took place this weekend as well.
Each result is also clickable if you wish to view the live stats.
The champions remain unbeaten
Solent extended their lengthy winning streak with a comfortable opener against newly promoted Essex, running out 98-64 victors.
It was a baptism of fire for the Rebels, taking on what is perhaps the hardest game of the season first up, and after the opening frame the Kestrels already enjoyed a double-digit lead. 
Impressive performances from Ian Smith (16pts, 9rbs, 6ast), Brendan Okoronkwo (20pts, 7rbs) and Travis Charles (24pts, 9rbs) allowed the hosts to push the lead past 20 as the second half began, winning at a canter from there.
Andre Lavinier top-scored for the Rebels, dropping 13 points whilst going 3-5 from long range.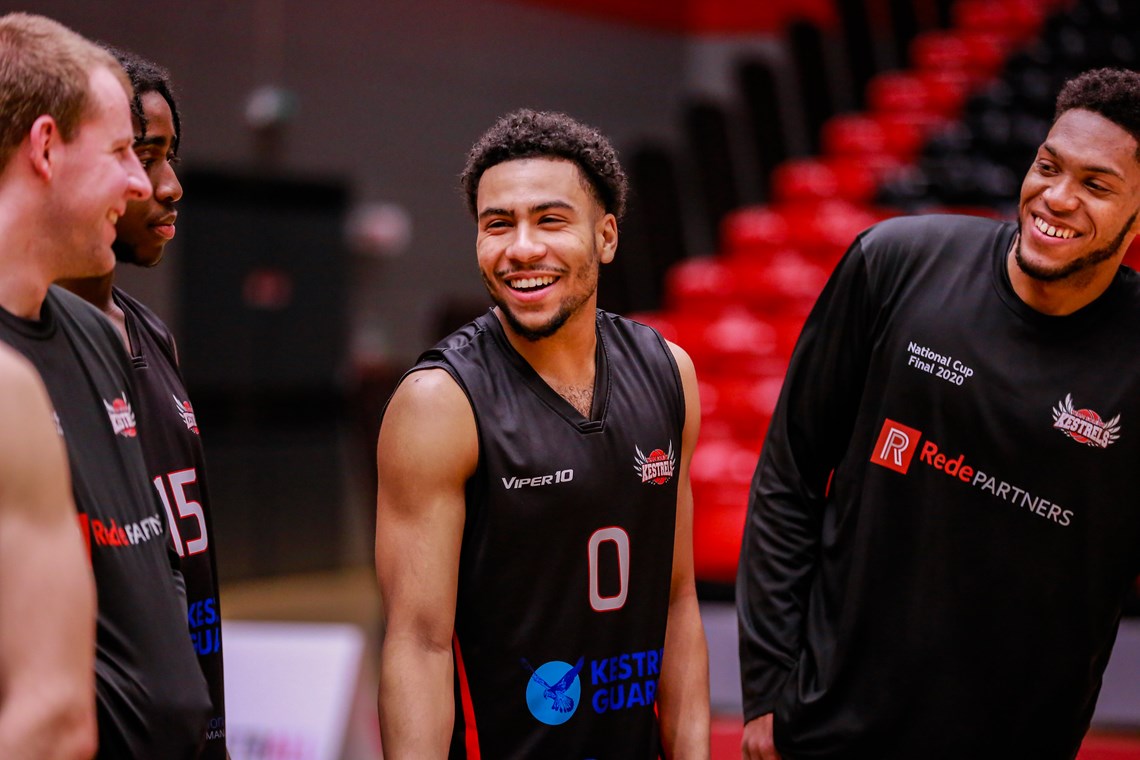 Hoods steal a tight one
Oaklands Wolves were unable to mark their first game as a D1M team with a win as they went down 76-72 against a hard-working Nottingham team.
The home side were up by a point with four minutes remaining only to see Hoods close out strongly to start the league season with a victory.
Victor Olarerin's 19 points led Hoods, adding four rebounds and two assists to a solid performance. Captain Delaney Powell also played well, notching 17 points to go with four steals.
Jordan Santiago, fresh from a move over from Loughborough, led the way for the Wolves with 23 points, six rebounds and four assists.
Oaklands head coach Tom Baker said: "It was a a disappointing result. We were the architects of our own downfall, errors were exploited and we must learn from our mistakes.
"There's a long way to go and who knows what will happen to this season with the issues that COVID continues to create. We will be better, the journey continues."
Bowman goes off for 'Blazers
Despite trailing at each of the game's three breaks, Derby piled up 39 points in the final quarter to beat Worthing 113-99.
The South coast side raced out to a double digit lead by the mid-point of the opening frame, but the hosts regained a grip on the contest to trail by just a point at the half.
The game was also evenly poised going into the final 10 minutes before Derby enjoyed an offensive explosion to provide a lopsided final score.
Blake Bowman and Jacob Conway were joint top scorers for the Trailblazers on 26 points, with Malcolm Smith adding 25 more. Bowman in particular enjoyed a quality game, shooting 11-13 from the floor, pulling down eight boards, dishing five assists and grabbing a pair of steals to go with his points output.
Cam Hildreth continued his run of good form as the main source of offence for Worthing, he finished just three steals shy of a historic quadruple double with 35 points, 11 rebounds, 10 assists and seven steals.
Derby head coach Matt Shaw said: "I thought it was a great battle between Cam and Blake, who are two of the greatest young talents of this generation.
"I was pleased with how tough Blake was and how well he got to the basket. He's such a bright young talent and we're looking forward to seeing how he does this season, before we wish him well as he embarks on his journey to the States."
L Lynch Trophy
Playing catch up following a Covid related layoff in their L Lynch Trophy schedule, Loughborough got one over on their D2M side Charnwood with a 92-81 W.
Despite being expected underdogs in the contest, Charnwood looked to spring an upset and led by as many as 11 points late in the first half.
Loughborough wouldn't be denied though, taking the second half 59-43 to come roaring back for the win.
Harrison Gamble enjoyed a double-double performance of 27 points and 11 rebounds for the D1M side, whilst Greg Wild impressed for Charnwood, scoring 27 points that included going 7-11 from beyond the arc.
This weekend's results:
Saturday 31st October
5:45pm: Oaklands Wolves 72-76 Nottingham Hoods - LIVE STATS 
6:00pm: Team Solent Kestrels 98-64 Essex Rebels - LIVE STATS 
7:15pm: Derby Trailblazers 113-99 Worthing Thunder - LIVE STATS 

Sunday 1st November
 L Lynch Trophy - Loughborough Riders 91-82 Charnwood College Riders - LIVE STATS
Looking ahead
Next weekend sees NBL1 kick into gear fully with six potential games across the weekend.
Basketball England remains in contact with DCMS and will issue an update as soon as possible regarding elite sport, but should NBL1 be able to continue, week four is highlighted by Solent's trip to Loughborough.
Elsewhere, Newcastle are due to host Leicester, Reading head to Nottingham, Hemel welcome BA London Lions and Oaklands play Worthing.
In Sunday's only planned game, Bradford are scheduled to travel to Essex.
.