The biggest game-week of NBL action so far took place at the weekend, with three league match-ups and two L Lynch Trophy ties making for an entertaining Week 5.
There's an unexpected joint-leader at the top of the D1M table following another win for Team Newcastle, whilst Loughborough's struggles continue after defeat in East London.
Hemel and Reading played out a high scoring cracker, and the two games in the L Lynch Trophy didn't disappoint either with wins for Derby and Charnwood.
We have a recap of the games below, and each result is also clickable if you wish to view the live stats.
BA enjoy home advantage
Barking started their season with a win as they overcame Loughborough 91-86.
In a classic "game of two halves", the visiting Riders raced out to a 53-41 advantage by the main change. That deficit spurred the hosts into life in the 2nd half though, storming back to claim a slender victory off the back of a 30-17 final period.
Much of Loughborough's early success was thanks to talented guard Kyle Jimenez who finished with a stat line of 15 points, 14 rebounds, 10 assists and a steal, his second triple-double of the week following his recent exploits in the L Lynch Trophy against Leicester.
The Lions wouldn't go quietly though, and with quality performances from Jase Harrison (21pts, 4rbs, 4stl), Veron Eze (18pts, 3rbs, 4ast, 3 stl) and Jamie Hayes (16pts, 5rbs) in particular, the hosts roared back to claim a valuable win.
"It was great to start our NBL season off with a win against a very good Loughborough team," said BA head coach James Vear.
"We didn't play very well first half but we were much improved second half.
"We will need to be more consistent going forward especially when we play Worthing this coming week"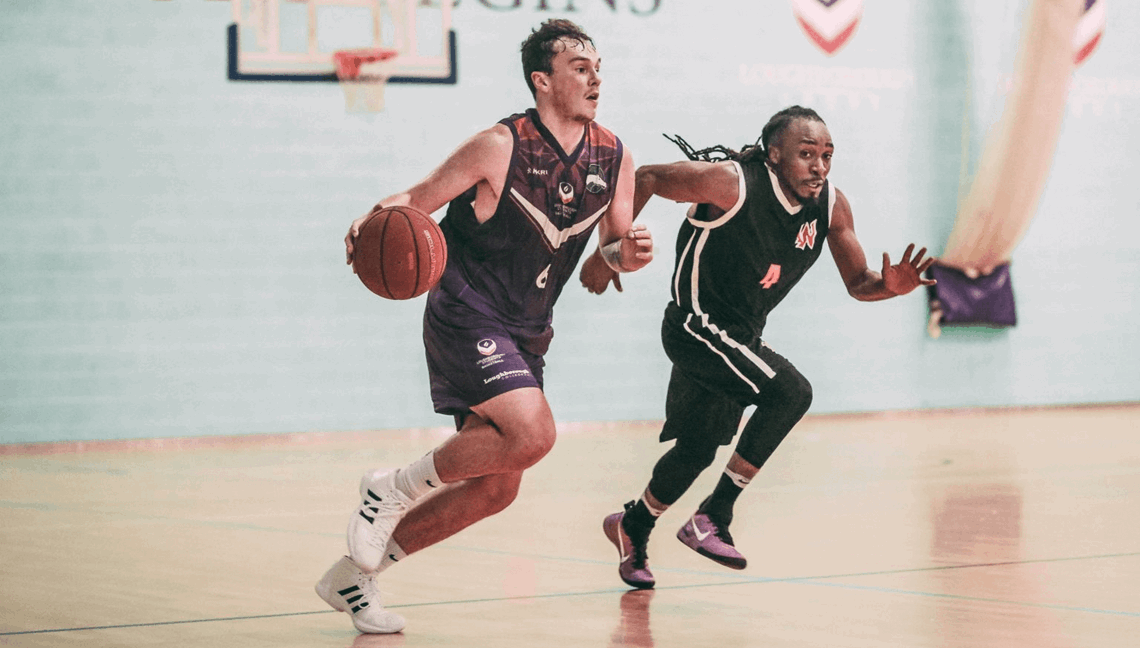 Rockets sunk by 1st quarter storm
Hosts Reading couldn't overcome a poor start as they lost a high-scoring contest against Hemel Storm 112-103.
The Rockets were slow out of the blocks and gave up an eye-opening 38 points on the way to a 13 point deficit by the end of the first quarter.
Things went from bad to worse for coach Keane's side as the visitors padded their advantage in the second to lead 67-46 by the interval.
Reading showed an improvement after the main change, reducing a difference that had peaked at 23 points down to just five as the fourth quarter began.
Although the Rockets would continue to fight, Hemel refused to let their lead slip and held their nerve until the final buzzer.
American Mike Williams enjoyed an impressive outing for Storm, pouring in a game-high 37 points to go with four rebounds. Jack Burnell and Greg Poleon both added a further 20 points each, with the latter also pulling down 10 boards for the double-double.
Reading were paced by guard Reis Pinnock who finished with 29 points, 13 assists and seven rebounds on a day when the Rockets were made to rue their slow start.
Newcastle keep on rolling
Proving that last weekend's opening win against Derby was no fluke, Newcastle picked up another victory against Leicester as they came out on top 84-76.
Riding a 24 point, 13 rebound, five steal performance from Ronald Blain, Newcastle would break open an even contest in the third to lead by as many as 16 points midway through the period.
Leicester came back hard though, with Martyn Gayle (21pts, 6rbs) and Leon Henry (16 pts, 5rbs) both contributing as the hosts led by four with 4:42 remaining.
That set the scene for coach Elderkin's side to go on a 12-0 run to ice the game, disappointing the home side as they slipped to defeat in their opening game of the season.
Newcastle coach Mark Elderkin said: "Anytime you play Warriors you know it's going to be difficult. The game was very up and down and a bit frantic at times so it was great to see us show some real maturity in crunch time."
L Lynch Trophy
D2M side Charnwood once again showed their quality at this level as they upset top-flight side Leicester Warriors in the L Lynch Trophy on Sunday.
Unfazed by the difference in standing between the two teams, the Riders set about playing some quality basketball to lead 43-36 by the half.
Although the third would be a more even affair, the hosts put the result beyond doubt as they won the fourth quarter 25-15 to create a comfortable margin of victory.
Louie Jordan (18pts, 4rbs) and Simeon Perry (16pts, 5rbs) were both standout performers for Charnwood as Leon Henry (17pts, 5rbs) led the way for Leicester.
Derby Trailblazers maintained their 100% start to the group stage of the L Lynch Trophy with a hard fought 84-81 away win over Bradford Dragons.
Jacob Conway led the way for the Trailblazers, top scoring with 23 points, but it was Charlie Brown who stole the limelight, dishing off a staggering 16 assists to go with six points, seven rebounds and three steals, as well as being ranked the most efficient player on court:
"To be honest it really didn't feel like I had that many assists," he said.
"I was just trying to keep the ball moving and make the right play, so we could break down the defence and get good looks. I did the easy bit of passing the ball, but its credit to my team mates for hitting their shots," he added.
Bradford were led by David Walsh, who scored 19 points off the bench, while the veteran duo of Ricky Fetske and Rihard Sulcs added 16 and 14 respectively, with the former also completing a double-double with eleven rebounds.
This weekend's results:
Saturday 14 November
BA London Lions 91-86 Loughborough Riders - LIVE STATS
Leicester Warriors 76-84 Team Newcastle University - LIVE STATS
Reading Rockets 103-112 Hemel Storm - LIVE STATS/LIVE STREAM
L Lynch Trophy - Bradford Dragons 81-84 Derby Trailblazers - LIVE STATS/LIVE STREAM
Sunday 15 November
L Lynch Trophy - Charnwood College 83-67 Leicester Warriors - LIVE STATS
.