We end our two weeks of announcing the 2020 Basketball England Regional Volunteer Award winners today with London. It's been an incredible stretch, highlighting some of the irreplaceable and selfless work done by volunteers up and down the country.
The annual volunteer awards programme sees nominations gathered from the public across the 10 English regions, with winners selected in partnership with the Regional Management Committee Chairs. 
London Regional Chair, Patricia Fairclough OBE, paid tribute to all the winners announced: "Warmest congratulations to all our well deserved award winners. Volunteers are very important to our sport in providing support to anyone of any age and ability and are a valuable asset to our region.
"I sincerely value all our volunteers for their numerous hours, commitment and dedication to sustain the growth of our sport and achievements in London. They voluntary service enables them to link their passion for basketball by transferring skills and knowledge to aid the region needs and continual growth in all aspects of the game. 
London Region Volunteers are a reliable source of unsung heroes and are all appreciated for their services, We are please that the work of all these winners are recognised, especially:
Henderson Gabriel for his numerous years of service progressing from a player to referee and officials mentor, plus a very reliable asset to our AssignR service;  
Lewisham Thunder London BC managed by the late dedicated Ann Pittman, who was a true Ambassador of our sport for all ages and abilities, in providing opportunities, education, support and pathways for all;
The organisational skills of David Quartley & Jackson Gibbons through curricular and extra curricular opportunities provided for the growth of Girls Basketball with City of London Academy and Southwark Pride club's growth, retainment and progression, they are true ambassadors for female development.
There is also recognition for Coach of the Year Jordanas Mejeras from Baltic Stars BC. Working tirelessly to develop young players with extra-curricular school programmes, Sunday Youth League, Jnr NBA, Jnr & Snr NBL teams, he is highly respected by participants and parents. He believes in the growth of his club and retaining players as well as providing a pathway for their basketball careers. Currently undertaking his level 3 coaching qualification, he is a great ambassador for his club and our sport.
Also chosen is St Charles 6th Form College (ABL) & London Westside's Patrick Avorkliyah as Teacher of the Year. Patrick is truly dedicated and committed to the development of basketball players and officials. He teaches at St Charles 6th Form College and is head coach for the ABL college team as well as head coach for London Westside Basketball club u14, u16 & u18 teams.
A passionate teacher ensuring the students and club players develop skills in officiating to assist the club and ABL home fixtures. Beside teaching and coaching, he's also responsible for the college and club teams transport and kit management.
The full list of winners is as follows: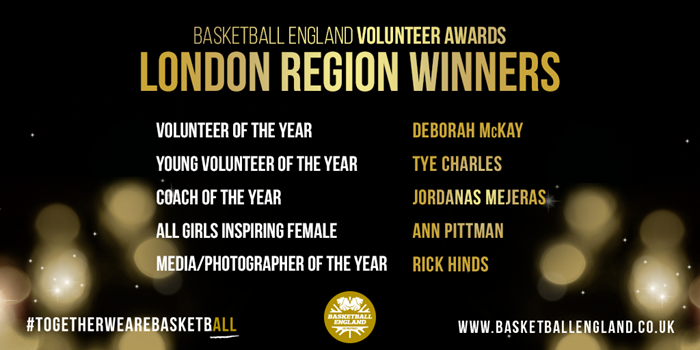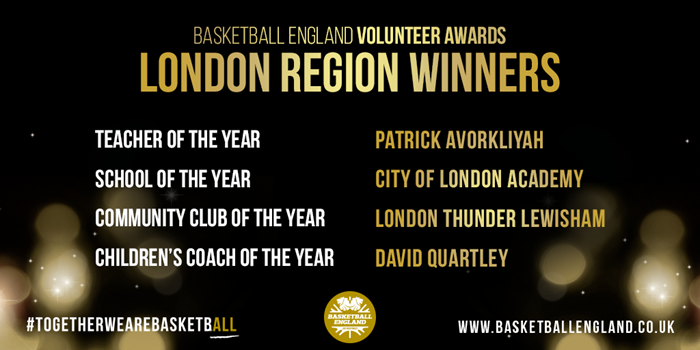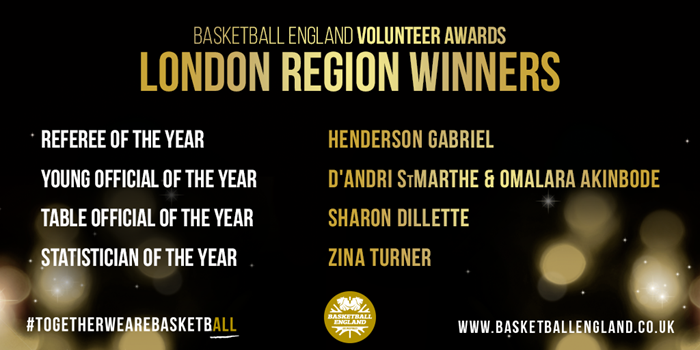 "Congratulations to all winners and nominees across the 13 categories," said David Butler, Delivery Director for Basketball England. "Basketball relies on the efforts of volunteers up and down the country and it's great to recognise the efforts of just a few of these great people in the capital. Well done to everyone!"
All the regional winners across the 13 award categories will be reviewed by a panel, with a total of three nominees per category then being shortlisted to be considered for National Awards.  Due to the current situation across the country, Basketball England will not be hosting a traditional awards dinner in 2020, but national winners will still be selected. News on how these winners will be announced will be made in the coming weeks.