In the penultimate day of our two week stretch of announcing some well deserving regional winners, the South West are next up as part of the 2020 Basketball England Volunteer Awards.
The annual volunteer awards programme sees nominations gathered from the public across the 10 English regions, with winners selected in partnership with the Regional Management Committee Chairs. 
Commenting on the achievements of the winners, South West Regional Chair Geoff Steer said:  "Congratulations on behalf of the South West region at your success as the regional finalists. We wish you every luck in going forward to the national finals and thank you for your contribution to basketball in the South West, long may it continue. " 
Amongst the winners are Troy Woodhouse (Volunteer of the Year) who has put huge effort into starting, establishing and growing basketball in the community through UTB. He started things from the ground up, with the club now offering basketball for men, women, kids and families. The ethos of UTB is one of inclusion, support and respect, making the club highly popular with all in the area..
 
Also recognised is Owen Parker (Statistician of the Year) who's determination to promote basketball in both the region and the country hasn't gone unnoticed. Driving for miles and time spent supporting the game never appears to be an issue. Whether he's working as a table official, statistician or organising tournaments for the local community, Owen is always bridging any gap when needed to provide support to anyone who needs it.
The full list of winners is as follows: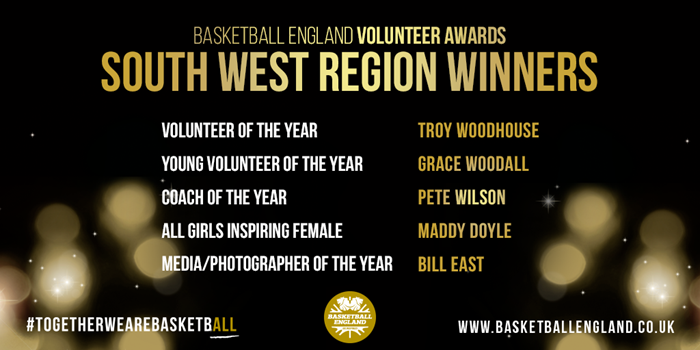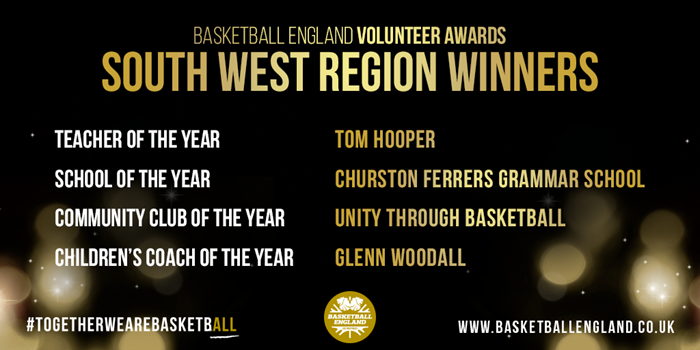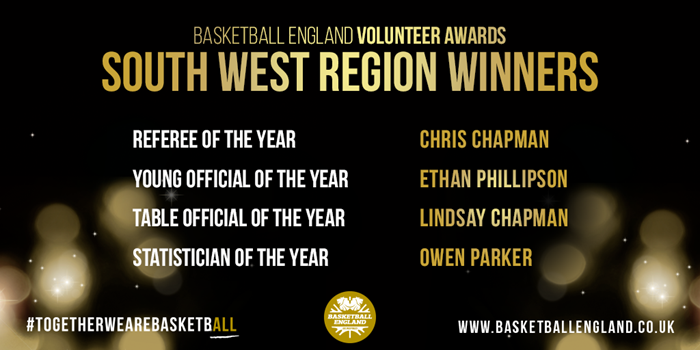 "The South West region has worked extremely hard to develop basketball in various areas from youth and grassroots basketball through to elite performance." said Sam Lewis, Basketball England's Relationship and Coordination Manager the West Midlands & South West.
"Development in the region could not be possible without the hard work and knowledge of their volunteers, who are helping to shape the future of the sport and engage more people in basketball than ever before. Well done to everyone!" 
All the regional winners across the 13 award categories will be reviewed by a panel, with a total of three nominees per category then being shortlisted to be considered for National Awards.  Due to the current situation across the country, Basketball England will not be hosting a traditional awards dinner in 2020, but national winners will still be selected. News on how these winners will be announced will be made in the coming weeks.
Regional award winners conclude tomorrow, with the London region finishing things off.