With the WNBL nearly at the mid-season break, fans were treated to some highly entertaining games over the past weekend.
Previously unbeaten leaders Ipswich fell to their first defeat of the season after a thrilling one-point contest in Loughborough, and there was further excitement as Bristol claimed a narrow OT win over Nottingham Trent.
There were also wins on the weekend for Solent, Anglia Ruskin and Worcester, filling out a great slate of games across D1W.
We have a recap of the games below, and each result is also clickable if you wish to view the live stats.
Loughborough win a thriller
Makana Stone's last-gasp shot with four seconds remaining lifted Loughborough past Ipswich 77-76, handing the reigning D1W champs their first loss of the season in the process.
In a back-and-forth affair that provided a fantastic advertisement for the league, Ipswich raced out to an double-digit advantage, only to be reeled in just as quickly by the Riders.
Well matched until the half time break, it was the hosts who then grabbed the advantage in the third as they built a 14 point lead of their own.
Inevitably, that difference wouldn't last and going into the final few minutes of the contest it was anyone's to win.
A huge triple from Susannah Rafiu put the visitors up by a point with just over 60 seconds remaining, but Stone's last basket heroics would swing the result in Loughborough's favour.
The American forward finished with 20 points and a massive 21 rebounds, whilst Molly James scored a game-high 24 points for the Riders.
Harriet Welham was largely kept in check, but the Ipswich star still collected 18 points and nine assists, whilst Rafiu closed on 15 points, as did Esther Little.
OT joy for Bristol
After a lengthy lay-off, Bristol kicked off their season once again with a 65-63 OT win against Nottingham Trent.
An Evie Dekker layup and a pair of clutch free throws from Vicky Gray had put NTU up by three as the end of regulation loomed, but Flo Ward stepped up for the hosts to nail a massive three with just 10 ticks remaining on the clock.
Both sides then traded missed triples and the game went to a period of OT.
The excitement wasn't done there though and after a nervous extra period was nearly over, Bristol's Mai Zilbeti pushed her side in front with the decisive basket.
The score came six seconds before the final buzzer and proved too much for NTU to overcome, with forward Isabel Bueriberi being made to rue a pair of missed free throws just moments before Zilbeti's effort.
Zilbeti's heroics capped a 15-point, five rebound effort, with Arlette Palmquist Gomes providing support to the tune of 13 points and seven boards.
In an off day for NTU where they shot just 30% from the floor, Dekker made it to 10 points, as did former Sheffield Hatter Abbey Whitehouse. Brahe Ashton's 10 assists were also a game-high.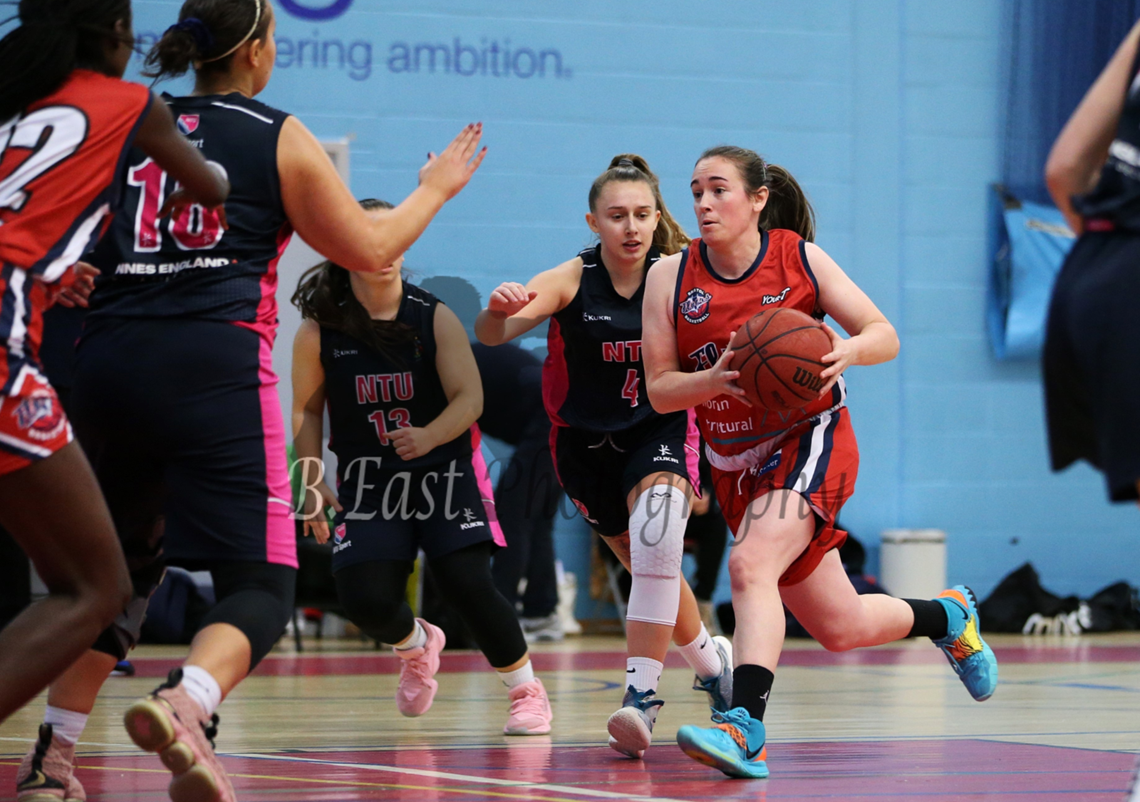 Elsewhere this weekend
In Saturday's only other game, Worcester were able to see off Cardiff 69-61 thanks to a 23-point, 12-rebound effort from former Player of the Week Shanice Turner.
The Wolves' win was built on a 20-9 opening quarter, staying ahead of their opponents the rest of the way despite an impressive 23 point, nine rebound effort from Cardiff's Amber Deane.
Sunday saw Nottingham fall to their second defeat of the weekend, losing out 72-57 at home to Anglia Ruskin University.
A 23-10 second quarter broke the game open for ARU behind strong showings from Autumn Kalis (19pts), Noa Sanchez Marques (17pts), and Jazmin Gyulai (16pts).
NTU wouldn't be able to draw level for the remainder of the contest, despite a double-double of 14 points and 10 rebounds from American Mady Burdett.
The weekend concluded in front of the NBL Live cameras as Team Solent Kestrels easily saw off Worcester 70-44.
Playing their second game in as many days, the Wolves were never really at the races in this one and scored just 14 first half points. That allowed Solent to lead by 21 at the main change before further extending their lead in the second half.
Krisztina Velkey was once again in sparkling form for Solent, collecting a 13 point, 11 rebound double-double.
Inma Bautista top scored for Worcester with 14 points.
This weekend's results:
Saturday 12 December
1pm - Loughborough Riders 77-76 Ipswich - LIVE STATS/LIVE STREAM
1pm - Bristol Academy Flyers 65-63 Nottingham Trent University (after 1OT) - LIVE STATS/LIVE STREAM
1pm - Worcester Wolves 69-61 Cardiff Archers - LIVE STATS/LIVE STREAM
Sunday 13 December
2pm - Nottingham Trent University 57-72 Anglia Ruskin University - LIVE STATS/LIVE STREAM LOCATION
2:30pm - Team Solent Kestrels 70-44 Worcester Wolves - LIVE STATS/LIVE STREAM
Main image credit - Loughborough basketball
.