The NBL Live cameras once again hit the road this weekend, bringing more quality action to basketball fans.
With just a couple of weeks to go until December's mid-season break, teams will want to get another win or two on the board to close 2020 on a positive note.
There are four games in the NBL this weekend, with a couple of local derby games to add some extra spice to proceedings.
We take a look at all this weekend's fixtures below, with links to live stats and live streams at the bottom of the page.
Team Solent Kestrels (3-0) v Worthing Thunder (1-2)
The South coast derby is always a hotly anticipated affair, with Solent and Worthing locking horns once again this weekend.
Bragging rights have firmly been with the Kestrels recently, taking both league games against their rivals last season plus the BBL Trophy quarter-final.
With Solent's unbeaten streak stretching past 12 months, what Worthing can do to topple the NBL super-power remains to be seen, but at least they can once again call on Cam Hildreth now his stint with the GB senior set up is completed.
Finding support for NBL1's top scorer has been more of an issue, though Zaire Taylor has stepped up in recent weeks to collect a Player of the Week award and Max Richardson is also heating up, clocking 14 points and eight boards in Worthing's recent win over Reading.
For the Kestrels, they've had a few weeks without a game but that is more likely to lead to fresh legs than any kind of rust.
At this stage, their roster of stars requires little introduction and although complacency could be an issue for a team in Solent's position, coach Guymon has ensured his team is fully focused for every opponent they've faced over the last calendar year plus.
.

Derby Trailblazers (4-1) v Leicester Warriors (2-0)
Another team claiming local bragging rights are Derby, who have beaten Nottingham Hoods in back-to-back games and now take on Leicester this weekend.
This will be the 25th league meeting between the two sides and the Blazers have had the better of the match-up to date, winning 21 of those games, though over half of them have been determined by ten points or less.
The Trailblazers go into the match as D1M leaders, having won all but one of the five games. Meanwhile, Leicester are still looking for their first win in the league, having lost to Team Newcastle, Thames Valley and Loughborough.
There will also be a familiar feeling about tomorrow's tie, with an increasing number of former Derby players on the Warriors roster. Carl Pearson is an ever present, having been with Leicester for eleven of the past twelve seasons and he was joined by Martyn Gayle three seasons ago.
Now the pair have been joined by Kayne King and Ellis Haggith, who spent part of last season with the Trailblazers. 
Derby head coach Matt Shaw said: "We've had some great battles against Leicester over the last few seasons. I've no reason to expect anything different this weekend.
"They're a very heavily guard orientated team this season and they have a lot of talented play-makers and scorers in the guard positions, so we'll have to do a good job of defending the perimeter."
.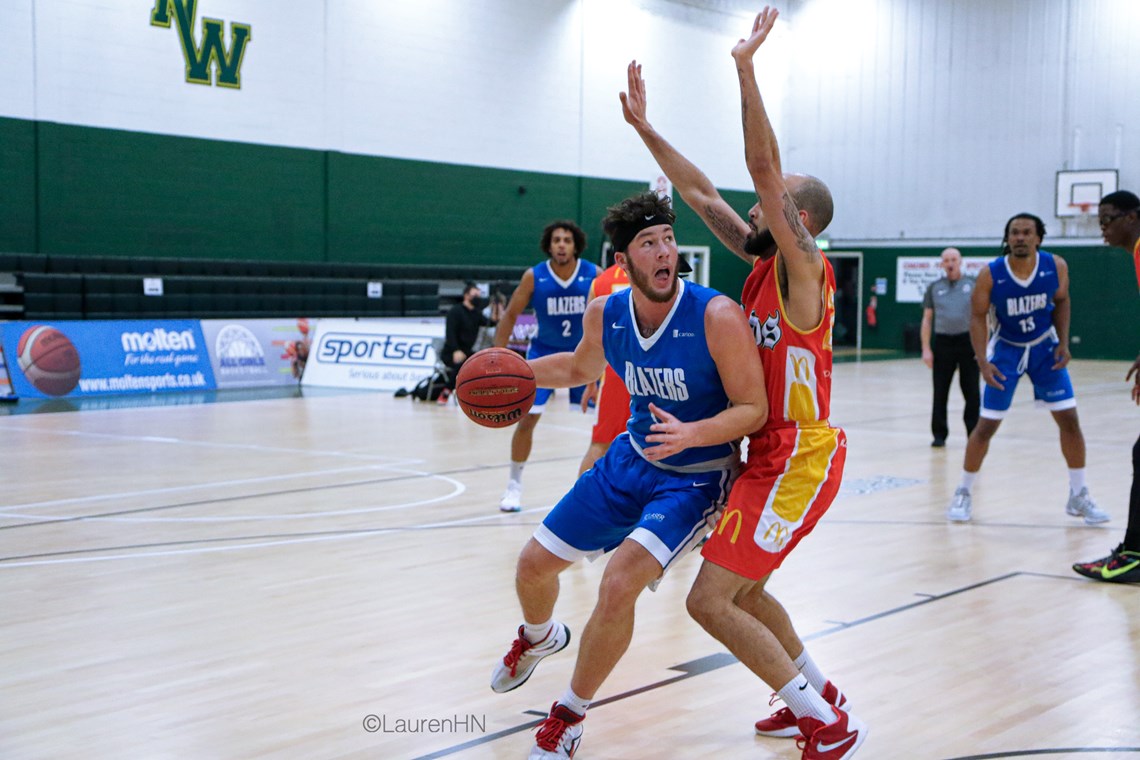 Elsewhere this weekend
A pair of games remain in D1M for the weekend, including Loughborough's (2-2) trip to the North East to face an out-of-sorts Team Newcastle University (2-2).
After winning their opening two games against Derby and Leicester, the Knights have come unstuck against both Solent and Bradford to slip back to .500. They also fell to a 100-53 defeat against Myerscough in the L Lynch Trophy last weekend, though that was a heavily rotated line-up missing a number of key names.
The Riders have gone the other way however, dropping their opening two games before back-to-back close wins over Nottingham and Leicester.
The weekend's other game sees still unbeaten Bradford Dragons (2-0) head to Midlands to play Nottingham Hoods (1-3).
Unable to beat rivals Derby across either of the last two weekends, the Hoods will hope a change of opponent brings a change of fortunes.
That may be tough against a Bradford team that has started the season with two wins from two though, knocking off Newcastle and Oaklands in impressive fashion.

This weekend's fixtures:
Saturday 12 December
12pm - Derby Trailblazers v Leicester Warriors - LIVE STATS/LIVE STREAM
3:30pm - Team Solent Kestrels v Worthing Thunder - LIVE STATS/LIVE STREAM
3:30pm - Nottingham Hoods v Bradford Dragons - LIVE STATS
4pm - Team Newcastle University v Loughborough Riders - LIVE STATS
Main image credit - Luke Simcock