Just two weekend's remain ahead of December's mid-season break as WNBL teams look to build some momentum before the end of 2020.
There are another five games planned for this weekend as the action continues to ramp up, including a highly anticipated rematch of the 2019/20 WNBL National Cup final between Nottingham Trent and Anglia Ruskin on Sunday.
The NBL Live cameras are once again out and about as well, they'll be in Solent to catch all the action between the Kestrels and the Worcester Wolves.
We take a look at all this weekend's games below, with links to live stats and live streams at the bottom of the page.
Nottingham Trent University (3-3) v Anglia Ruskin University (2-0)
In a exciting tie between two strong programmes, ARU head to the Midlands on Sunday to take on Nottingham Trent University.
It's hard to gauge last season's WNBL National Cup finalists in 2020/21, with NTU splitting their six games to date. Wins against Barking, Southwark and Reading suggest this Nottingham side are certainly amongst the top half of the pack. Losses to top four candidates Solent and Worcester however, plus leaders Ipswich, highlight that NTU may not be ready for the WNBL's upper tier just yet.
Tomorrow's match up with another potential title candidate in Anglia Ruskin should provide plenty of intrigue. The Rhinos managed to secure a close 59-54 win against Solent last weekend, their first action since late October, to retain their unbeaten start to the season. Keeping that momentum going and reeling in leaders Ipswich should be priority number one, but beating Nottingham on their own court is a tough proposition. 
For the hosts, they just want another shot at taking down one of the league's leading lights and staking a claim for inclusion in that top-four discussion.
.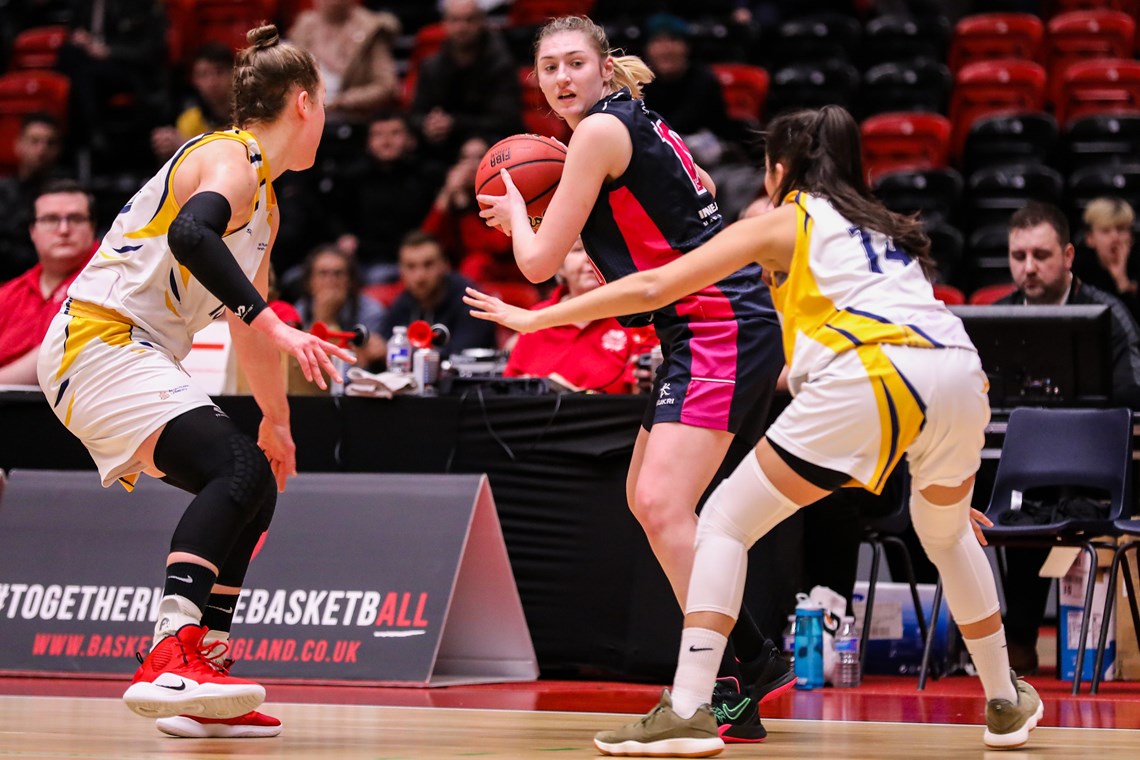 Team Solent Kestrels (3-4) v Worcester Wolves (4-1)
In what should be a quality contest between two of the WNBL's top sides, Solent host Worcester for the NBL Live cameras on Sunday.
Solent's record is somewhat misleading as the Kestrels have already played unbeaten league leaders Ipswich twice, but a disappointing 64-57 loss to Reading in November can't be ignored.
Those types of defeats are the ones that could consign the South coast side to a spot in the top four rather than a title challenge, but the Kestrels' roster still contains plenty of quality and will be a great match for the Wolves on Sunday.
As a newly promoted side, Worcester can proud of their early season form and should have no problem securing a top half finish this season, though they no doubt have their sights set a lot higher than that.
With their only loss to date also coming against Ipswich, the Wolves have looked strong though the early going, especially last weekend as they won away in Nottingham thanks to 21 points from WNBL Player of the Week Inma Bautista.
.
Elsewhere this weekend
Three other games fill this weekend, all on Saturday.
After wins against Thames Valley and Cardiff, Loughborough (3-2) will look to try and make it three in a row as they host leaders Ipswich (6-0). 
Yet to taste defeat this season, five of Ipswich's wins have come on the road so travelling to the Midlands to face the Riders won't phase coach Drane's side.
The match up will also be a good yardstick for the progress of Loughborough's young roster, particularly American Makana Stone. The forward's battle with Esther Little on the glass as the league's top two rebounders go head-to-head is sure to provide quality viewing.
After being out of action since late October, Bristol Academy Flyers (0-2) are back this weekend as they host Nottingham (3-3).
Beginning their double-header on the road, NTU will want to make sure momentum is on their side heading into Sunday's clash with Anglia Ruskin. 
The Flyers will be happy with any kind of victory to get their first win of the season, but that could be tricky after such a long lay-off. That said, Bristol did beat NTU in both their meetings last season.
And another team in double-header action, Worcester (4-1) kick start their weekend as they host Cardiff Archers (0-1).
After starting their season late, the Archers dropped their opener against Loughborough. As a newly promoted side, they'd no doubt like to get a first win as soon as possible, though a road contest against the Wolves is a tough place to find it.

This weekend's fixtures:
Saturday 12 December
1pm - Loughborough Riders v Ipswich - LIVE STATS/LIVE STREAM
1pm - Bristol Academy Flyers v Nottingham Trent University - LIVE STATS/LIVE STREAM
1pm - Worcester Wolves v Cardiff Archers - LIVE STATS/LIVE STREAM
Sunday 13 December
2pm - Nottingham Trent University v Anglia Ruskin University - LIVE STATS/LIVE STREAM LOCATION (Will go live by tip)
2:30pm - Team Solent Kestrels v Worcester Wolves - LIVE STATS/LIVE STREAM