It was another explosive weekend of WNBL action as three games captured the attention of basketball fans.
The Ipswich machine continues to roll on as they moved to 3-0, whilst Solent and COLA Southwark Pride both grabbed wins to move back above .500.
We have a recap of the games below, and each result is also clickable if you wish to view the live stats.
Ipswich enjoy away day success
Ipswich utilised a triple-headed offensive attack to ease past a strong Nottingham Trent side, coming out on top 92-79.
Cameron Taylor-Willis (28pts, 7rbs, 78 2PT%), Harriet Welham (25pts, 11rbs, 11ast) and back-to-back WNBL Player of the Week Esther Little (17pts, 23rbs, 4ast) all shone, though an apparent ankle injury for Little will have overshadowed what was a hard-fought victory.
Ipswich did look to be running out to a comfortable win after building a 16-point lead as early as the second quarter, but the hosts battled hard to reduce their arrears to just a single basket by the midpoint of the the third frame.
Coach Drane's side would prove too powerful however, pulling away over the final 10 minutes.
Solid contributions from Brahe Ashton (19pts,5ast) and Evi Dekker (17pts, 6rbs) kept the contest close, and Isabel Bueriberi continued her early season form to contribute a useful 13 point, 12 rebound double-double. 
"I thought we were excellent today. We knew Nottingham were a powerful, high scoring team with some very dangerous players," said Ipswich head coach Nick Drane.
"I thought we did a good job of limiting their opportunities to score in transition and we dominated the boards, which were two key areas for us.
"But we still gave up too many three's, allowing them to stay in the game.
"That being said, the girls were great today. We emphasised that we are representing the whole club more than ever at the moment and we wanted to get the win, not only for ourselves but for the rest of the club who have so sadly had basketball taken away now until the new year"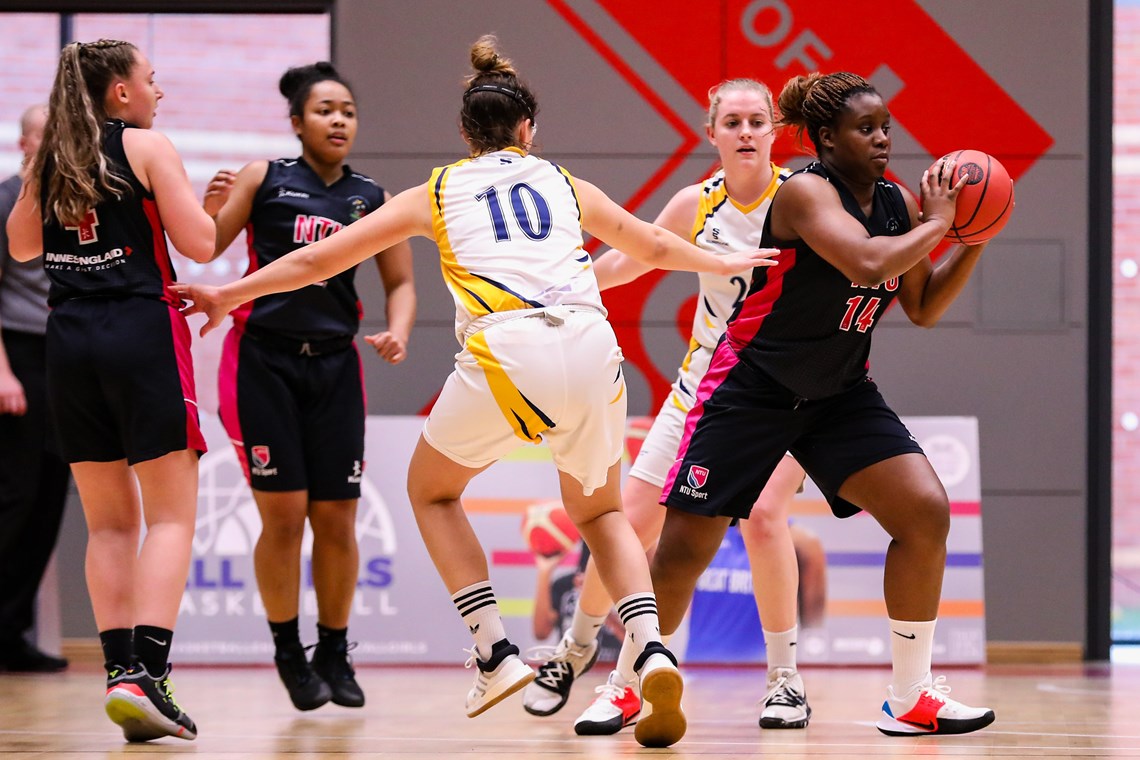 COLA back to winning ways
Simona Henshaw continued her recent strong form to help Southwark Pride past London rivals BA London Lions 77-51.
Henshaw was on fire from range as she went 5/7 from beyond the arc, shooting 77% from the floor overall to finish with a game-high 20 points. Adding five rebounds and two assists made for a complete afternoon of work as Molly Lavin (10pts, 7rbs, 5ast, 3stl) and Isi Ozzy-Momodu (1opts, 9rbs, 3stl, 3blk) both made fine contributions.
For Barking, little went right as they slipped to their third defeat in a row. Failing to enjoy a lead in this one, their deficit was north of 20 points before the first quarter had ended and never came back down below that mark.
Deborah Somoye Unsby was the only Lions' player to record double digits on the score board, she had 10 points. Tamara Fournillier-Onadeko also deserves recognition for her seven points, four rebounds, three assists and five steals.


Velkey's big day
Loughborough's season began with a loss as they were subjected a masterclass in point guard play from Hungarian Krisztina Velkey.
Sporting an impressive stat line of 23 points, five rebounds, 12 assists and two steals, Velkey found a way time and again to either put points on the board or enable her team mates to do the same. Faye Endean (14), Andrea Kurkowski (13) and Erica Meyer (13) all made it into double digits scoring.
The final result looked an unlikely one after Loughborough raced out to an early lead, enjoying a 25-18 advantage at the end of the first period. Velkey and co. would take over from that point on though, winning the second frame 29-16 to lead at the half.
The hosts did fight back to trail by just a point early in the fourth, but the visitors regained their grip on the game to run out comfortable winners.
Erin Hikin was the undoubted standout for the Riders as she collected a game-high 26 points, adding six rebounds and four assists. Hannah Bird was the only other Loughborough player in double digits, she had 12.
This weekend's results:
Saturday 7 November
4pm - Nottingham Trent University 79-92 Ipswich - LIVE STATS
6pm - Loughborough Riders 83-98 Team Solent Kestrels - LIVE STATS
Sunday 8th November
2pm - COLA Southwark Pride 77-51 BA London Lions II - LIVE STATS
Looking ahead
As things stand, four games are scheduled in for next weekend, highlighted by another tough away day for leaders Ipswich as they travel to COLA Southwark Pride.
Loughborough will have another go at grabbing their first win of the season as they host Reading, Team Solent welcome Nottingham Trent to the South coast and Worcester Wolves will try to move to 2-0 as they play BA London Lions II.
Main image credit - Nick Winter
.