With just a few weeks to go before the end of the regular season, FocusHoops' Darren Paul is down to his final couple of WNBL Team of the Weeks.
As a writer, commentator, podcaster and more, Darren had six games to look over including the table topping clash between Ipswich and CoLA Southwark Pride.
Have a look over this week's choices and give a shout-out to the players you think deserve one using the hashtag #NBL2021. Don't forget to tag us!  
Twitter: @NBLengland / @FocusHoops  
Facebook: @NBLengland  / @FocusHoops  
Instagram: @nblengland / @focushoops  
How it works  
The Basketball England WNBL Player of the Week goes straight into the starting line-up.  
The other four players are picked with the following factors in mind:  
Efficiency 

 

Stats 

 

Team and opposition strength 

 

Periods of influence in the game 

 
The FocusHoops team of the week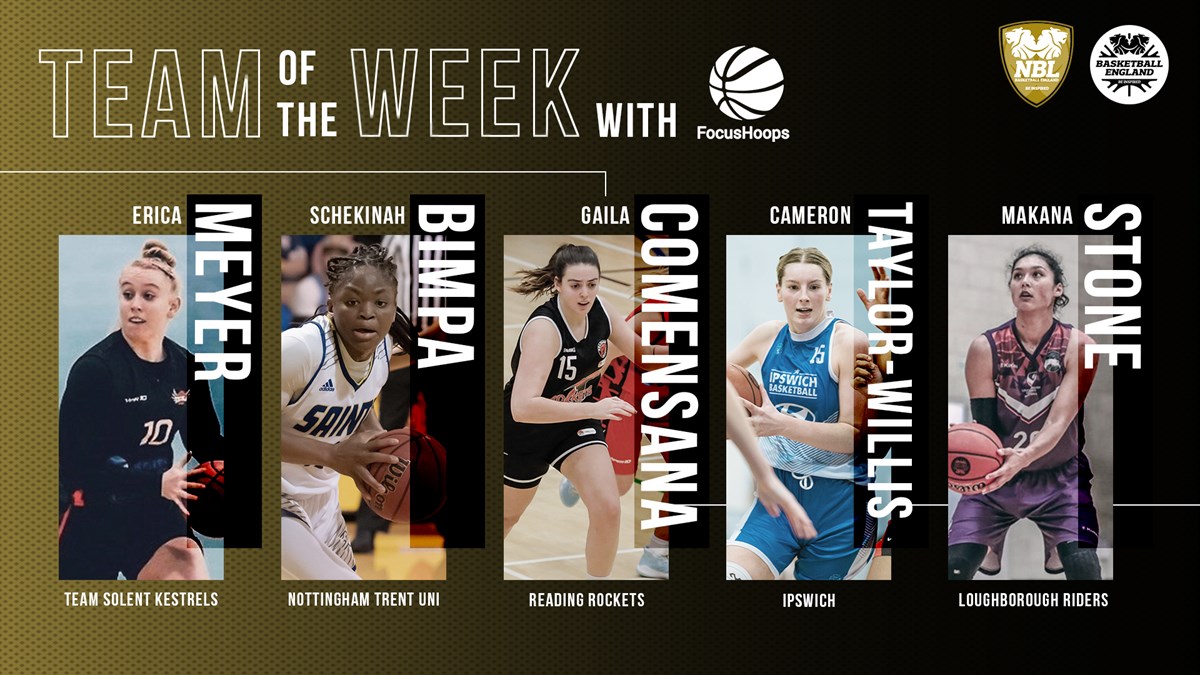 Erica Meyer - Team Solent Kestrels, forward
16pts, 11reb, 1AST, 1STL, 4BLK, 23eff
Erica Meyer is enjoying a fine end to the 2020/21 season, picking up Player of the Week honours thanks to her 16 point, 11 rebound double-double in Team Solent Kestrels' 70-62 road victory over BA London Lions II.
Meyer led her side in points and rebounds, shooting 41% from the floor and making six of eight shots from the line. The American played a disciplined game of basketball, committing a single turnover and zero personal fouls whilst blocking four shots and snagging a steal.
This was another all around strong performance from the Solent star as the playoffs get closer and the stakes continue to rise.
Schekinah Bimpa - Nottingham Trent University, forward
31pts, 29reb, 1AST, 1STL, 46eff
The bright lights were on Schekinah Bimpa this Saturday as NBL Live broadcast the Worcester Wolves victory over Nottingham Trent University, and she delivered in a big way.
Bimpa scored a weekend high 31 points, pulled down a weekend high 29 rebounds and finished with an eye-wateringly high 46 efficiency On her way to 29 boards, the American grabbed a huge 12 offensive rebounds, and 17 on defence, a huge effort at both ends of the floor.
The NTU forward played an efficient game of basketball to, making 15 of her 29 shots (51%), was fouled five times and snagged one steal in a thrilling game.
Gaila Comensana - Reading Rockets, forward
11pts, 8reb, 4ast, 2STL. 20eff
Comensana was another efficient performer this weekend on her way to 11 points and eight rebounds in Reading's 60-46 victory over Thames Valley Cavaliers on Saturday.
The Rockets' forward shot well in the contest, doing much of her damage in the first half as the two sides were locked in a close back-and-forth affair. Comensana made 50% of her shots, making four of eight attempts and hitting 75% from the free throw line.  
The Spaniard contributed on both ends of the floor with defensive boards, assisting on four baskets, recording two blocks and grabbing two steals; it was an all round impressive performance.
Cameron Taylor-Willis - Ipswich, forward
12pts, 9reb, 1ast, 1STL, 1BLK, 15eff
Cameron Taylor-Willis was a key piece in Ipswich's huge win over CoLA Southwark Pride on Saturday.
The 13 point victory puts one hand on the league title for Ipswich as they dispatched their nearest rival with a strong second half effort.
Taylor-Willis shot well from inside the arc, making four of six attempts, and went perfect at the line in her four trips, whilst also being second in rebounding on her side with 9 boards (8 defensive).
CTW also snagged a steal and recorded a block as the Suffolk side all but secured regular season title glory. A big performance in a big game.
Makana Stone - Loughborough Riders, forward
14pts, 11reb, 1AST, 8STL, 21eff
Makana Stone had FocusHoops on triple-double watch this weekend as she scored 14 points, pulled down 11 rebounds and grabbed an incredible eight steals in Loughborough's 73-60 victory on the road against the Cardiff Met Archers.
Stone is in the running for D1W's Player of the Year award and this performance is a demonstration of why, as the American scored at a decent clip(42%) whilst cleaning up on the glass and consistently putting in the hard yards on the defensive end.
Stone and Loughborough have a showdown with Ipswich coming up next weekend which will be a perfect opportunity for some of the Player of the Year contenders to demonstrate their excellence. For Stone, this weekend's performance was a perfect tune up in that regard.
Honourable mentions
Isi Ozzy-Momodu (COL) - 10P/16R/1A/20EFF
Esther Little (IPS) - 2P/12R/5A/2B/18EFF
Inma Bautista (WOR) - 15P/10R/4A/16EFF
Isobel Bunyan (CAR) - 12P/7R/3A/3S/4B/21EFF
.