Rebound's Chris Hughes picks his NBL Team
 of the Week and highlights 
five 
honourable mentions 
as well as two impressive 
team performances.  
Chris, a content producer, YouTube host and commentator, casts his eye over the first round of the playoff games involving the NBL Division One teams involved in the post season.
Have your say on this week's choices and give a shout-out to the players you think deserve one using the hashtag #NBL2021. Don't forget to tag us!    
Twitter:  @NBLengland / @Rebound__  
Facebook:  @NBLengland  / @ReboundNBL  
Instagram:  @nblengland / @reboundnbl  
How it works 
The Basketball England NBL Player of the Week goes straight into the starting line-up.    
The other four players are picked with the following factors in mind:    
Efficiency 

 

Stats 

 

Team and opposition strength 

 

Periods of influence in the game 

 
The Rebound team of the week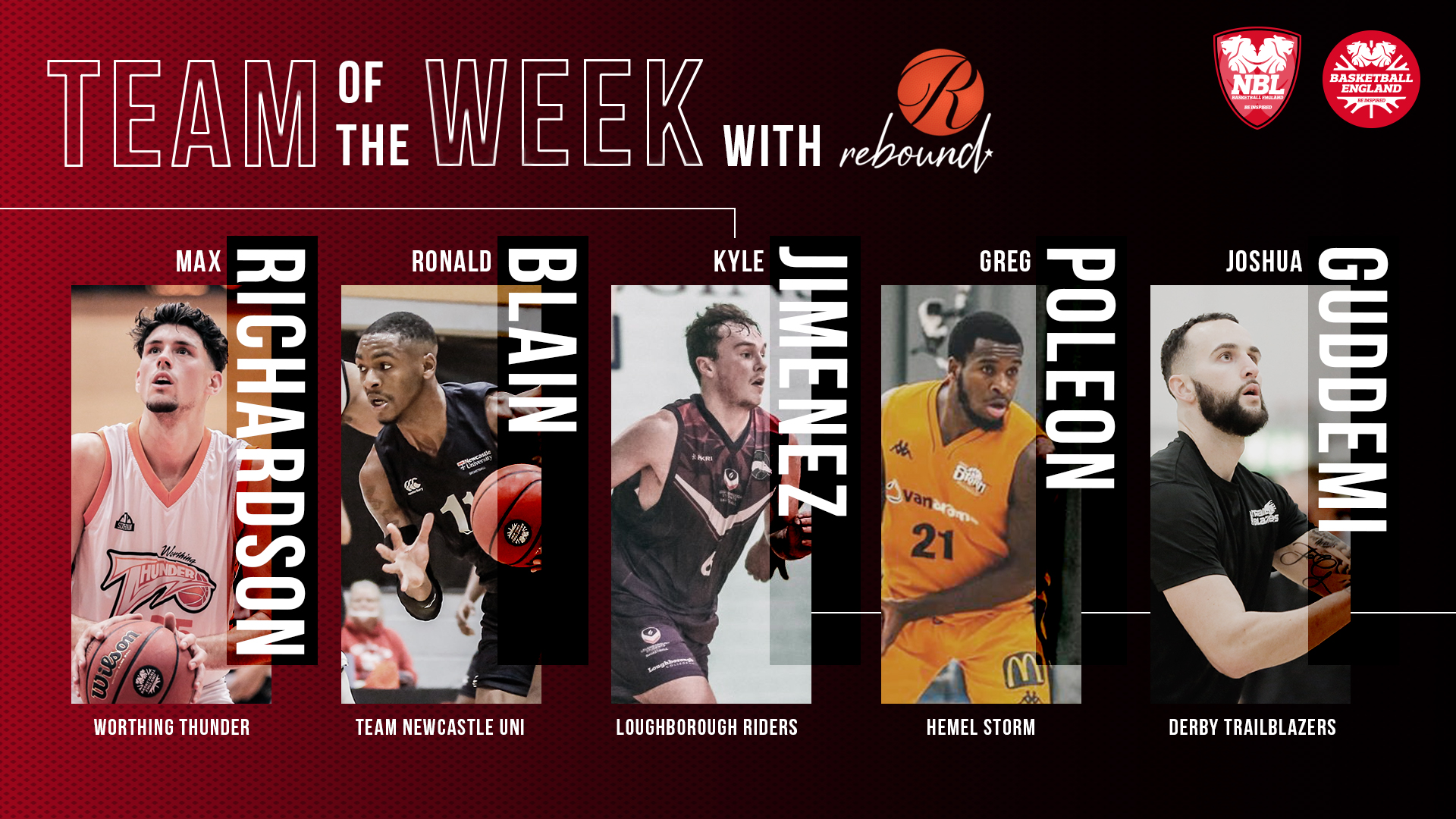 Max Richardson – Worthing Thunder, forward 
17 POINTS, 20 REBOUNDS, 6 ASSISTS, 1 STEAL, 1 BLOCK, 34 EFFICIENCY 

 
Max Richardson put on a Player of the Week performance as part of an impressive Worthing team performance. 
The former Loughborough Riders star was impressive in the paint allowing the guards spacing to get to work from range with an impressive double-double performance. 
In a close game second-chance points were pivotal in the six-point win. Richardson's four offensive boards contributed to Worthing having six more second-chance points than their opponents and a stunning 16 defensive boards kept things tight at the other end of the court. 
Richardson was everywhere for his side in an evenly matched game as he contributed across the board. 
Ronald Blain

 – 

Team Newcastle Univers

i

ty

, forw

ard 
26

 POINTS,

 

11 REBOUNDS, 5

 ASSIST

S, 2

 STEAL

S, 

1 BLOCK, 37

 EFFICIENCY

 

 
Ronald Blain led Newcastle with 26 points to ensure they advanced past round one in the 10-point win. He was part of a side that out rebounded Leicester and kept them to four secon- chance points. 
The former Hawaii Pacific star was dominant in Newcastle's biggest 17-0 run going on an uninterrupted 11-0 scoring run. He didn't just shoot like a black ops navy seal operative, he also showcased his full repertoire with a dunk, a range of two-pointers and a three. 
In any other week he would likely have won the NBL's 'Player of the Week' with only the slightly more close-run nature of the Thunder vs Barling game denying him. 
Kyle Jimenez – Loughborough Riders

, 

guard
21

 POINTS, 

8

 R

EBOUNDS

, 

1

2

 ASSISTS,

 

2

 STEALS, 29

 

EFFICIENCY

 
The regular-season assist king showed no let-up in round one of the playoffs.  
A clash with Reading had added significance on an individual level with Jimenez up against former teammate Reiss Pinnock. The latter is one of the best defensive guards in the league and was part of a collective struggled to keep Mr Triple-double under 20 points. 
Jimenez was the most fouled player on either side with the Rockets clearly trying to stop the playmaker getting hot or making easy passes. The Scot had an almost perfect 5-6 record from the charity stripe 
Greg Poleon

 

– 

Hemel Storm

, forw

ard  

 
18

 POINTS, 17

 

R

EBOUND

S

, 

7 ASSISTS, 1

 STEAL

, 36

 

EFF

ICIENCY

 
Greg Poleon continued his regular-season form into the post-season. The former Pace University man is one of the toughest covers in the league. 
It was always going to be a tough game for #14 seeds Nottingham, especially with Greg Poleon and Hemel in form. Poleon took the opportunity to almost get his first triple-double of the season. 
He got to 18 points efficiently and in style, shooting the lights out and made 8/10 field attempts, including a 3-pointer.  
Joshua 

Guddemi

 – Derby Trailblazers, forw

ard 

 

 
27 POINTS, 5

 RE

BOUND

S, 4

 ASS

ISTS

, 

1 BLOCK, 28

 

EFFICIENCY

 
The sharp shooter was in sniper mode this weekend as Derby packed Oaklands' bags for them in the 105-77 first round win. 
The margin of victory was in part due to Guddemi's 5/9 from three-point range and two individual NBA 2K green-light scoring runs either side of half-time.  
In both runs, he only missed a and one free throw. Guddemi's individual 8-0 run before half time gave his side the momentum to go on their largest run (12-0). Guddemi would also start the 3rd quarter with an individual 7-0 run. 
Team Basketball
BRADFORD

 DRAGONS ON FIRE AND ADVANCE TO THE QUARTER

-

FINALS

 
The game of the first round as evenly matched Essex Rebels and Bradford locked horns in a fast tempo clash in Essex. The visitors were the only side to make a positional upset in round one. 
Bradford put on a great performance even though they came into this game without rookie and star Great Osobor. 
Bradford's rotations this season have changed numerous times but this did not stop them getting the W. 
Honourable mentions to Jermayne Laing who was on fire shooting 5-6 FGM. Veteran Ricky Fetske also got double figures off the bench to help the cause. 
WORTHING THUNDER TAME BA LIONS

 
These two teams have met before in a win or go home game, and again Thunder got the W to advance. 
Worthing hit 39% of their three-point attempts. Zaire Taylor made some from almost in the car park! Ishmael Fontaine also shot well, with the pair contributing 10 of Thunder's 13 threes. 
What really impressed with Worthing's performance was the defensive energy from Zaire and co. 
Honourable mentions
Zaire Taylor (WOR) – 23P/1R/4A/3S/20EFF 
Charlie Brown (DER) – 5P/8R/11A/2S/22EFF                                                                                                                               Blake Bowman (DER) – 17P/10R/6A/1B/25EFF  
Abiodun Adedo (BA) – 21P/6R/1A/2S/25EFF 
Leon Henry (LEI) – 26P/5R/2A/3S/26EFF 
.