FocusHoops' Darren Paul casts an eye over week 23 in the WNBL to select another Team of the Week.
As a writer, commentator, podcaster and more, Darren had a trio of games to choose from, but stat issues for BA London Lions II v Cardiff Met Archers has narrowed his selection pool to two.
Have a look over this week's choices and give a shout-out to the players you think deserve one using the hashtag #NBL2021. Don't forget to tag us!  
Twitter: @NBLengland / @FocusHoops  
Facebook: @NBLengland  / @FocusHoops  
Instagram: @nblengland / @focushoops  
How it works  
The Basketball England WNBL Player of the Week goes straight into the starting line-up.  
The other four players are picked with the following factors in mind:  
Efficiency 

 

Stats 

 

Team and opposition strength 

 

Periods of influence in the game 

 
The FocusHoops team of the week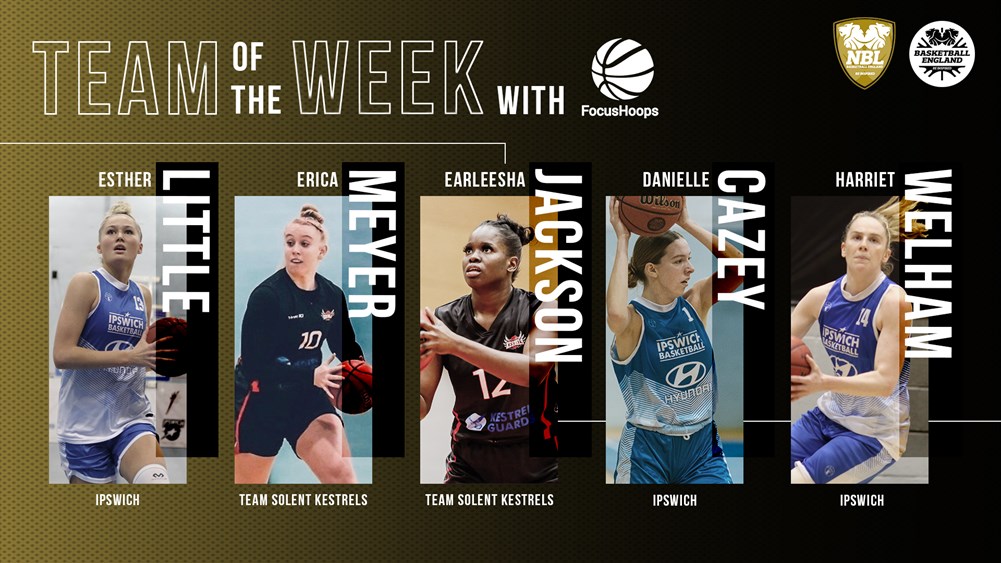 Esther Little - Ipswich, wing
11pts, 20reb, 11ast, 2stl, 8blk, +/- +31, 41eff
Esther Little achieved Player of the Week honours after another dominant performance on the glass as part of a triple-double that even had us on quadruple-double watch this weekend!
Ipswich's 22 point victory over Thames Valley Cavaliers saw Little go 4-6 from the floor and 3-4 from the line for her 11 points, dishing 11 assists and pulling down 20 rebounds (1 offensive) on her way to another eye-catching stat line.
The Gonzaga bound star also added eight blocks and a pair of steal as part of a highly impressive performance.
Erica Meyer - Team Solent Kestrels, forward
12pts, 17reb, 3ast, 4blk, +/- +17, 20eff
Erica Meyer once again put in a huge performance for Team Solent Kestrels, with a 12-17 double-double that saw the American lead the game in total rebounds and tie for a game-high in offensive boards.
Meyer shot 44% from the field, but went a perfect 4-4 at the line as well as sending back four shots, all without conceding a foul as she ended with an even assist to turnover ratio.
In a bounce-back victory, this was another efficient performance from TSK's star as their hunt for a top three finish continues.
Earleesha Jackson - Team Solent Kestrels, forward
10pts, 10reb, 4ast, 1stl, +/- +26, 21eff
Shooting 55% from the floor and pulling down four offensive boards on her way to a 10-10 double-double, Earleesha Jackson was very efficient in the Solent's 27 point victory over Reading this weekend.
Jackson did not register a single foul or turnover in her 21:36 on court and she finished with the highest plus/minus in the game at +26, capping off a very steady performance.
If TSK want to finish in the top three, games like this are exactly what they'll need to close out the season.
Dani Cazey - Ipswich, wing
31pts, 2reb, 1ast, 1stl, 5-9 3pt, +/- +39, 27eff
Dani Cazey knows how to catch fire from the outside and this weekend was no exception as the sharp shooter hit 5-9 from beyond the arc as her side won comfortably at home, bouncing back from last week's defeat.
Cazey scored 17 points in the opening period of the game as she helped Ipswich turn a closely contested first quarter into a comfortable 13 point lead.
Cazey was also efficient in the game, committing zero turnovers whilst being fouled four times.
As the title race heats up, coach Drane and Ipswich will be counting on her shooting ability to help them stay in control of their destiny.
Harriet Welham - Ipswich, guard
17pts, 10reb, 10ast, 1stl, +/- +30, 23eff
Harriet Welham continues to stuff the stat sheet with another triple-double, this weekend a 17-10-10 effort in a bounce-back victory over Thames Valley Cavaliers.
Welham shot well in the paint, going 6-10 and made Thames Valley pay for fouling her by hitting 5-6 from the line. She coped well with being fouled six times, a game high, whilst only committing two fouls herself.
A constant offensive presence, Welham helped to keep the Cavs at bay through her scoring but her assists are what leap out for me. Welham's dimes led to 13 points in the opening period and 24 points total, a key contribution for her side. 
Team Basketball
TSK and Ipswich back to winning ways
Team Solent Kestrels and Ipswich both had huge bounce back victories after home losses last week, keeping them on track at the top of the table.
TSK split their points well between the bench and starters, with Silvia Cante one of the stars of the game. She was great in rotation, as was Jackson, whilst Ipswich's starters did the damage in their victory.
Team Solent Kestrels put in arguably the most impressive quarter of the weekend, with a huge 29-7 second period that swung the match up with Reading in their favour. That effort allowed the hosts to control the contest after that, much in the same way as Ipswich were in control against TVC.
Two very strong performances, both rightly heralded as top performances.
Honourable mentions
Faye Endean (TSK) - 16P/7R/5A/2S/12EFF
Silvia Cante (TSK) - 11P/5R/3A/3S/16EFF
Sitota Gines Espinosa (REA) - 14P/9R/2A/6S/15EFF
Katherine Goldsby (TVC) - 26P/12R/4S/21EFF
.