Rebound's Chris Hughes picks his NBL Team
 of the Week and highlights 
five 
honourable mentions 
as well as two impressive 
team performances.  
Chris, a content producer, YouTube host and commentator, casts his eye over the four games involving NBL Division One teams from Week 23, including Solent's win over Derby and Thames Valley beating Bradford.
Have your say on this week's choices and give a shout-out to the players you think deserve one using the hashtag #NBL2021. Don't forget to tag us!    
Twitter:  @NBLengland / @Rebound__  
Facebook:  @NBLengland  / @ReboundNBL  
Instagram:  @nblengland / @reboundnbl  
How it works 
The Basketball England NBL Player of the Week goes straight into the starting line-up.    
The other four players are picked with the following factors in mind:    
Efficiency 

 

Stats 

 

Team and opposition strength 

 

Periods of influence in the game 

 
The Rebound team of the week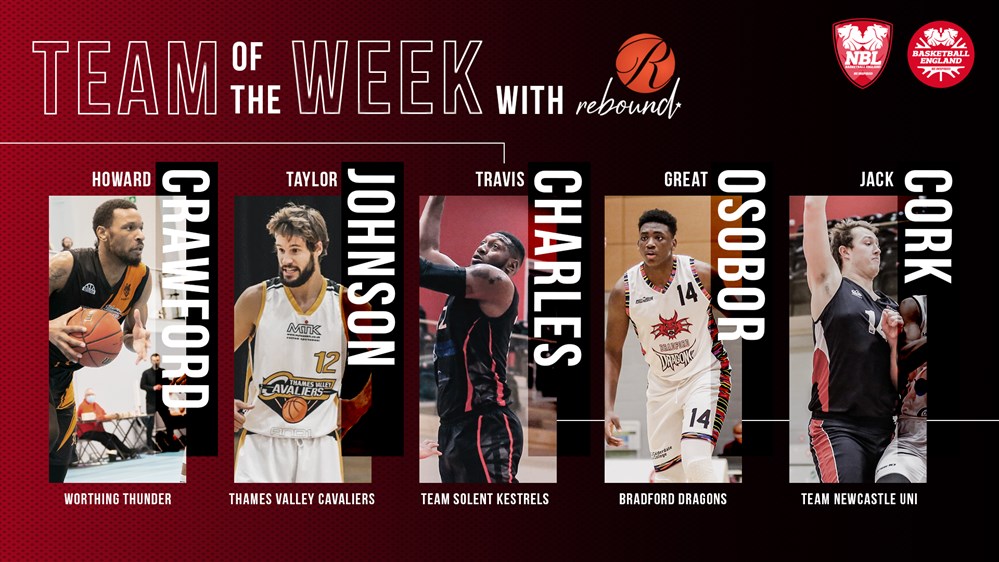 Howard Crawford - Worthing Thunder, forward
28 POINTS, 16 REBOUNDs, 3 assists, 1 steal, 1 block, 40 efficiency
Howard Crawford put on the weekend's most efficient performance with a mammoth 28-point 16-rebound double-double.
Crawford was a major catalyst in Worthing extending the lead in the second quarter. Thanks to the American's efforts, Thunder went into the break with a healthy 21-point lead and Crawford was already close to a double-double at that point with 12 points and eight rebounds as well as a few dimes and a block to boot.
At times it was like watching poetry in motion with Worthing really enjoying themselves against Leicester. With the likes of Crawford, Max Richardson and Tom Ward freely getting buckets, it made the Warriors' task on defence very difficult indeed.
Taylor Johnson – Thames Valley Cavaliers, guard  
29 POINTS, 14 rebounds, 7 assists, 2 steals, 37 efficiency
Taylor Johnson put on an excellent display this weekend; the former Dartmouth College guard was just three assists shy of a triple-double.
The game was relatively close for the best part of three quarters. With two minutes left in the third frame, the Cavaliers only held a slender 6-point lead.
Johnson would then go on an uninterrupted 9-0 personal run to ensure his side had a 15-point advantage heading into the final quarter.
The MVP candidate was not done there. The American guard was directly involved in Thames Valley's next two buckets to keep the momentum in their favour up and seal another win.
Travis Charles – Team Solent Kestrels, forward   
25 points, 15 rebounds, 5 assists, 1 steal, 2 blocks, 38 efficiency
What impressed me most about this performance was the ease with which Travis Charles was able to spin away from his defender to make easy buckets. It was a move that helped the former University of Albany forward pile up his third double-double of the season in all NBL competitions.
Charles' ability to find that space with quality footwork also enabled him ample time to collect eight offensive boards when Solent's shots missed the mark.
The Kestrels' man also contributed heavily as a playmaker with five assists, a joint second highest total during his three-year stretch with the Solent so far.
Great Osobor – Bradford Dragons, forward   
33 POINTS, 13 rEBOUNDS, 2 aSSISTS, 2 STEALs, 33 effICIENCY
The rise of Great Osobor has been one of the enthralling stories of this NBL season. Thanks to his efforts so far, he'll no doubt be a front-runner for an end of season award or two as he's transitioned into a key part of Bradford's side.
His all-round performance caught my attention this weekend, from chase down blocks, shooting from range and almost turning the game into the "Osobor Show" with highlight plays and dunks. The young forward was everywhere for his team.
NCAA's Montana State is his next destination and this writer would not be surprised if he takes to it like a duck to water.
Jack Cork – Team Newcastle University, forward   
23 POINTS, 11 REBOUNDS, 5 assists, 1 BLOCK, 37 EFFICIENCY
Jack Cork produced another shooting clinic on Saturday, missing just one of his 12 shots as he quickly raced to 23 points in a highly efficient manner throughout a 24-minute performance against Oaklands Wolves.
It was a statement performance from Cork, who posted personal NBL D1 season-highs in field goals made, rebounds and assists.
The talented forward was also influential in Newcastle's biggest scoring run, contributing at both ends in the 9-0 streak with two points, two rebounds and a block.
Team Basketball
Worthing thunder put on a show
Worthing Thunder put on one of their strongest performances of the season in week 23 as they were too much for Leicester Warriors. Frequent flashy passing from Zaire Taylor, Tom Ward and co. found a player in space to make the easy bucket, it was a treat to watch.
In my own weekly preview, I mentioned how a big part of Leicester getting a win would involve preventing Ward and Taylor from getting too many dimes.
The pair contributed 16 of Worthing's 27 assists but in truth it was a team performance.
Cavaliers extinguish brave dragons
Thames Valley Cavaliers were given a stern test following last weekend's win versus Solent. Even though they were missing their captain Blayne Freckleton, the team got the job done.
Coach Banks also gave walking double-double Hakeem Sylla a relatively light 20 minute cameo, but there was still enough quality in the squad to get another important W.
Perimeter shooting has been key for the Cavs this season and four of the five starters all shot three or more triples this weekend.
An honourable mention needs to go to Lewis Champion following an impressive 18p/3r/7a/3s effort, shooting a cool 5-11 FGM, 3-8 3PM and perfect 5-5 from the charity stripe.
Honourable mentions
Ronald Blain (NEW) – 29P/10R/5A/1S/2B/33EFF
Brandon Federici (NEW) – 23P/3R/4A/2S/24EFF
Ian Smith (SOL) – 14P/5R/6A/4S/24EFF
Hakeem Sylla (TVC) – 10P/11R/1A/1S/18EFF
Tom Ward (WOR) – 16P/9R/8A/3S/22EFF
.