FocusHoops
' Darren Paul looks 
over week 18 of the WNBL to select another Team of the Week.
As a writer, commentator, podcaster and more, Darren had just two games to pick from this past weekend but both provided some top performances. 
Have a look over this week's choices and give a shout-out to the players you think deserve one using the hashtag #NBL2021. Don't forget to tag us! 
Twitter: @NBLengland / @FocusHoops 
Facebook: @NBLengland  / @FocusHoops 
Instagram: @nblengland / @focushoops 
How it works 
The Basketball England WNBL Player of the Week goes straight into the starting line-up. 
The other four players are picked with the following factors in mind: 
Efficiency

 

Stats

 

Team and opposition strength

 

Periods of influence in the game

 
The FocusHoops team of the week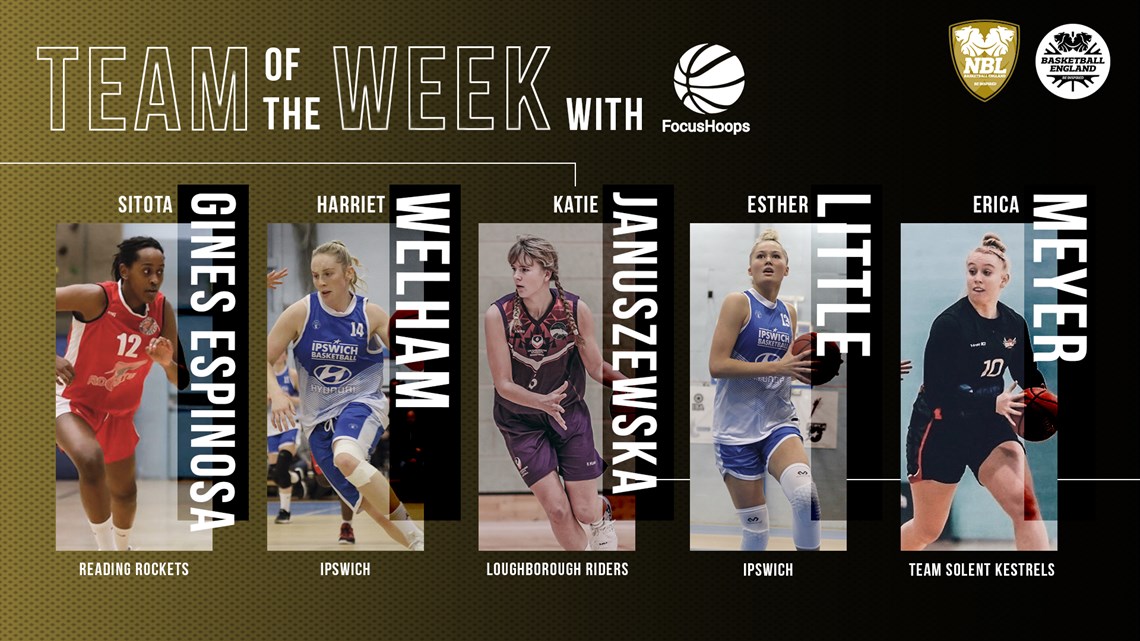 Sitota Gines Espinosa (Player of the Week) 
25-8-6-11 steals +34 22 Index 
We were on high alert for triple and even quadruple doubles in FocusHoops Towers this Saturday as Sitota Gines Espinosa put in a typical "drive the bus" performance to ensure victory for her Reading Rockets over the Worcester Wolves.  
Recording a highly impressive stat line, the Spanish guard finishing with a very rare double-double in points (a game-high 25) and steals (a league-high 11), whilst also leading her team in rebounds for good measure.  
Gines Espinosa started the game strongly for Reading with 10 first quarter points, helping to build a platform for the Rockets' eventual success.  
Esther Little 
11-28-8 4 Blocks 43 Index 
Once again Esther Little stuffs the stat sheets with incredible numbers.  
This weekend she contributed a strong double-double with an unbelievable 28 rebounds to complement her 11 points on her way to a 43 efficiency rating.  
Little scored just 2 points in the first half but made a huge impact with her rebounding alone, pulling down 14 defensive boards during the first two periods to deny second chance opportunities for TVC.  
Little and Harriet Welham are the league's scariest duo and took full advantage of a Thames Valley side who struggled to contain the Ipswich stars, allowing the visitors to leave town with a 46 point victory.  
Harriet Welham 
29-8-3 4 steals 29 Index 
Whilst Little dominated the glass, Harriet Welham carried the scoring load alongside Cameron Taylor-Willis as she went off for 29 points and 8 rebounds in the win over Thames Valley.  
Welham continues to strike fear in the hearts of defenders around the WNBL as Ipswich's captain led by example, going 10-19 from inside the arc but a perfect 9-9 at the foul line. 
It was a performance that yet again reminds that league that Welham will punish any mistakes, given the chance.   
Katie Januszewska 
12-11-3 7 steals 26 Index 
Januszewska is quickly becoming one of the stories of the season as the young Rider goes from strength to strength, and this weekend was no exception.   
The GB youth player led Loughborough with a 12 point, 11 rebound double-double in their 26 point victory over CoLA Southwark Pride.  
KJ complimented her scoring and rebounding with 7 steals and hit a perfect 6-6 from the foul line to finish as the game's top performer, whilst pulling down an excellent six offensive rebounds that contributed to five second chance points in the game.  
Erica Meyer 
22-11-2 2 block 0 Personal Fouls 31 Index 
Erica Meyer came off the bench on Saturday to put in an impeccable performance for Team Solent Kestrels.  
The American poured in 22 points and pulled down 11 rebounds (six offensive) but did it efficiently, scoring at 66% from the field and with great discipline.  
In 19:41 of action, Meyer didn't commit a single turnover or foul whilst hitting 2-3 from the stripe and finishing the contest with a pair of dimes.  
The former Santa Clara University alum will be crucial to TSK as they look to close out the year with a high playoff berth ready to make waves in the post season, and performances with such discipline and efficiency will be a huge benefit to her side.  
TEAM PERFORMANCE OF THE WEEK  
Loughborough's win over CoLA last weekend stands out as their impressive quartet of Januszewska, Stone, Ainge and James continue to grow together.  
Saturday was no exception as they convincingly handled their opposition and ran out comfortable winners. 
Ipswich, of course, cannot escape mention as they once again claimed victory in dominant fashion.  
The trio of Little, Welham and CTW proved particularly effective on the road in Thames Valley as the Suffolk side show no signs of letting up this season. 
Honourable Mentions
Robyn Ainge - 13-7-8 24 Index
Cameron Taylor-Willis - 18-9-1 21 Index 
Emilie Black - 12-2-6 18 Index 
Eva Luzon - 12-8-4 21 Index 
.