Rebound's Chris Hughes 
once again 
picks his NBL Team
 of the Week and 
shines a light on
five 
impressive performance
as well as two 
notable
team 
efforts
.  
Chris, a content producer, YouTube host and commentator, casts his eye over the eight games involving NBL Division One teams from Week 18, including the much-anticipated clash between Hemel Storm and Team Solent Kestrels as both sides were in double-header action this weekend. 
Have your say on this week's choices and give a shout-out to the players you think deserve one using the hashtag  #NBL2021. Don't forget to tag us!    
Twitter:  @NBLengland / @Rebound__  
Facebook:  @NBLengland  / @ReboundNBL  
Instagram:  @nblengland / @reboundnbl  
How it works 
The Basketball England NBL Player of the Week goes straight into the starting line-up.    
The other four players are picked with the following factors in mind:    
The Rebound team of the week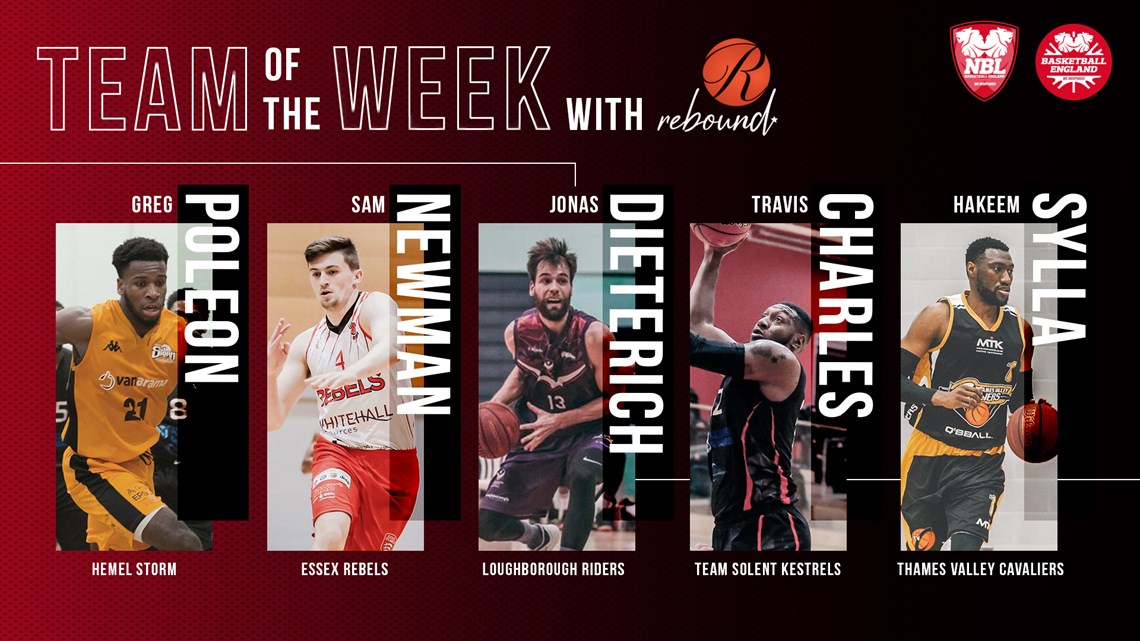 Greg Poleon – Hemel Storm, forward   
46 POINTS, 10 REBOUNDS, 3 ASSISTS, 3 STEALS, 57 EFFICIENCY    
That is not a typo. Greg Poleon scored 46 points in the 10-point win versus top of the table rivals Derby Trailblazers.  
To put Poleon's performance into context, Derby's two top scorers Malcolm Smith (17) and Blake Bowman (30) combined for 47 points, narrowly surpassing the former Pace University Alumni's total by just a single point. 
Poleon put on a shooting clinic, hitting a ridiculous 20 of his 23 attempts with 2-3 from beyond the arc and a perfect 4-4 from the line. 
Sam Newman – Essex Rebels, guard    
19 POINTS, 14 REBOUNDS, 3 ASSISTS, 2 STEALS, 27 EFFICIENCY 
Newman came back with a bang this weekend and in doing so sparked an enjoyable discussion between Leicester's Martyn Gayle and Ellis Haggith about who will guard the Essex man when the Rebels play the Warriors next weekend! 
The former Hemel guard has contributed a couple of highlight dunks in recent weeks and his range of passing and the obvious chemistry with his teammates has been impressive. 
Newman really turned up the heat this weekend and in the second quarter he was everywhere against Worthing.  
Essex started the quarter with a four-point deficit but a 6p/4r/3a/1s personal return by Newman helped the Rebels to an 11-point half time lead. 
Jonas Dieterich – Loughborough Riders, forward    
17 POINTS, 10 REBOUNDS, 5 ASSISTS, 4 STEALS, 30 EFFICIENCY 
Loughborough may not be enjoying the most impressive season by their high standards, but Dieterich has still been putting in some eye-catching performances.  
This weekend against Oaklands Wolves, Dieterich was one of the reasons why the Riders shot the ball so well. Loughborough hit 13 of their 27 attempts from beyond the arc, good for an impressive 48%.  
Having someone like Jonas on the floor, a player who can shoot from range and also aggressively drive to the basket allows more spacing for his peers, improving everything the Riders do on offence. 
When choosing to pull the trigger from deep, the talented forward was particularly impressive, knocking down three of his five triple attempts.  
Dieterich also racked up the team's second highest assist tally with five dimes as well as leading his team in offensive boards, allowing for important second chance opportunities. 
Hakeem Sylla – Thames Valley Cavaliers, forward    
25 POINTS, 11 REBOUNDS, 2 ASSISTS, 3 STEALS, 1 BLOCK, 38 EFFICIENCY 
A blowout win was the order of the day for Thames Valley as they continue their pursuit of Solent at the top of the table.  
The first quarter started with a 15-2 run for the hosts as Sylla wasted no time getting started, his early 6p/4r/1s contribution allowed the Cavaliers to hit cruise control before half time. 
In a victory where any number of Thames Valley guys could have made Team of the Week, Sylla's defensive effort just gave him the edge. Six defensive rebounds, three steals and a block perfectly complimented a 10-12 FGM performance.  
Travis Charles – Team Solent Kestrels, forward 
26 POINTS, 7 REBOUNDS, 29 EFFICIENCY VS HEMEL STORM 
Sunday's clash needed a walking bucket to get the win, and Solent's Travis Charles stepped up.  
The former University at Albany forward led all scorers with 26 points as the Kestrels stretched their unbeaten NBL record to 53 games. 
The context of this performance is also worth noting. Players often remark that you know when you play a team like Bradford (Solent's opponents on Saturday) as it can be a physical game. 
At times in that contest Charles was triple teamed in the paint, making it hard to get off quality shots, leading to the American grabbing four offensive rebounds and being Solent's joint most fouled player. 
Fast forward 24 hours and Charles had to face one of the toughest forwards in the league, Greg Poleon.  
Against a strong opponent the Solent star had to pull out all the stops, displaying quality finishing around the basket with both hands as well as a full range of footwork to create space when needed. 
Team basketball    
REBELS PUT ON A PASSING MASTERCLASS TO BREEZE PAST THE THUNDER  
In my pregame show with Essex captain Tom Child, he hinted that a Worthing team without Cam Hildreth would be a bit slower, wanting to play more in the half court rather than run up and down at will.  
Essex decided to counter that by going the other way, executing a solid defensive game plan followed by breaking out quickly to notch up 24 easy fast break points.  
They also managed to go about their business with plenty of style. The majority of the Rebels' roster seemed to be trying to outdo each other with some audacious passing, which for a neutral was a joy to watch.  
Essex currently sit ninth in the standings but demand more respect than that position suggests. A win against Hemel and a narrow two-point loss to Derby shows the newly promoted Rebels have plenty of quality at their disposal. 
Don't be surprised if next weekend they give Thames Valley Cavaliers a run for their money. 
THAMES VALLEY CAVALIERS SHOW THEIR DEPTH IN THE 73-POINT WIN 
In a blowout win, the usual suspect for the Cavaliers certainly impressed.  
However, coach Banks used this game to give minutes to the supporting cast and there was no shortage of impressive cameos.  
I was particularly impressed with the shooting and footwork of Mo Adan, who scored 10 points and hit 71% of his shots in 15 minutes.  
Josh Santos also showed why he's a fan favourite with a nice 9p/4r 13-minute outing and Tolu Ogunkoya flirted with a double-double (6p/8r) in just 16 minutes of action.  
Last but not least, guard Josh Smith led all players with 4 steals as he showed what he can bring to the TVC roster. 
Honourable mentions    
Taylor Johnson (TVC) – 35P/6R/2A/34EFF 
Carl Pearson (LEI) – 17P/12R/3A/1S/25EFF 
Blake Bowman (DER) – 30P/10R/3A/1B/25EFF 
Leome Francis (REA) – 22P/15R/2A/2S/1B/29EFF 
Jonathan Lashley (SOL) – 22P/8R/2A/5S/22EFF 
.