Basketball England and the Talented Athlete Scholarship Scheme (TASS) have teamed up to create a first-of-its-kind study on athlete migration.
Specifically aimed at the movement of players to the USA from within English basketball, the report examines the perceptions, experiences and motivations that affect migration to the United States.
Only one previous piece of research has explored the UK to USA transition amongst student-athletes in a range of sports, and this is the first piece of work to focus exclusively on basketball.
Support, education and guidance
Charlie Ford, Basketball England's Interim Chief Operating Officer & Talent Programme and Pathway Manager said: "We engaged in the project to start unpicking and understanding the motivations and perceptions of players who already have or are currently thinking about transitioning to the US collegiate system as part of their basketball journey.
"This is a hugely important area not only for player development, but also welfare and personal development, and we're grateful to TASS for joining us in this project.
"The reason for the study wasn't to try and suggest that one route is or isn't better than another, but to more thoroughly understand the landscape that player and parents have to navigate to make the best choice possible.
"We now aim to use the outcomes of the research to provide dedicated support, education and guidance to parents, players and coaches so that each player can make a choice that is right for them."
Emma Vickers, National Lead for Research at TASS explained "The TASS research team were very excited to take on this project with Basketball England.
"We had started to become aware of how popular the USA migration pathway had become for UK athletes. To fully understand this pattern, we needed to uncover the motivations of players to transition to the USA, and the expectations and realities of those taking such a big step.
"This was an extensive piece of research, as we consulted with a wide group of stakeholders. Analysing the data, we were not only surprised at the high number of English basketball players who were planning to make this transition each year, but how early the players were starting to consider this pathway.
"We hope that the document, and resulting resources, will assist young players to make optimal decisions about their sport, education, and personal development."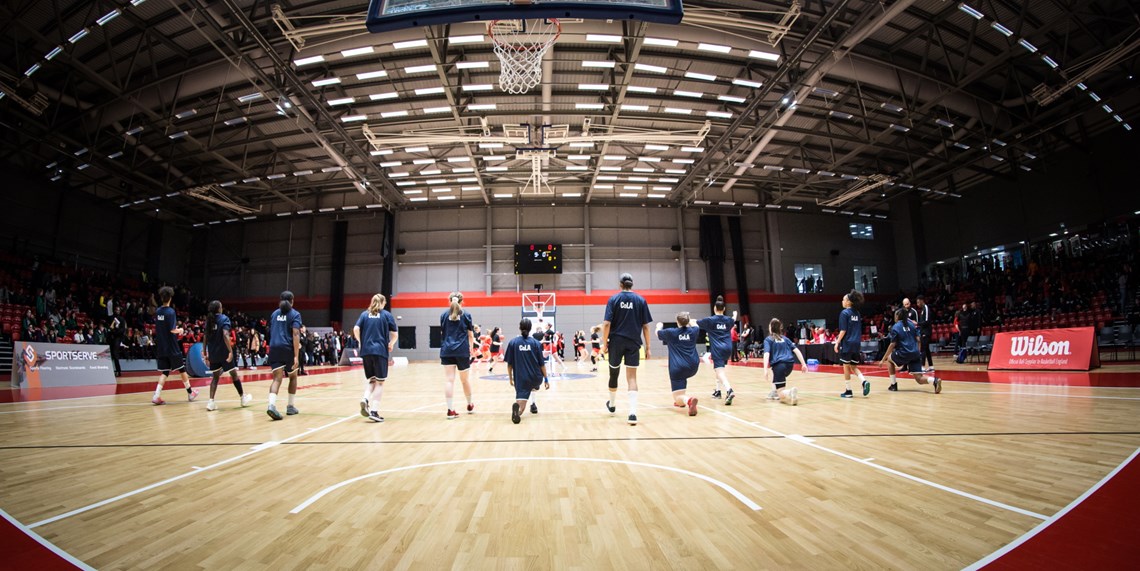 Optimal decisions
The study was conducted throughout 2020 and involved 70 individuals, including players both in the UK and the USA, plus parents, coaches, scouts and stakeholders.
The overarching aim of the project was to assist players to make optimal decisions around their future pathway, help players and parents to understand the factors they should consider around the USA decision, who they should speak to, and how they can effectively prepare.
The importance of this research has never been greater, with the number of athletes heading to the USA to play basketball increasing year on year.
In 2019, a total of 1,941 athletes migrated from the UK to NCAA division I or II colleges. Of these athletes, 97 of them were basketball players and the UK ranks second behind Canada for the number of athletes sent to the NCAA system.

VISIT THE BE SHOP

Further actions
The report pulled together a vast amount of data to create a wealth of invaluable information, with multiple key findings emerging. These included:
The US Collegiate pathway is an extremely popular route for young English players to aspire to and is very much considered to be the 'norm' if a player wants to have a career in the sport.
Parents welcome the idea of their children going to the US but wish they had a clearer vision around what the English pathway and opportunities looked like.
Whilst almost every young player we spoke to aspired to follow the US route, almost no youth player thoroughly understood the process of how to gain a scholarship, areas to look out for, and some of the key challenges they may face.
There are obvious red flags that parents and players should consider when communicating with US colleges and working with agencies.
Basketball England will now use the findings from this study to focus in on three initial areas of work:
1) Building educational materials for players, parents and players on the US & UK pathways (please see button below)
2) Working with partners in the BBL/WBBL, BUCS and Higher Educational Institutions to enhance and promote UK transitional opportunities
3) Providing a guidance & support service, whether that be through Basketball England staff/programmes or carefully selected partners.
For further enquiries or questions relating to the study and the player pathway, or to find out more about education materials for players and parents, please use the buttons below.
.