FocusHoops
' Darren Paul looks over week 21 of the WNBL to select another Team of the Week.
As a writer, commentator, podcaster and more, Darren had just two games to pick from this past weekend but both provided some top performances.  
Have a look over this week's choices and give a shout-out to the players you think deserve one using the hashtag #NBL2021. Don't forget to tag us!  
Twitter: @NBLengland / @FocusHoops  
Facebook: @NBLengland  / @FocusHoops  
Instagram: @nblengland / @focushoops  
How it works  
The Basketball England WNBL Player of the Week goes straight into the starting line-up.  
The other four players are picked with the following factors in mind:  
Efficiency 

 

Stats 

 

Team and opposition strength 

 

Periods of influence in the game 

 
The FocusHoops team of the week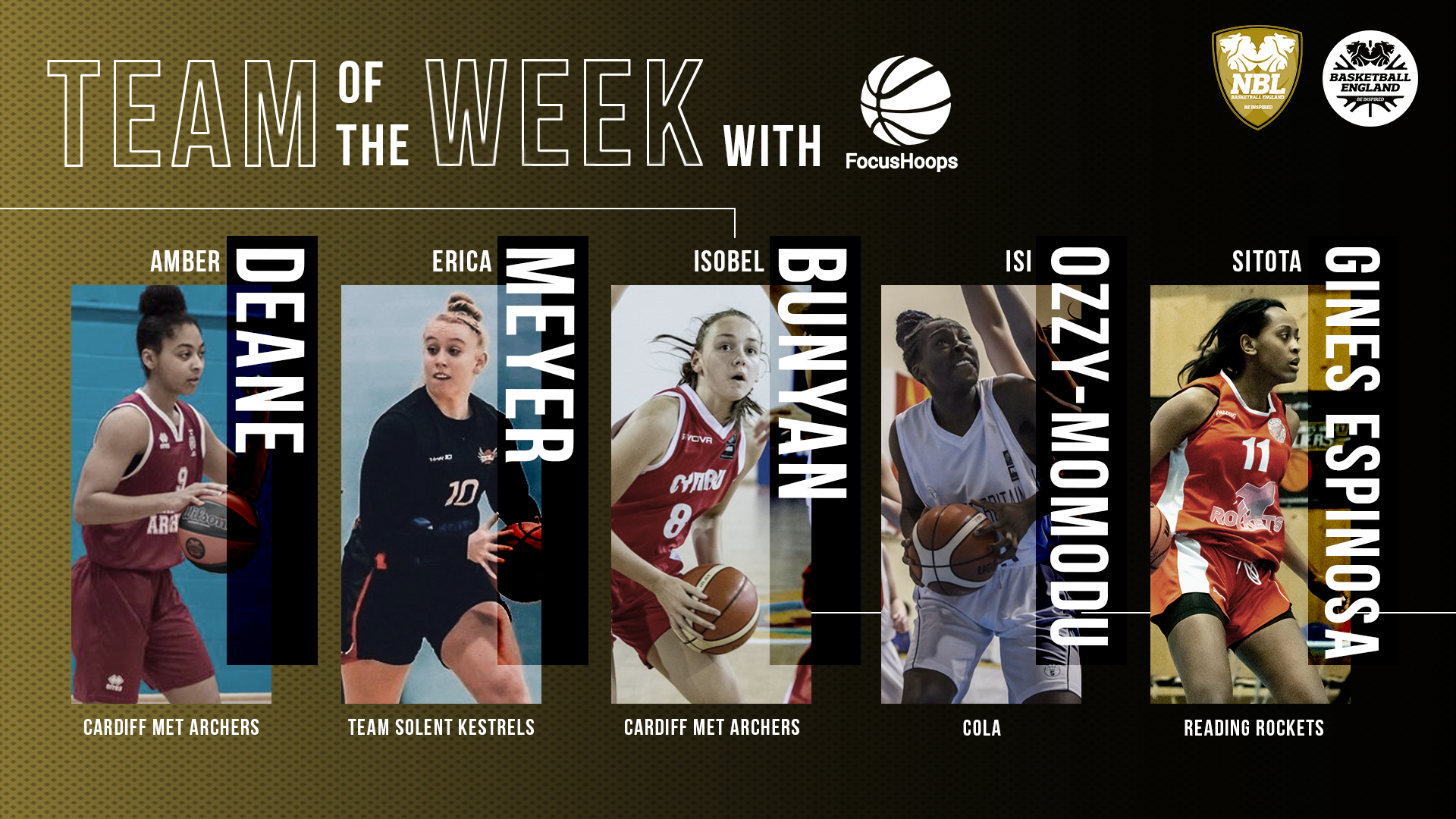 Amber Deane - Cardiff Met Archers
25 PTS (83% FG), 5 REB, 3 AST, 5 STL, 29 EFF W vs NTU
18 PTS (61% FG), 10 REB, 3 AST, 5 STL, 24 EFF L vs Reading
Amber Deane has been one of the stars of the season, even as her Cardiff Met Archers side have at times struggled. 
On a split weekend of results Deane consistently excelled as she finished with a 29 efficiency in their win over Nottingham Trent University and a 24 in their loss to Reading on Saturday. 
On Sunday Deane did it all. Scoring 25 points at an incredible 83% from the floor, whilst tacking on five boards, five steals and three assists. On Saturday she had a 18-10 double-double, also with five steals and three dimes. 
The model of consistency, Deane is one of the league's most impressive players, and this weekend demonstrated once again why. 
Erica Meyer - Team Solent Kestrels 
20 PTS, 10 REB, 3 BLK, 28 EFF 
Erica Meyer continues her excellent run of form with another high efficiency double-double of 20 and 10 from 52% shooting from the floor. 
Meyer contributed on both ends of the floor with 10 boards, split five offensive and five defensive, and three blocks as TSK overcame Thames Valley Cavaliers by seven points on Saturday, and the success on the floor between her and rookie star Faye Endean is a joy to see. 
Last week we commented about her importance to TSK and it continues to be the case, Meyer is a crucial part of this club. 
Isi Ozzy-Momodu - CoLA
16 PTS, 12 REB, 20 EFF
Isi Ozzy-Momodu continues her incredible rookie campaign with another double-double of 16 points and 12 rebounds in the CoLA Southwark Pride's eight-point victory over the Worcester Wolves.  
Ozzy- Momodu contributed in scoring, finishing just behind captain Simona Henshaw in points, but cleaned up on the glass with a game high 12 rebounds, including five offensive, as Pride won the battle on the boards.  
Ozzy-Momodu once again played mature, efficient and effective basketball scoring at 54% from the floor, and only committing one foul and one turnover whilst getting sent to the line on eight occasions.  
Isobel Bunyan
14 PTS, 9 REB, 4 BLK, 18 EFF 
Isobel Bunyan put in another terrific performance in Cardiff Met Archer's win over Nottingham Trent University by 9 points on Sunday afternoon. 
The Wales U16 had a near double-double chalking up 14 points and nine rebounds whilst contributing a massive four blocks, especially impressive considering she is listed as a guard/forward playing her game on the wing.
Cardiff have a tough schedule with a lot of games, but Bunyan will benefit from the experience and her skill is shining already in her rookie campaign in the WNBL D1. 
Sitota Gines Espinosa - Reading Rockets
8 PTS, 9 REB, 10 AST, 7 STL, 18 EFF 
Gines Espinosa has FocusHoops towers on QUADRUPLE DOUBLE WATCH this weekend. Whilst it didn't come to pass the Reading Rocket star had a great game that impacted winning, and demonstrated her all around game and her importance for her side in their win over Cardiff Met Archers by 19 points. 
She did it on both ends, leading her team in rebounds and the game in assists, dishing 10 dimes, pulling down nine boards, all defensive, and with seven takeaways to add to her eight points. 
Reading continue to challenge for a high playoff berth and Sitota Gines Espinosa will be a major part of that push.
Team basketball  
Despite splitting their weekend with a win and a loss Cardiff are my team performers of the week as they record their first win of the season, keeping their hopes of a playoff spot alive. 
With two players in the team of the week, the Welsh outfit played tough back to back games and were able to secure a win against TEAM following a tough loss to Reading on Saturday. That never give up spirit will go a long way for them during a tough run in. 
Honourable mentions
Katherine Goldsby (TVC) - 23 PTS, 8 REB, 5 STL, 22 EFF 
Eloise Ferguson (CAR) - 19 PTS (63% FG), 5 REB, 20 EFF 
Simona Henshaw (CoLA) - 20 PTS, 6 REB, 20 EFF