Rebound's Chris Hughes picks his NBL Team
 of the Week and highlights
five 
honourable mentions 
as well as two impressive 
team performances.  
Chris, a content producer, YouTube host and commentator, casts his eye over the eight games involving NBL Division One teams from Week 21, including the L Lynch Trophy Final in Leicester. 
Have your say on this week's choices and give a shout-out to the players you think deserve one using the hashtag #NBL2021. Don't forget to tag us!    
Twitter:  @NBLengland / @Rebound__  
Facebook:  @NBLengland  / @ReboundNBL  
Instagram:  @nblengland / @reboundnbl  
How it works 
The Basketball England NBL Player of the Week goes straight into the starting line-up.    
The other four players are picked with the following factors in mind:    
Efficiency 

 

Stats 

 

Team and opposition strength 

 

Periods of influence in the game 

 
The Rebound team of the week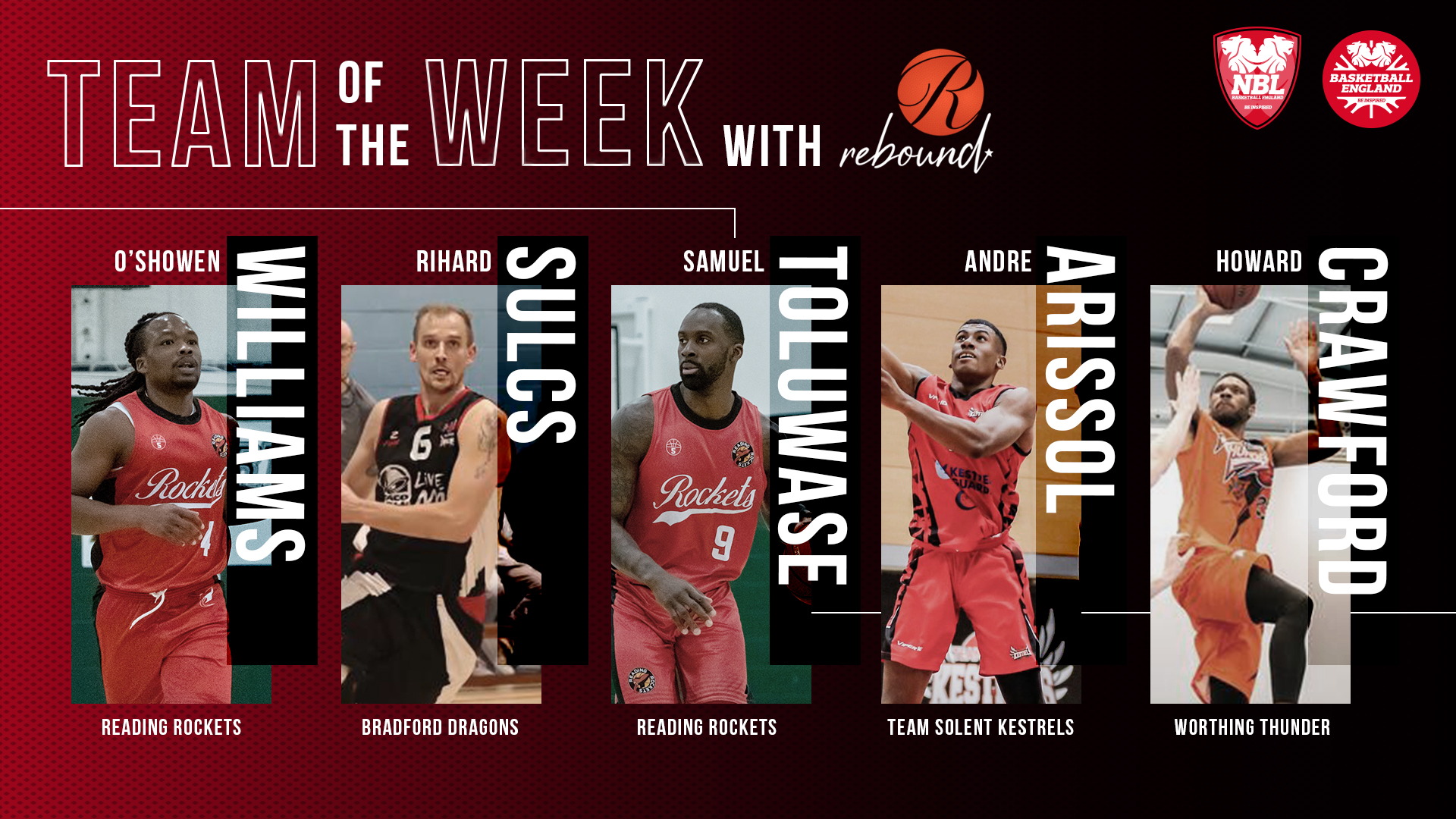 O'Showen Williams – Reading Rockets, guard   
29 POINTS, 7 REBOUNDS, 8 ASSISTS, 2 STEALS, 37 EFFICIENCY 
O'Showen Williams' second-half boxscore of 18p/3r/3a including an and-one play was one of the key reasons that Reading overcame a four-point deficit at the half-time break to finish with a 12-point W over Essex. 
With these teams evenly matched, this game needed a key player performance. Both teams came into the tie with similar 2021 win records (Essex 6-5 versus Reading's 4-5).  
Williams was that man as he filled the stat sheet. The former App State College star was the only starter for the Rockets to get five or more in any three boxscore statistics as he exerted his presence by scoring, crashing the glass and getting dimes with a near triple double with 29p/7r/8a. 
Rihard Sulcs – Bradford Dragons, forward    
16 POINTS, 15 REBOUNDS, 4 ASSISTS, 8 STEALS, 1 BLOCK, 30 EFFICIENCY 
Sulcs may have started on the bench but he stole the show, pun intended. The Bradford stalwart last managed a similar amount of steals (6) in NBL D1 action in the 17/18 season versus Worthing Thunder and Loughborough Riders respectively. 
He was key in Saturday's upset versus Derby, assisting in the areas where his team struggled to muster an advantage. In a game of fine margins Sulc's input was key.  
He managed eight steals as Bradford forced Derby to have seven more turnovers but in doing so were only able to gain three points more from turnovers.  
Sulcs also led his team with nine defensive rebounds but Derby managed 18 offensive rebounds to Dragons' 26 and thus created more second chance points.  
Samuel Toluwase – Reading Rockets, forward    
26 POINTS, 6 REBOUNDS, 2 ASSISTS, 2 STEALS, 28 EFFICIENCY 
Samuel Toluwase has impressed off late and this weekend was no different. Form-wise from the last four games, the Rockets' No.9 is averaging 17.3p/5r/2a/0.75s shooting 54.5 FG% / 27.3 3P% / 77.1 FT%  
The former BBL veteran shot a nice 10-15 FGM and was a cool customer at the free-throw line finishing 6/8 attempts. 
With Toluwase in hot form it allowed spacing for the likes of Williams to run up a tally. Reading really benefitted from having Toluwase on the floor as he finished with a game high of 23 +/-. 
Andre Arissol – Team Solent Kestrels, guard    
24 POINTS, 6 REBOUNDS, 3 ASSISTS, 3 STEALS, 24 EFFICIENCY  
Andre Arissol had quite the homecoming at the Morningside Arena. The Charnwood Alumni was named MVP as his side won the L Lynch Trophy in an entertaining final against Thames Valley. 
The third quarter had the biggest margin (23-12) in what was a close game. Solent's and Arissol's efforts in that quarter put their hand on the trophy and MVP honours while pulling away from the Cavs. 
Arissol was one of the few Solent players shooting the three with success with 4-11. At times it looked like the Cavaliers' shots from range would win them the game but Arissol was in no mood to lose. 
Howard Crawford – Worthing Thunder, forward 
30 POINTS, 11 REBOUNDS, 3 ASSISTS, 1 STEAL, 1BLOCK, 32 EFFICIENCY  
Crawford's performance versus Essex Rebel really impressed as Thunder got revenge for last month's defeat to tie the series 1-1 (2-1 in all competitions). Although the Rebels have a +10 scoring advantage if the teams are tied at the end of the season. 
Crawford put on a show in the second quarter, shooting the lights out with 12 points from 6-8 FGM as Thunder went into the half time break with a five-point lead.  
Crawford would continue to demonstrate his full range of shooting from finesse fade-aways to beat-the-clock and one-handed power dunks. 
Defensively he also impressed with a great block just as it seemed Tom Child had threaded the ball through the eye of the needle to set up Jordan Gray for back door layup to protect a 5-0 scoring run. 
Team basketball    
BA LONDON LIONS ROAR TO A 2-0 WEEKEND 
It was a good weekend for Coach Vear and BA. Both their weekend victories highlighted the team over the individual, with no player from either game finishing with an efficiency of over 20. 
On Saturday Flynn Boardman-Raffett and Eldrick Okunola flirted with a double-double with both three rebounds shy with 20 and 15 points respectively to go with their 7 boards.  
Boardman-Raffett shot a nice 3/6 threes. The captain was influential leading all players with a 22 +/-.  
In Sunday's two-point win at Bradford sharpshooter Jase Harrison impressed with his tally of 14 points from 12 shots with a nice 50% three-point showing with three threes.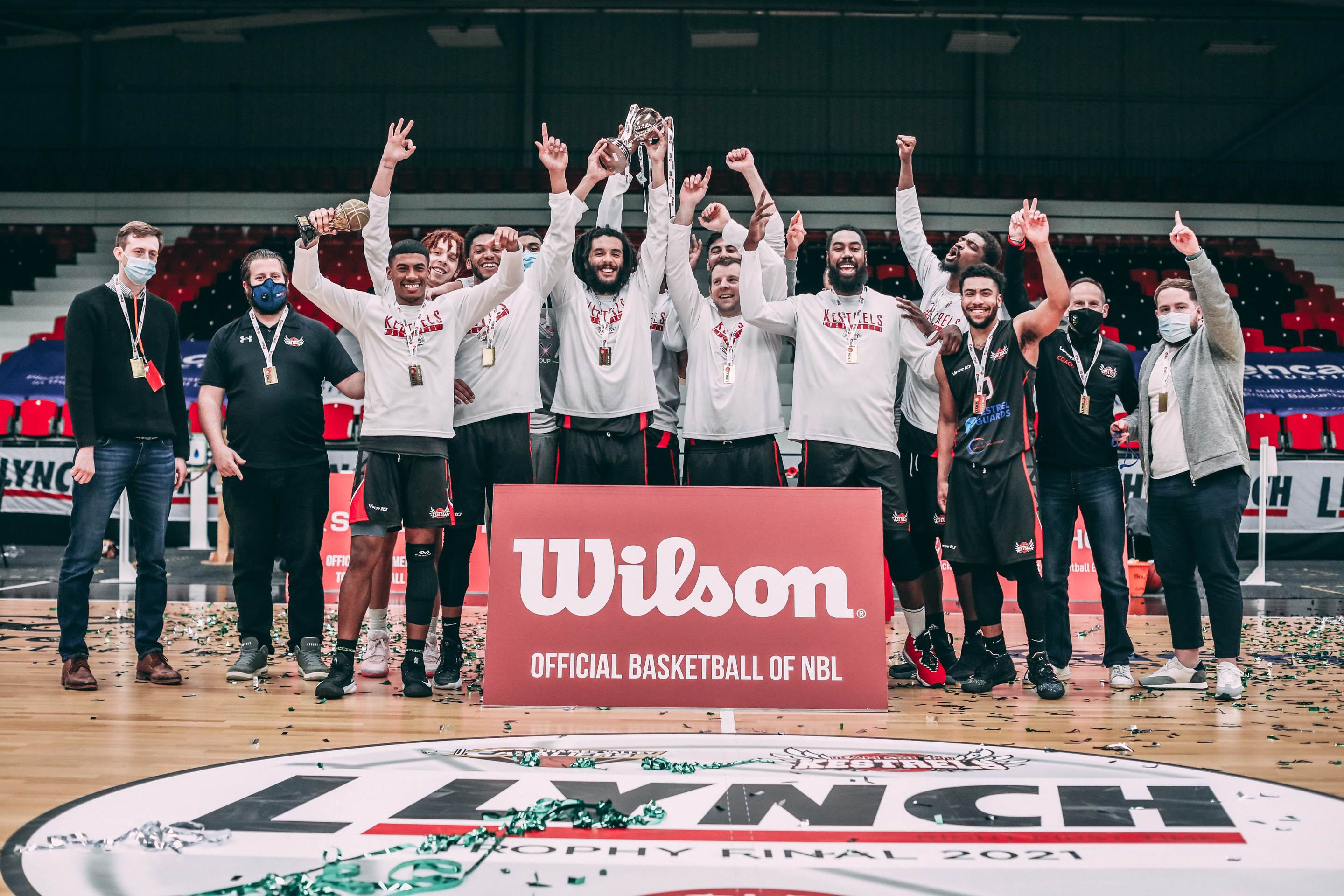 THE THIRD QUARTER DEFENSE WINS SOLENT THEIR FIRST TROPHY OF THE SEASON 
In the L Lynch Trophy final Team Solent Kestrels were crowned champions. 
Solent's defensive work really impressed especially in the third quarter when 11 of their 27 defensive rebounds, three of their 8 steals and both of their blocks came. 
No Cavalier made more than one field goal in the third. While on the offensive end game MVP Andre Arissol feasted in the third, getting to double digits. 
 Honourable mentions to Orlan Jackman, with an almost par 42 3P% from seven attempts the forward really kept Solent's scoring going. Travis Charles deserves a mention for his 19 points from 9-13 shooting.   
Honourable mentions    
Morakinyo Williams (LEI) – 20P/20R/1S/3B/29EFF 
Hakeem Sylla (THA) – 15P/16R/3A/1S/1B/28EFF
Sam Newman (ESS) – 20P/3R/4A/4S/22EFF VS Reading; 19P/8R/3A/1S/17EFF vs Worthing 
Great Osobor (BRA) – 11P/16R/2A/3S/2B/19EFF (11-16 FTM)  
Malcolm Smith (DER) – 29P/7R/1A/2S/25EFF