With Bradford splitting a pair of two-point games, Derby topping Newcastle in the clash between fourth and fifth, plus Leicester coming up big in the Midlands derby, there was plenty to talk about in week 21.
If you're looking for a recap of Solent's 87-78 victory over Thames Valley in the L Lynch Trophy final, we've got you covered. Just click the button below.
There's a recap of all the weekend's D1M action below, and each result is also clickable if you wish to view the live stats.
Bradford's incredible comeback
Bradford erased a 32-point deficit with 17:24 remaining in their contest with Derby, eventually beating the Trailblazers 90-88.
The comeback was aided by a 30-11 fourth quarter as Derby imploded to an improbable loss.
The hosts pulled back to within single digits with 5:45 remaining thanks to a Tyme Regent-Bascombe layup before an and-one play from veteran Ricky Fetske pushed the Yorkshire side in front with 1:35 still on the clock.
Three late points from Blake Bowman would pull the visitors back to within a single basket but they wouldn't get another shot before the final buzzer.
Andreas Lycoudis was the main protagonist in the Dragons' remarkable comeback, closing on a team-high 23 points to go with five rebounds and seven assists.
David Walsh (17pts, 5-7 3pt) and Rihards Sulcs (16pts, 15reb) both played well, whilst Great Osobor completed an unlikely double-double of 11 points and 16 rebounds despite going 0-9 from the field.
Jacob Conway and Ashley Ugo both put up 17 points for Derby, who enjoyed a 28-10 second quarter to create what looked like a more than secure lead.
Bowman also impressed for the Midlands side, finishing with 16 points and 11 rebounds.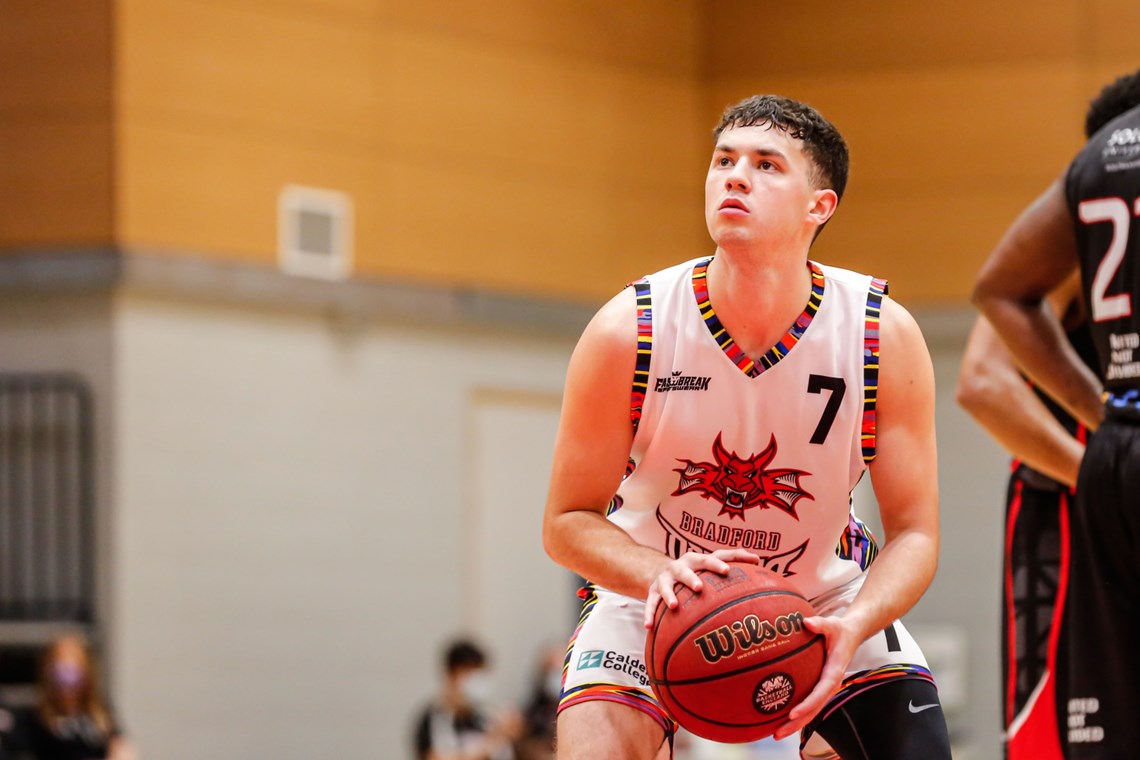 Elsewhere this weekend
Bradford couldn't make it a two win double-header though as they were denied 77-75 by BA London Lions (6-8) yesterday.
Jase Harrison enjoyed a solid outing for the hosts, dropping a team-high 14 points to go with eight boards as Fetske once again impressed with a 16 point, 14 rebound double-double.
That victory complimented BA's win on Saturday as they went 2/2 over the weekend, downing Worthing Thunder (4-10) 84-73.
The Lions utilised a 25-13 opening frame to move ahead by double digits and build a lead they'd never relinquish. BA captain Flynn Boardman-Raffet led all scorers with 20 points.
Saturday's only other contest saw Reading Rockets (6-8) seal a 102-90 road win over Essex Rebels (5-8).
American guard O'Showen Williams was in fine form, scoring 29 points to go with seven rebounds and eight assists as Sam Toluwase added 26 more.
Sam Newman top scored with 20 points for Essex and Ethan Price had 17, including the highlight play below!
Sunday began with another win for Leicester Warriors (5-10) as they beat local rivals Nottingham Hoods (2-13) 76-58.
A two-point game going into the final quarter, Leicester pulled out all the stops to claim the fourth 28-12 and seal the W.
Mo Williams was once again the standout for the Warriors, he matched his points and rebounds to finish with 20 of each.
Worthing put their Saturday woes behind them to hand Essex their second loss in as many days, coming out on top 87-72.
Forward Howard Crawford's 30 point, 11 rebound double-double was a highlight, with team mate Max Richardson (20pts, 10reb) also on double-double duty.
The weekend closed with Derby moving into the top four as they beat Team Newcastle University (10-5) 75-69.
The visitors led 51-47 going into the final 10 minutes but a 28-18 fourth quarter saw the Midlands side home.
Malcolm Smith stepped to the fore to score 29 points for DTB, as David Moya and Ronald Blain both had 19 for Newcastle.
This weekend's results:
Saturday 20 March
2pm - Bradford Dragons 90-88 Derby Trailblazers - LIVESTATS
2pm - BA London Lions 84-73 Worthing Thunder - LIVESTATS/LIVESTREAM
3pm - Essex Rebels 90-102 Reading Rockets - LIVESTATS/LIVESTREAM
L Lynch Trophy Final - 6pm - Team Solent Kestrels 87-78 Thames Valley Cavaliers - LIVESTATS/LIVESTREAM
Sunday 21 March
1:30pm - Leicester Warriors 76-58 Nottingham Hoods - LIVESTATS
2pm - Bradford Dragons 75-77 BA London Lions - LIVESTATS
4pm - Worthing Thunder 87-72 Essex Rebels - LIVESTATS/LIVESTREAM LOCATION
5:30pm - Derby Trailblazers 75-69 Team Newcastle University - LIVESTATS/LIVESTREAM
Main image credit - Graham Hodges
.