FocusHoops' Darren Paul takes a look at week 22 in the WNBL to select another Team of the Week.
As a writer, commentator, podcaster and more, Darren had five games to choose from, including Nottingham's upset win over Ipswich, during a weekend of high quality basketball.  
Have a look over this week's choices and give a shout-out to the players you think deserve one using the hashtag #NBL2021. Don't forget to tag us!  
Twitter: @NBLengland / @FocusHoops  
Facebook: @NBLengland  / @FocusHoops  
Instagram: @nblengland / @focushoops  
How it works  
The Basketball England WNBL Player of the Week goes straight into the starting line-up.  
The other four players are picked with the following factors in mind:  
Efficiency 

 

Stats 

 

Team and opposition strength 

 

Periods of influence in the game 

 
The FocusHoops team of the week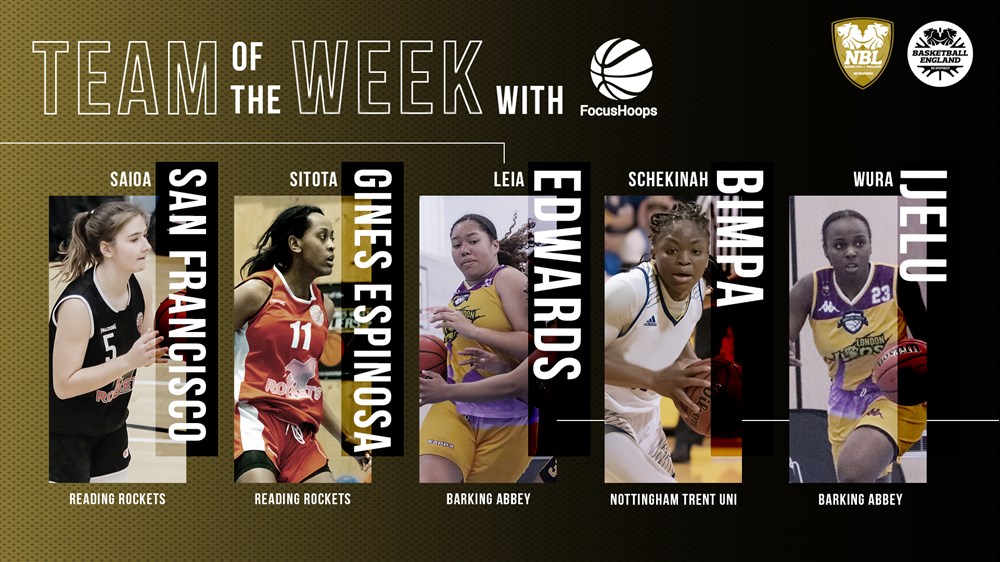 Saioa San Francisco - Reading Rockets
23pts (80% FG), 5reb, 3ast, 4stl, 29eff
Saioa San Francisco takes Player of the Week honours thanks to her incredibly efficient 23-5-3 performance for Reading Rockets in a road victory over the Worcester Wolves on Saturday.
San Francisco shot 8-10 from the floor, going at 4-5 from either side of the arc and 3-4 from the line. San Francisco was no slouch on the defensive end either, nabbing five defensive boards and four steals on her way to an excellent 29 efficiency rating in the 16-point win.
Sitota Gines Espinosa - Reading Rockets
18pts, 12reb, 1ast, 2stl, 23eff
A frequent recipient of Team of the Week honours, Sitota Gines Espinosa continued her fine form with an 18-12 double-double in Reading Rocket's victory over the Worcester.
Gines Espinosa shot well in the contest, particularly from three-point-range, hitting three of four attempts whilst cleaned up of the glass with a game-high 12 rebounds, contributing two steals as well.
The ever-present guard combined well with team mate San Francisco this weekend which will give the rest of the league some pause as we enter the business end of the calendar.
Schekinah Bimpa - Nottingham Trent University
26pts, 6reb, 19eff
A result which has reignited the title race between Ipswich and Loughborough, it was Schekinah Bimpa who was the star of the afternoon as Nottingham Trent University took down Ipswich by 12 points for a stunning road win.
Bimpa led the way with a game-high 26 points, and her 54% field goal percentage was also a game-high. The American forward did all her damage inside, helping NTU pile up 48 points in the paint as they knocked off the league leaders.
16 second half points from Bimpa also helped keep Ipswich at bay as they tried to get back into the contest.
The former Limestone University alum also contributed on the glass, pulling down six boards, two offensive, one of which led to a score. It was an excellent game for both Bimpa and Nottingham Trent, and one that has lit a fire in WNBL D1.
Leia Edwards - BA London Lions II
16pts, 7reb, 2ast, 2stl, 23eff vs CAR
17pts, 4reb, 2ast, 1stl, 10eff vs TVC
Leia Edwards' impact in just 15 minutes on Sunday was remarkable as BA London Lions II took down the Cardiff Met Archers II 69-49 on the road.
Edwards shot well, going 5-8 with two made threes and a perfect 4-4 from the line on her way to a game-high 16 points.
Making a return this weekend following a recent layoff, the talented forward would also lead her team on the glass with seven boards, three of which were offensive. Tack on to that a pair of assists and two steals and Leia Edwards had a great day at the office.
The performance was set up by a steady outing on Saturday as the Lions grabbed not one but two victories on the weekend, a great haul for the previously winless side.
Wura Ijelu - BA London Lions II
7pts, 5reb, 6ast, 4stl, +/- 10, 19eff vs TVC
It was a captain's performance from Wura Ijelu on Saturday afternoon as BA London Lions II picked up their first win of the season, blowing open the race for the eighth and final playoff spot.
Ijelu was a perfect 3-3 from the floor, but it was when she scored that mattered the most. In a back and forth final quarter, Ijelu stepped up to make big plays for her side to close out a long sought-after victory.
A tied contest with 90 seconds remaining, the BA guard stole the ball and put it home, having earlier in the period helped pull the game to within one. Ijelu would double the hosts' advantage on the next possession for the Lions to secure the win.
The former Worcester Wolves prospect did everything in her power to ensure victory for the East London outfit, pulling down five rebounds, including two offensive, dishing six dimes whilst also leading the way with four steals.
That's the kind of all-round performance that gets you into the Team of the Week!
Team Basketball
In a weekend of great performances and huge victories, it was BA London Lions II who stood out to take my Team Performance of the Week honours.
Picking up back-to-back victories this weekend, their first two in the competition, against a tough Thames Valley side and a Cardiff team who themselves just got their first victory of the season last weekend, was quite the performance.
Those results have also put the young Lions in a healthy position to make a run at the post-season as well.
London had to dig deep on Saturday to pull out the victory in a tightly fought contest, but on Sunday they made it look easy with a strong 20-point win over Cardiff, who sadly were without Amber Deane for much of the contest.
Honourable mentions must also go to CoLA Southwark Pride who put together a great team performance in their road win over Team Solent Kestrels.
Honourable mentions
Katherine Goldsby (TVC) - 23pts, 10reb, 5ast, 6stl, 1blk, 24eff
Carys Roy (CAR) - 12pts, 11reb, 2stl, 1blk, 23eff
Deborah Somoye (BA) - 11pts, 9reb, 3ast, 20eff v TVC
Esther Little (IPS) - 13pts, 13reb, 3ast, 19eff
Ines Guerrero (NTU) - 7pts, 5reb, 5ast, 7stl, 16eff
Eberechukwu Egbirika (CoLA) - 12pts, 3reb, 3ast, 16eff
Carolina Marques (WOR) 17pts, 7reb, 1ast, 19eff
.