Solent face the unfamiliar task of needing to bounce back from an NBL defeat, with the Kestrels game against Derby highlighting the week 23 schedule.
Coach Guymon's side lost in the NBL last weekend for the first time in over two years, with Thames Valley claiming an 81-70 victory.
Three other games also fill tomorrow's action before Easter Sunday, with Newcastle welcoming Oaklands, Leicester travelling to Worthing and Thames Valley taking on Bradford Dragons.
We take a look at all the weekend's games below, with links to live stats and live streams at the bottom of the page.
Team Solent Kestrels (13-1) v Derby Trailblazers (12-4)
Solent's lengthy win streak is over and the Kestrels must now get back to winning ways, starting with a visit from fourth place Derby tomorrow.
These two sides are yet to meet in D1 this season but they did cross paths earlier this year in the opening round of the BBL Trophy, with Solent coming away with a 101-73 victory.
Travis Charles had 30 points that day and the American forward continues to lead the way for his side on the score board, averaging 18.1ppg.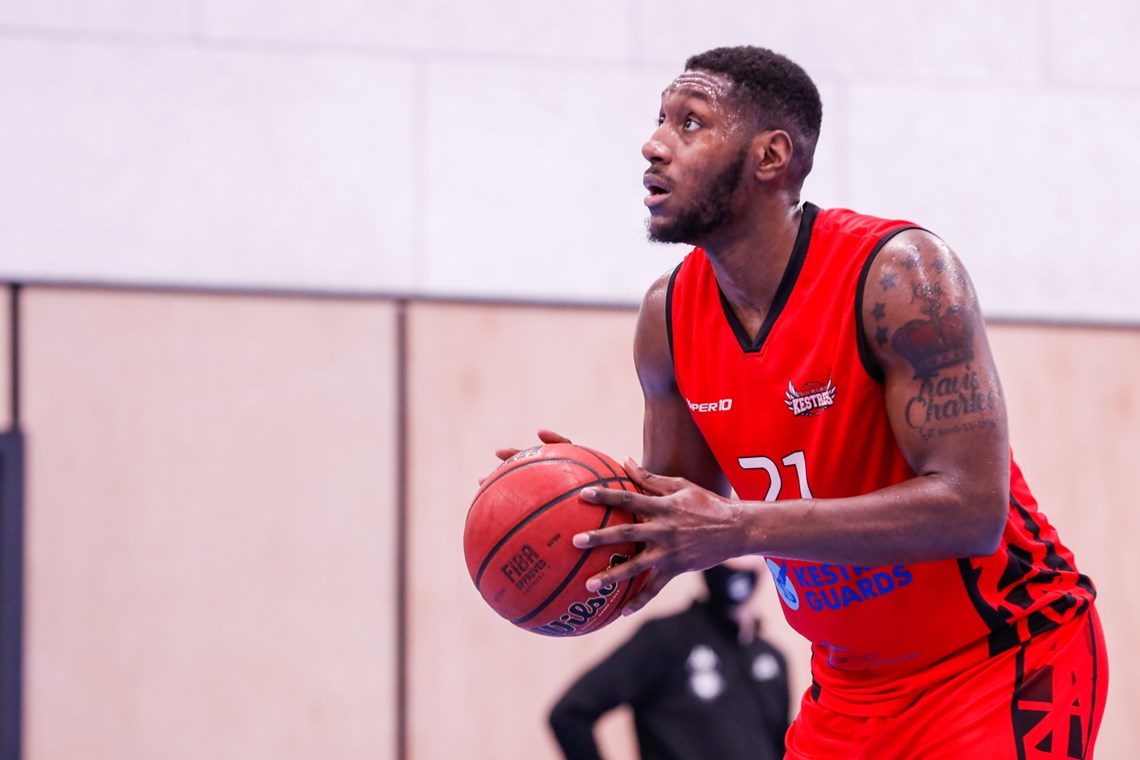 At 4-1 across their last five games, Derby are a team in form and will no doubt be gunning for another win here following Solent's blip last weekend.
Forward Jacob Conway leads DTB in minutes (30.3), points (20.2ppg), and free throw efficiency (91.5%), he will no doubt be key to any potential upset. 
Captain Oliver Stanley is also a man in form, he had 14 points and 22 boards in Derby's 92-88 victory against Oaklands last time out.
With Thames Valley fighting hard for a maiden D1M title, Solent can't afford any further slip ups before those two sides meet again next weekend.
.
Elsewhere this weekend
There are three other games to look over, starting with Oaklands Wolves (4-13) taking a trip North to face Team Newcastle University (10-6).
Recent losses to Reading, Derby and Worthing have knocked Newcastle down the standings following a hot start, but they still appear locked in for a top half finish. 
These two sides are set to meet both this weekend and next, with the Wolves no doubt leaning on Jordan Santiago throughout. He leads the team in efficiency, points, assists and steals.
Just two points separate Worthing Thunder (6-10) and Leicester Warriors (5-11) as the two sides meet on the South coast.
The Warriors are coming off an 88-73 defeat to Oaklands, whilst Worthing have won two in a row, knocking off both Newcastle and Essex.
Thunder's latest victory in the North East also saw Max Richardson (26pts), Zaire Taylor (23pts), Howard Crawford (22pts) and Tom Ward (21pts) all pass the 20 point mark, suggesting Worthing are carving out a solid offensive game plan that could cause problems for a Leicester side conceding 88.4ppg this season.
Finally, Thames Valley Cavaliers (14-1) will try and retain top spot in D1M as they host Bradford Dragons (6-9).
Thames Valley will know that victory here plus a win over Solent next weekend will put them in a very strong position in the title race, but Bradford aren't a team to be overlooked. The Dragons have already beaten fourth place Derby and fifth place Newcastle this season and possess plenty of quality across their roster.
This weekend's fixtures:
Saturday 3 April
4pm - Team Newcastle University v Oaklands Wolves - LIVE STATS/LIVE STREAM LOCATION
5pm - Team Solent Kestrels v Derby Trailblazers - LIVE STATS/LIVE STREAM
5:30pm - Worthing Thunder v Leicester Warriors - LIVE STATS
5:30pm - Thames Valley Cavaliers v Bradford Dragons - LIVE STATS/LIVE STREAM
Main image credit - Luke Simcock