FocusHoops
' Darren Paul looks over week 19 of the WNBL to select another Team of the Week.
As a writer, commentator, podcaster and more, Darren had just two games to pick from this past weekend but both provided some top performances.  
Have a look over this week's choices and give a shout-out to the players you think deserve one using the hashtag #NBL2021. Don't forget to tag us!  
Twitter: @NBLengland / @FocusHoops  
Facebook: @NBLengland  / @FocusHoops  
Instagram: @nblengland / @focushoops  
How it works  
The Basketball England WNBL Player of the Week goes straight into the starting line-up.  
The other four players are picked with the following factors in mind:  
Efficiency 

 

Stats 

 

Team and opposition strength 

 

Periods of influence in the game 

 
The FocusHoops team of the week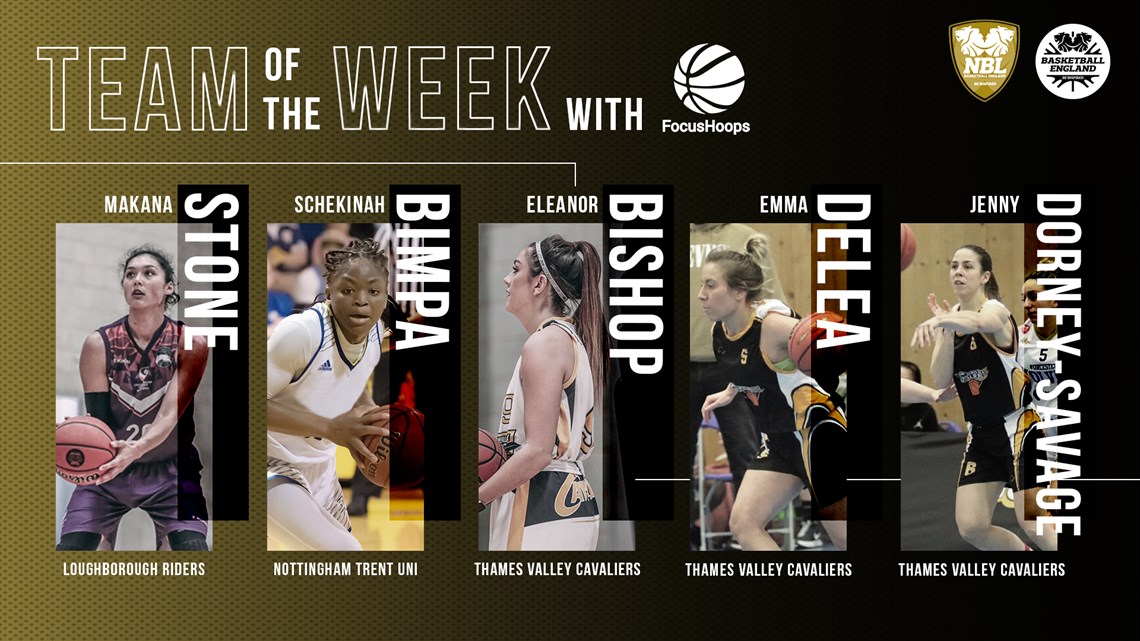 Makana Stone, Loughborough Riders
20 POINTS, 26 REBOUNDS (9 OR), 9/16 FG, 50 EFFICIENCY 
Makana Stone is this week's player of the week after an incredible Index of 50, off the back of her 20 and 26 performance in the win over Worcester Wolves on Saturday. Stone, who is showing herself to be the signing of the season, was a one-woman wrecking crew as a shorthanded Riders took down the struggling Wolves.  
In addition to her scoring and her work on the glass (including an incredible nine offensive rebounds), Stone was active on the defensive end recording six steals and four blocks.  
Schekinah Bimpa, Nottingham Trent University 
16 POINTS, 15 REBOUNDS, 7/11 FG, 30 EFFICIENCY 
Nottingham Trent University broke their four game losing run, built on the back of an impressive and highly efficient 16 points and 15 rebounds from Schekinah Bimpa as they overcame a Reading Rockets team who have impressed in recent weeks.  
Bimpa led all scorers and rebounders in just 23 minutes of basketball and did it all without turning the ball over or committing a single foul, whilst going perfect at the line and hitting 63% from the floor. Bimpa could be the catalyst for better things to come for the midlands outfit.  
Eleanor Bishop, Thames Valley Cavaliers 
24 POINTS, 7/14 FG, 5/10 3FG, 21 EFFICIENCY 
A trio of Thames Valley Cavaliers made team of the week thanks to their impressive win over Team Solent Kestrels to move to a 3-3 record on the year and bounce back from a disappointing defeat last week to Ipswich. Bishop led all scorers with 24 points on 50% shooting, including an impressive 5-10 from beyond the arc.  
The sharpshooter was disciplined  throughout, turning the ball over just once and committing a single foul whilst being sent to the line seven times.  
Emma Delea, Thames Valley Cavaliers 
 9 POINTS, 7 REBOUNDS, 8 ASSISTS, 21 EFFICIENCY 
Emma Delea makes her debut appearance in the team of the week after once again putting FocusHoops towers on high alert in her search for a triple double. In the end Delea was a point, three rebounds and two points short but an excellent and efficient all around performance saw her earning team of the week honours and the victory.  
Delea not only led the team in assists and second in rebounding, but she also led all players in steals with four, demonstrating her defensive acumen in an impressive victory for her side.  
Jenny Dorney-Savage Thames Valley Cavaliers
11 pts, 6 reb, 17 EFF 
Jenny Dorney-Savage had a huge performance for Thames Valley this weekend as she recorded an excellent 11 points and six rebound performance on 60% shooting and an impressive 83% from the line. Dorney-Savage pulled down a team tying four offensive rebounds as TVC won the battle of the boards, but she also contributed well on the defensive end with three steals.  
In a game of big performances, Doney-Savage stands out for her efficiency and excellence on both ends of the floor in a big win for her side.  
Team Performance of the Week 
Thames Valley Cavaliers are this weekend's Team Performers of the week courtesy of their highly impressive 92-67 victory over the Team Solent Kestrels, thanks to a 50-30 performance in the middle two periods.  
The high-scoring Cavaliers finished with four players posting double figures in scoring and efficiently at that, hitting 47% either side of the arc, whilst winning the battle of the boards 47-37.  
The victory sees TVC move to a 3-3 record and an impressive response to their tough loss to Ipswich last weekend. 
Honourable Mentions
Katherine Goldsby (TVC) - 21PTS, 5REB, 15EFF 
Ezekiela Lisk (TVC) - 6pts, 11reb, 15EFF 
Shanice Turner (WOR) - 20PTS, 8REB, 16EFF (Loss) 
Gaila Comesana (REA) - 13PTS, 7REB, 5AST, 17EFF (Loss) 
.