FocusHoops' Darren Paul is back and ready to go for another season of WNBL action!
As a writer, commentator, podcaster and more, Darren will once again pour over all the D1W games, with five in total to choose from this week, as he picks out a Player and Team of the Week.
Have your say on this week's choices and give a shout-out to the players you think deserve one using the hashtag #NBL2122. Don't forget to tag us!    
Twitter: @NBLengland / @FocusHoops  
Facebook: @NBLengland  / @FocusHoops  
Instagram: @nblengland / @focushoops  
How it works  
Darren will pick a Player of the Week and four other selections to round out his Team of the Week, paying attention to the following criteria:
Efficiency 

 

Stats 

 

Team and opposition strength 

 

Periods of influence in the game 

Being on a winning team (exceptional performances from players on losing teams will be considered for TOTW)
Other players will also receive a shout out as honourable mentions at the bottom of the piece.
The FocusHoops team of the week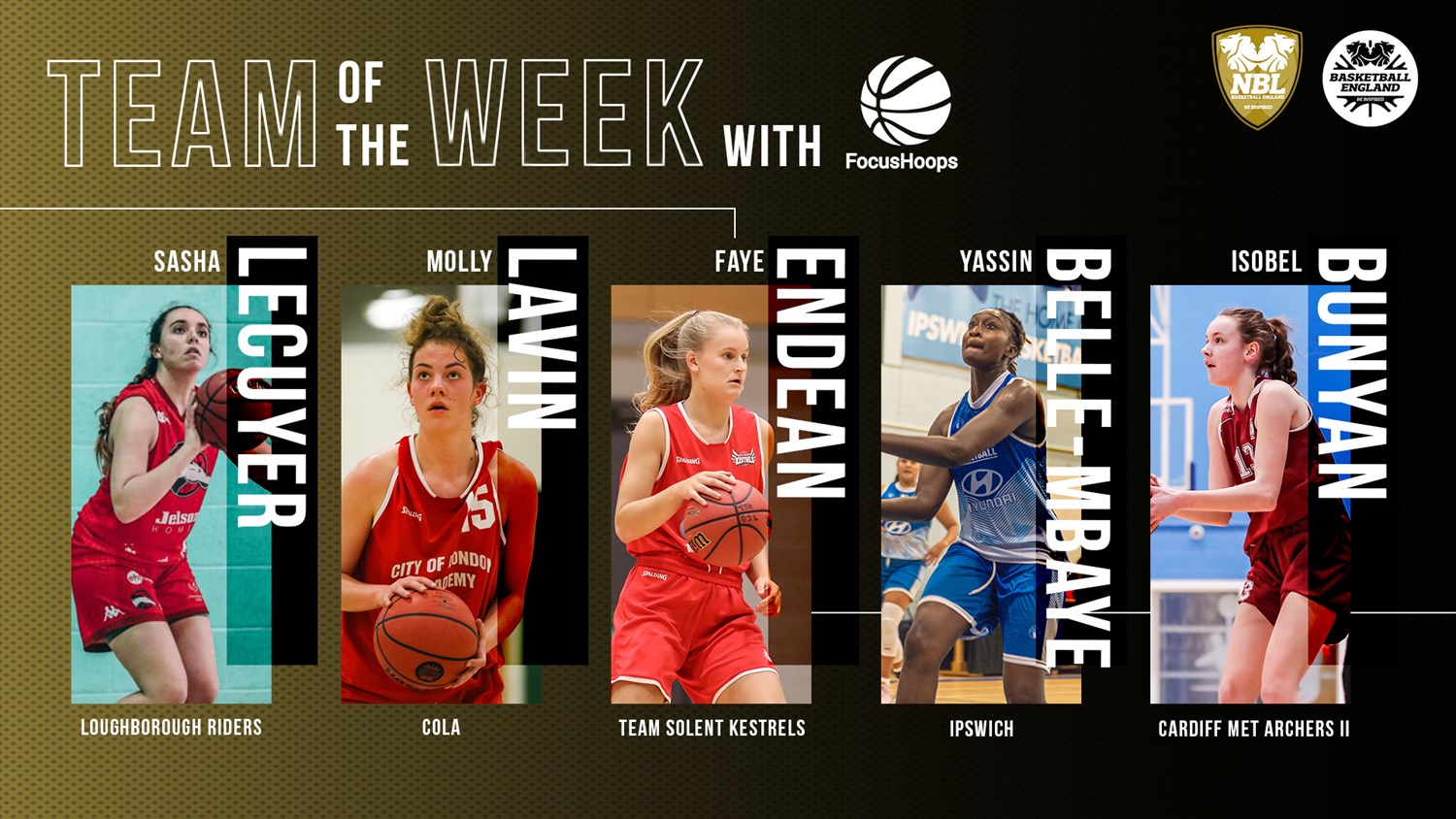 PLAYER OF THE WEEK
Sasha Lecuyer- Loughborough Riders, guard
25PTS, 4REB, 24EFF
On the opening weekend of the season, Sasha Lecuyer carried a huge scoring load in Loughborough's 82-64 win over Cardiff Met Archers II on her way to a 25-4 performance.
Lecuyer caught fire from outside, hitting a remarkable 7-8 from three-point-land and went 2-2 at the foul stripe in a great individual performance.
The Maltese national ran the show for the Riders on the road, bringing the ball up each time and facilitating well for teammates as well as getting her own looks when needed.
Lecuyer's highlight of the game was a undoubtedly a buzzer beating three at the end of the first quarter.
Molly Lavin - CoLA Southwark Pride, forward
18PTS, 6REB, 1AST, 20EFF
Molly Lavin picked up where she left off last year in the opening weekend of the season, putting together an excellent all-around performance that demonstrates how efficient a player she can be.
Shooting 77% from the floor whilst going 4-6 from the line, her efforts pushed CoLA to a 69-48 win over Reading.
Lavin played just 19 minutes, which is a staple of coach Gibbons' Pride, but the forward still pulled down six boards, including two offensive, and was fouled on six occasions. Lavin also finished with a game-high +20 in the 21-point victory.
Faye Endean – Solent Kestrels, Guard
18PTS, 5REB, 2AST, 19EFF
Kestrels' star Faye Endean kicked off her season with an excellent performance for the Southampton ball club in their 77-53 victory over London Lions II, top scoring for Solent with 18 points on 56% shooting.
Endean pulled down five rebounds, two offensive, dished two dimes and contributed on the defensive end by snagging four steals. It was a classic performance that showed off her array of talents at both ends of the court.
Yassin Belle-Mbaye – Ipswich, Forward
16PTS, 11REB, 1AST, 20EFF
Yassin Belle-Mbaye made a great impact on debut for reigning champions Ipswich by scoring 16 points, eight of which from the foul line, in a strong performance against Thames Valley.
Belle-Mbaye added to her scoring performance with a great showing on the boards, grabbing 11 rebounds, three on the offensive glass, plus one steal and one assist.
The youngster has big shoes to fill at Ipswich, but made a solid first impression on Saturday which will no doubt excite the Suffolk faithful.
Isobel Bunyan – Cardiff Met Archers II, wing
18PTS, 13REB, 6AST, 5blk, 2stl 38EFF
Isobel Bunyan was a force to be reckoned with on Sunday for Cardiff as they fell to the Loughborough Riders.
Bunyan, one of the young stars of Welsh basketball, scored 18 points on 61% shooting and pulled down 13 boards whilst dishing six dimes in her double-double performance.
Bunyan was a menace on the defensive side of the ball as well, sending back five shots and snagging two steals, all whilst only committing two personal fouls in 34 minutes.
The 82-64 loss certainly wouldn't have been the result Bunyan and Cardiff were hoping for, but this was another excellent performance from an exciting young player that could make a real mark on the league this season.
Team Basketball
Pride put out Rockets in the third
CoLA Southwark Pride recorded a solid victory over Reading Rockets on Sunday, putting together a convincing performance that had the result all but confirmed by three quarter time.
Last year's playoff finalists built on their commanding 42-21 half-time advantage with a 16-0 shutout in the third that stretched the lead out to a hefty 37 points.
Reading would come back at CoLA in the final period with a storming 27-11 effort of their own, but  the damage was already done for the Rockets as they eventually came up short by 21 points.
Riders take opening victory on the road
There was only one victorious road team in the WNBL this weekend as the Loughborough Riders took down the Cardiff Met Archers II 82-64 in the Welsh Capital.
The Riders are a new look outfit after a busy off-season but still have some key returnees, including one of the breakout stars of 2020/21 in Katie "KJ" Januszewska, plus captain Robyn Ainge and my WNBL Player of the Week Sasha Lecuyer.
The Midlands club took control of the first quarter, thanks in part to that buzzer beater from Lecuyer, and would manage the contest the rest of the way for a win that will doubtless please head coach Louis Chamberlain on his debut outing.
Honourable mentions
Faith Okwuosa (TVC) – 11P/10R/1A/20EFF
Cameron Taylor-Willis (IPS) – 10P/17R/1A/15EFF
Alia El Shabrawy(LOU) – 10P/8R/6A/19EFF
.