Rebound's Chris Hughes is back with more NBL accolades, this time picking from the first week of the 2021/22 NBL regular season.
The British Basketball community was still reeling this past weekend from the unexpected passing of Andrea Boreland.
Andrea was one of the assistants at London Lions, was a serial champion across a number of clubs and the only female assistant coach in the BBL in recent years. An inspiring coach and human being to so many, Andrea 'Angie B' heavily impacted so many people's careers and their journeys, including hundreds across the NBL.
This weekend those very players were able to put on a fitting tribute.
Have your say on this week's choices and give a shout-out to the players you think deserve one using the hashtag #NBL2122. Don't forget to tag us!    
Twitter:  @NBLengland / @Rebound__  
Facebook:  @NBLengland  / @ReboundNBL  
Instagram:  @nblengland / @reboundnbl  
How it works 
Chris will pick a Player of the Week and four other selections to round out his Team of the Week, paying attention to the following criteria:
Efficiency 

 

Stats 

 

Team and opposition strength 

 

Periods of influence in the game 

Being on a winning team (exceptional performances from players on losing teams will be considered for TOTW)
Other players will also receive a shout out as honourable mentions at the bottom of the piece.
The Rebound team of the week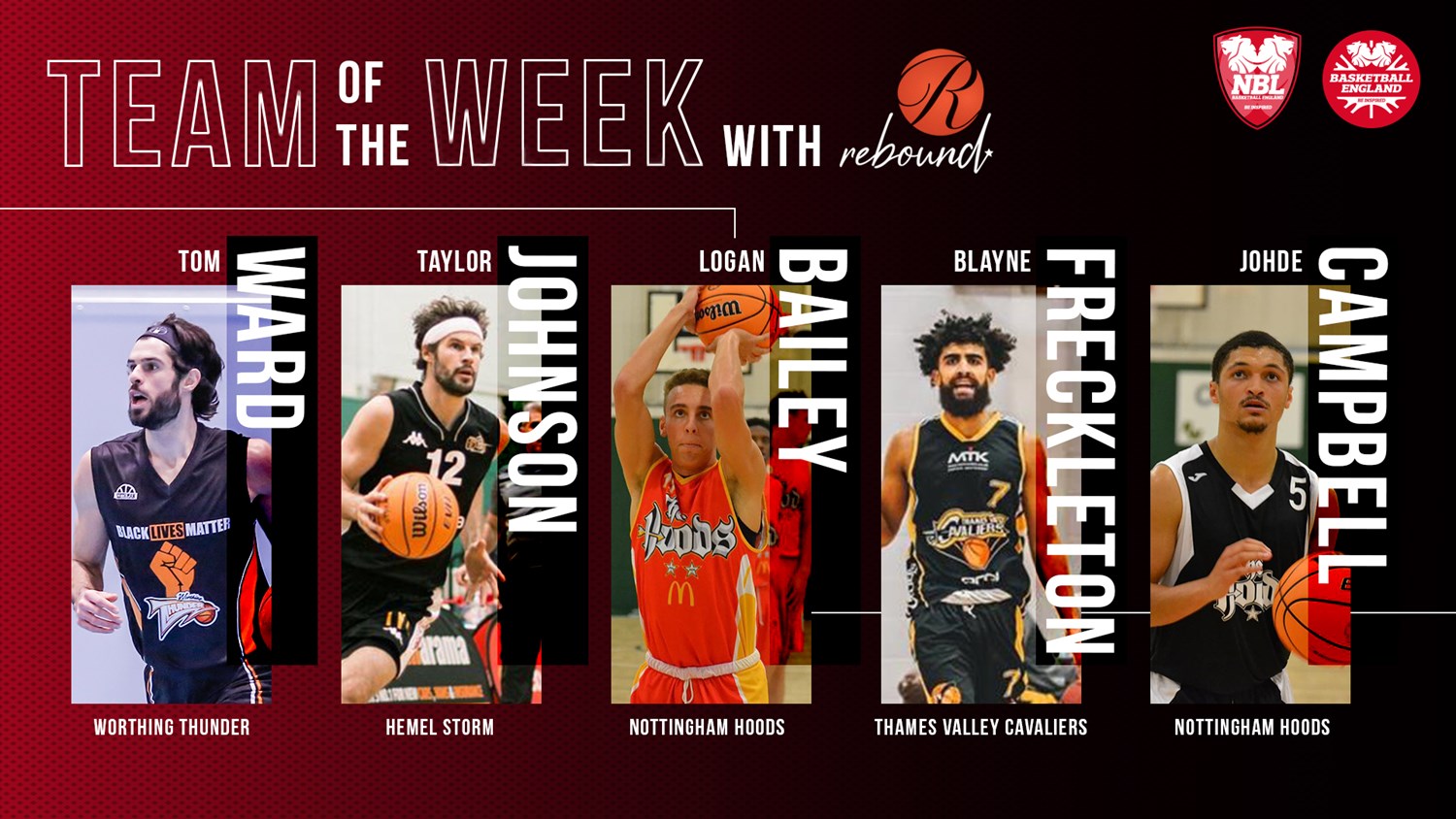 PLAYER OF THE WEEK
Tom Ward - Worthing Thunder, guard
29PTS, 9REB, 5AST, 2STL, 37EFF
Tom Ward's first half contributions were vital as Worthing built a commanding 31-point half time lead that they'd later convert into a 108-91 victory against Essex.
The mid-range sniper was the hot-hand in the first half as he put on a show for the NBL Live cameras, netting 10 of his 13 attempts for an impressive stat line of 26 points, 3 boards and 2 dimes by the main change.
Ward also has range, making five of his eight three point attempts and converting both of his free throws. It was an impressive performance and more than worthy of Rebound's Player Of The Week
Taylor Johnson – Hemel Storm, guard
@ Oaklands - 27PTS, 8REB, 3AST, 2STL, 57+/-, 31EFF
@ Reading - 32PTS, 6REB, 3AST, 28EFF
In a close call, Taylor Johnson just misses out on a POTW selection. Any other week and this road double-header performance would have won him the crown.
Johnson, now entering his fourth season in the NBL, knows how to get the job done. One of the exceptional factors when watching him this weekend was the ice in his veins from the free throw line, knocking down 19 of 20 attempts over the two games.
The only negative, if you can call it that, was that Taylor shot 2-8 from range on Sunday. It should be noted that his 25 3P% shooting was close to par when compared to his Storm team mates, leaving Hemel to get the job done via a different route.
Blayne Freckleton – Thames Valley Cavaliers, guard
23PTS, 6REB, 1AST, 1STL, 23EFF
One of the top shooters in the country put on a clinic this weekend against one of league's fancied teams, who also boast plenty of shooting talent of their own.
Freckleton shot the lights out from 3-point range, hitting on five of seven attempts as the Cavs beat Derby 87-79. When he found a way to get to the line, the former Team Northumbria man didn't falter, only missing one attempt all evening.
In what proved to be a close contest, the captain's offensive prowess and defensive energy helped craft a final +/- of 14. That was a big factor in the single-digit win.
Johde Campbell – Nottingham Hoods, guard
8PTS, 10REB, 8AST, 7 STL, 24EFF
Campbell played the part of both provider and pick pocket this weekend, leading all Hoods players in assists and steals, as well as +/-. A forgettable day shooting the ball was masked by his influence in other areas as he helping his team to a 26-point win against Loughborough.
The former BBL man's total of seven steals, all while not having a foul to his name, is amazing. Those seven takeaways contributed heavily to Nottingham's total of 15 steals and 29 points from turnovers.
Campbell may have found plenty of success taking the ball away, but he also refused to give it back, committing just two turnovers. That's quite the effort from a player who piled up close to double-digit assists.
Logan Bailey – Nottingham Hoods, guard
25PTS, 7REB, 3AST, 2STL, 32EFF
Bailey notched up one of the best bench performances of the young season to date last weekend. That should come as no surprise as the 6'4" guard ranks third in all-time FG% at 59.1 from two seasons of action.
The former University of Scranton sharp shooter shot efficiently across just over 25 minutes of action, sinking 11 of his 15 attempts and two of his three shots from beyond the arc.
Team Basketball
ROCKETS ON COURSE, BUT LACKED FUEL THIS WEEKEND
Reading Rockets ensured Solent had a hard time of things this weekend before ultimately becoming one of only a handful of teams to lose to Solent by single digits in recent years.
It was always going to be a tough matchup for the Berkshire side given Solent have not lost at home in the regular season since January 2018. That said, Reading had the defending champs on the ropes at times before running out of steam in the final quarter.
Perhaps even more impressively, Reading played well once again less than 24 hours later, hosting Hemel in the L Lynch Trophy.
Despite their exertions against the Kestrels, Reading had enough in the tank to finish strong and almost grabbed the win against a serious title contender.
A 3-point loss was enough to still seal top spot in their group, locking up a quarter-final game versus Loughborough.
Cavs and 'Blazers both shoot well in entertaining contest
Thames Valley made 49% of their field goals this weekend and an NBA-like 59% from three point range, adding to the excitement of the second plays fourth clash based on last year's standings.
Jakobi Bonner and Blayne Freckleton in particular shot well from every part of the half court for TVC as Hakeem Sylla dominated under the rim, adding a routine 19p/11r double-double.
An honourable mention must go to Derby though, they also shot efficiently with a slash of 47.1 FG%/50 3P%/83.3 FT%.
The Trailblazers ultimately fell short come the final buzzer, but Ryan Bruggerman and captain Jonas Dieterich both shot well from the field as well as the charity stripe.
Honourable mentions
Ryan Bruggerman (DER) – 24P/5R/2A/2S/27EFF
Meshack Lufile (REA) – 21P/12R/2A/3B/26EFF @SOL & (HEM) - 10EFF
Andrew Vickers (NOT) – 13P/6R/2A/1B/21EFF
Jack Burnell (HEM) – 17P/5R/3A/3S/24EFF @OAK & @(REA) – LIMITED MINUTES/9EFF
Brandon Federici (NEW) – 31P/1R/28EFF
.