FocusHoops' Darren Paul had plenty of quality basketball to look over during the Halloween weekend, but did he find more tricks or treats for his Player and Team of the Week selections?
As a writer, commentator, podcaster and more, Darren cast his expert eye across six WNBL contests, looking for performances worthy of recognition.
Have your say on this week's choices and give a shout-out to the players you think deserve one using the hashtag #NBL2122. Don't forget to tag us!    
Twitter: @NBLengland / @FocusHoops  
Facebook: @NBLengland  / @FocusHoops  
Instagram: @nblengland / @focushoops  
How it works  
Darren will pick a Player of the Week and four other selections to round out his Team of the Week, paying attention to the following criteria:
Efficiency 

 

Stats 

 

Team and opposition strength 

 

Periods of influence in the game 

Being on a winning team (exceptional performances from players on losing teams will be considered for TOTW)
Other players will also receive a shout out as honourable mentions at the bottom of the piece.
The FocusHoops team of the week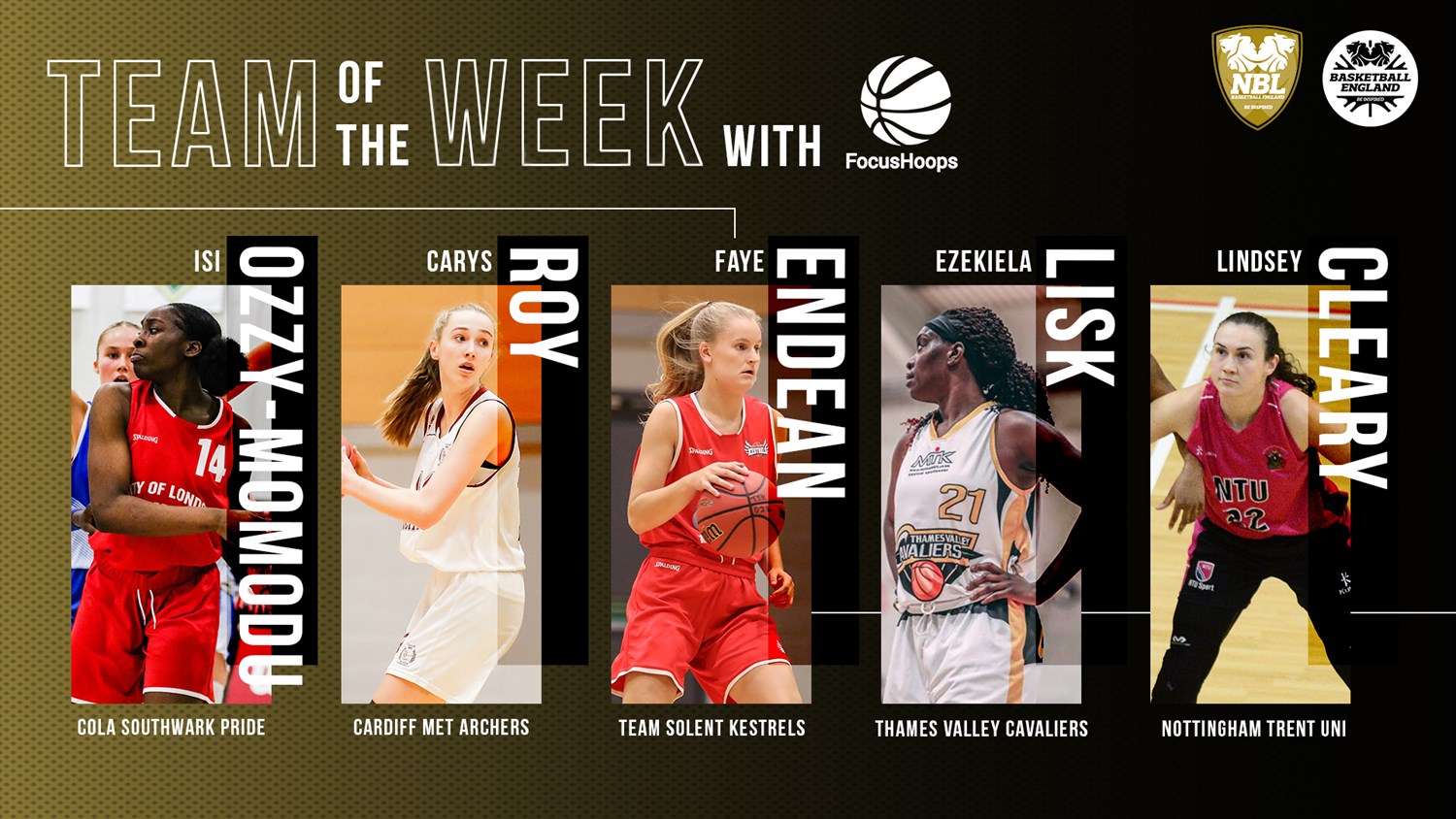 PLAYER OF THE WEEK
Isi Ozzy-Momodu - CoLA Southwark Pride, forward
13pts, 21reb, 1ast, 27eff
Isi Ozzy-Momodu, the slam dunking sensation, captained CoLA Southwark Pride to victory over Ipswich, enacting a modicum of revenge for their playoff final defeat last season.
Ozzy-Momodu has been a mainstay of my Team of the Week so far this season, but mainly thanks to dominant spells during games.
This weekend Ozzy-Momodu started and played just under 30 minutes, finishing with 13 points, a game-high 21 rebounds and one assist whilst committing zero turnovers.
Ozzy-Momodu shot well from the floor, but it was on the glass where she really made her mark, pulling down an enormous 11 offensive rebounds whilst supporting on the defensive end with two steals and a pair of blocks.
The talented forward was also fouled a remarkable seven times to just a single foul committed. It was a consistent show of force that eventually pushed CoLA to an important victory.
Carys Roy - Cardiff Met Archers II, forward
17pts, 14reb, 4ast, 28eff
Carys Roy had a great weekend for Cardiff in the Battle of the Capitals as Archers beat London Lions II 69-61 on Sunday.
The Welsh international capped an excellent, efficient performance with 17 points on 58% shooting, adding 14 boards (four offensive) plus four assists as Cardiff held on late in the game against a resurgent Lions.
Roy, who has impressed throughout her early WNBL career, will be leading light for Cardiff as they look to make the playoffs for the first time. Wins over rivals like London could go a long way to making that goal a reality.
Faye Endean - Team Solent Kestrels, guard
27pts, 3reb, 2ast, 7STL, 29eff
Team Solent Kestrels and Faye Endean put on a show on Saturday afternoon as they defeated Nottingham Trent University 91-62.
Endean shot the lights out, hitting 63% from the floor, including sinking three triples (at 50%) on her way to a game-high 27 points.
The teenage sensation also pulled down three boards and dished a pair of dimes but it was on the defensive end where she shone brightest, finishing with a massive seven steals and a block.
Endean continues to impress in her WNBL career and is routinely showing the league that she is a multitool player, something TSK will depend on more and more as they look to continue their recent good form.
Ezekiela Lisk - Thames Valley Cavaliers, forward
19pts, 14reb, 3ast, 24eff
Thames Valley Cavaliers continued their solid start to the season with a win on the road at Worcester, 64-55, spearheaded by a 19-14 double-double from Ezekiela Lisk.
Lisk led the game in scoring and shot well, hitting 44% of her attempts from the floor, but it was on the glass where she went to work. Pulling down a game-high in rebounds, including eight on the offensive boards, allowed TVC to dictate play in what was a tricky matchup for coach Kent's side.
The former Birmingham Met also contributed in other ways, finishing with a trio of both assists and steals, capping off a great game for the West London outfit.
Lindsey Cleary - Nottingham Trent University, forward
21pts, 14reb, 5ast, 29eff
Lindsey Cleary had another incredible individual performance this weekend, though it couldn't push her team to victory against Solent.
The Trent forward came away with a team-high 21 points and tied with Solent's Molly Danielson with a game-high 14 rebounds, eight of which came on the offensive glass to create second chance opportunities.
Cleary continued to fill the stat sheet as the American dished four dimes and picked the passing lanes to nab five steals in the losing effort.
If Cleary keeps scoring and contributing like she has done in the early going, NTU will surely see their fortunes change before too long.
Team Basketball
Bristol take huge debut victory on the first WNBL Live broadcast of the Season
Under the bright lights and with the commentary of John Hobbs and former WNBL D1 Coach of the Year Gareth Till, the NBL Live cameras captured Bristol Flyers' first win of the season in a low scoring but hard fought match up against Anglia Ruskin University.
As always when these two sides meet it was a battle for the full 40 with neither side looking to give an inch.
Emma Bailey top scored for the hosts with a 10-7-3 performance off 50% shooting, and with the help of Mai Zilbeti and Hannah Wallace, all three players made life difficult for Ruskin with four steals apiece.
Flyers fans will be hoping that this weekend's victory can kick start their season as they finally get rid of the zero in the W column and move to 1-4.
CoLA Southwark Pride get revenge to stay perfect
It was the first meeting of the new year between last season's top two and a repeat of the 2020/21 playoff final as CoLA Southwark Pride hosted Ipswich on Sunday.
CoLA, who always played Ipswich close last season, finally got a small measure of revenge in an assured victory as Jackson Gibbons noticeably shrunk his rotation and came away with the 12 point victory to stay perfect atop WNBL D1.
CoLA were led by a captain's performance from Isi Ozzy-Momodu, but credit must also go to the scoring of Emily Black who finished with 11 points and a +/- of +19 as CoLA sent a clear message to the rest of D1W.
Honourable mentions
Kristina Karpova (TSK) - 14P/3R/5A/21EFF
Molly Danielson (TSK) - 8P14R/2A/21EF'f
Alia El Shabrawy (LOU) 10P/9R/4A/18EFF
.