St Albans Wolves coach Tor Freeman has won Young Coach of the Year at this year's UK Coaching Awards. 
The prestigious event was hosted in Leeds on the 7 December and recognised the remarkable contribution coaches make in transforming lives in communities nationwide.
Freeman, who is originally from Worthing and a former Thunder player, said:
"I was excited and surprised; the other finalists were really good as well.
"I am thankful for the nomination, and the parents who put me forward for the award. Now, I want to push my coaching on and keep moving forward with it. It's great to know that what I do has an impact, and that other people are appreciative of it. There were coaches there that have achieved far more than me, so [the award's] my first step to moving onto bigger and better things.
"I got nice reaction from the basketball community too, messages from old coaches and the senior coaches at the club to say well done."
The 22-year-old, who coaches the Wolves' U16 girls, was part of a 26-strong list of finalists. Other winners on the night included ParalympicsGB's para-badminton coach Richard Morris, who won High Performance Coach of the Year, the coaches of multi-Paralympics gold medallist Kadeena Cox, who won The Coaching Chain award, and Team GB diver Tom Daley's coach Jane Figueiredo won the Great Coaching Moment of the Year.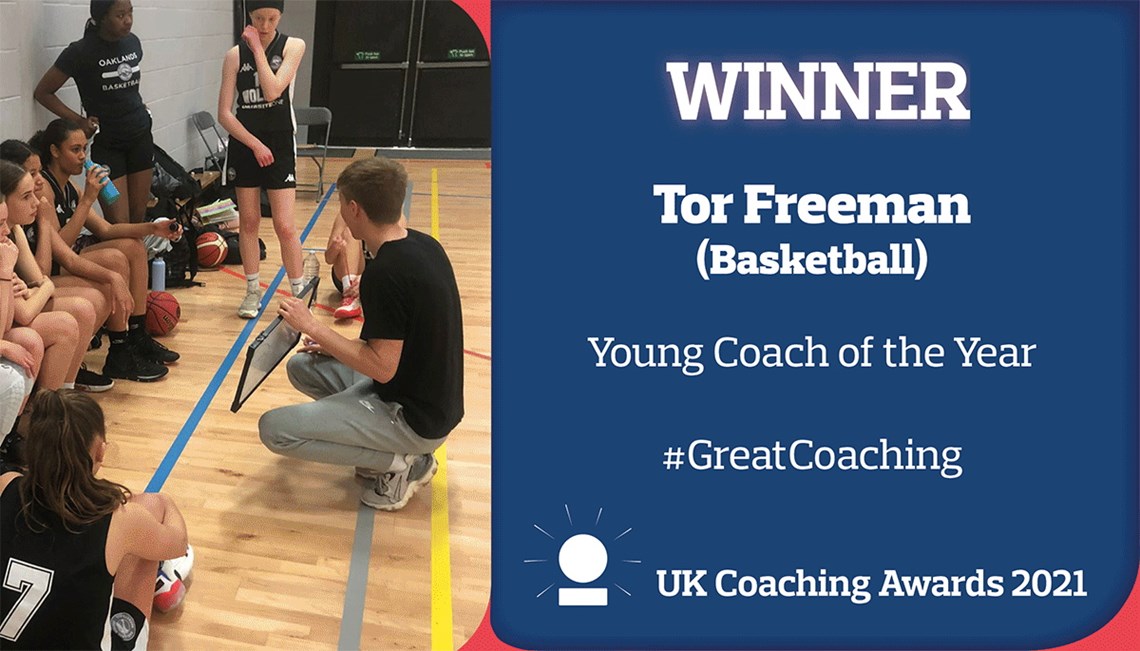 Basketball England's CEO Stewart Kellett, said:
"On behalf of Basketball England, I'd like to pass on my congratulations to Tor on receiving recognition for his contribution to coaching and the young players he supports. This is a fantastic award, and he is in great company, being amongst some of the best coaches in the country.
"Through his person-centred coaching, and creativity during covid, Tor continues to help girls and women at St Albans and in the community to realise their potential. He deserves additional credit for his resilience in such challenging times and going above and beyond for his players during the pandemic.
"At Basketball England, we know that basketball changes lives, and it is our coaching workforce that inspires so many to love the game and develop friendships and life skills, whether playing competitively or recreationally. I hope Tor's achievement inspires more young people to follow in his footsteps and get into coaching."
Tor's coaching ethos is about creating a participation and performance environment for girls who want competitive basketball, with the potential to move onto elite women's basketball.
St Albans Wolves Director of Basketball and head coach at Oaklands College Michael Ball said that Freeman had made 'such a difference' to the girls' programme since he came to post with his passionate attitude.
With the 2019/20 season written off because of the pandemic, Freeman kept his players engaged virtually through video training sessions, video analysis of games, challenges and fitness activities, and guest speaker sessions. This season, however, the Wolves have made a dominant return the fray and are top of their league – the U16s Girls South 1, as part of Basketball England's Jnr. NBL structure – with five wins and one loss.  
With a keen interest in pedagogy, Freeman also works as a teaching assistant and is studying a graduate diploma in law, yet, even with those extra stings to his bow he remains committed to a career in coaching.
Find out more about the UK Coaching Awards.

Basketball has the power to change lives. #GameTime will aim to raise awareness of the positive impact that our sport can have on people no matter who they are or where they're from.
Whether you want to play, coach, officiate, support or volunteer, you can get involved in the game.