Great Britain slipped to a home defeat in the first game of their FIBA Women's EuroBasket 2023 qualifying campaign.
Greece, six places ahead of GB in the world rankings at No.15, claimed a 73-66 win in a frenetic game at Manchester's National Basketball Performance Centre.
A raucous crowd backed the Brits but Greece edged into a 10-point lead by the end of the third quarter.
And, despite a late GB rally, the visitors took the victory.
The retuning Azania Stewart finished with a double double of 10 points and 11 rebounds, while Karlie Samuelson led the GB scoring with 14 and Shanice Norton-Beckford had 12 on her debut.
Angeliki Nikolopoulou, with 4/5 three-point shooting, and the powerhouse Artemis Spanou were twin thorns in GB's side with 17 points apiece.
GB started with Rachael Vanderwal, debutant Holly Winterburn, Samuelson, Chantelle Handy and veteran Stewart.
And Stewart, making her 102nd national team appearance, grabbed her first basket since coming out of retirement early in a physical first quarter that the Greeks took 20-15. Her London Lions teammates Winterburn and Shanice Beckford-Norton also hit their first points in senior GB colours.
In the second, threes from Beckford-Norton and Samuelson and gritty inside work from Stewart, Cheridene Green and Shequila Joseph, edged GB within at point at the half at 34-33 to Greece.
At the start of the third Samuelson drove to the hole to put GB into their first lead since the opening minutes and added a running three moments later to make it 38-37 to the home team. But the Greeks took advantage of turnovers to rally and push out to a nine-point lead before going into the final period 54-45 ahead.
GB got off the mark with two Green free throws and Winterburn three then a pair Handy threes pulled the Greece lead back in to seven with four and a half minutes to play at 65-58.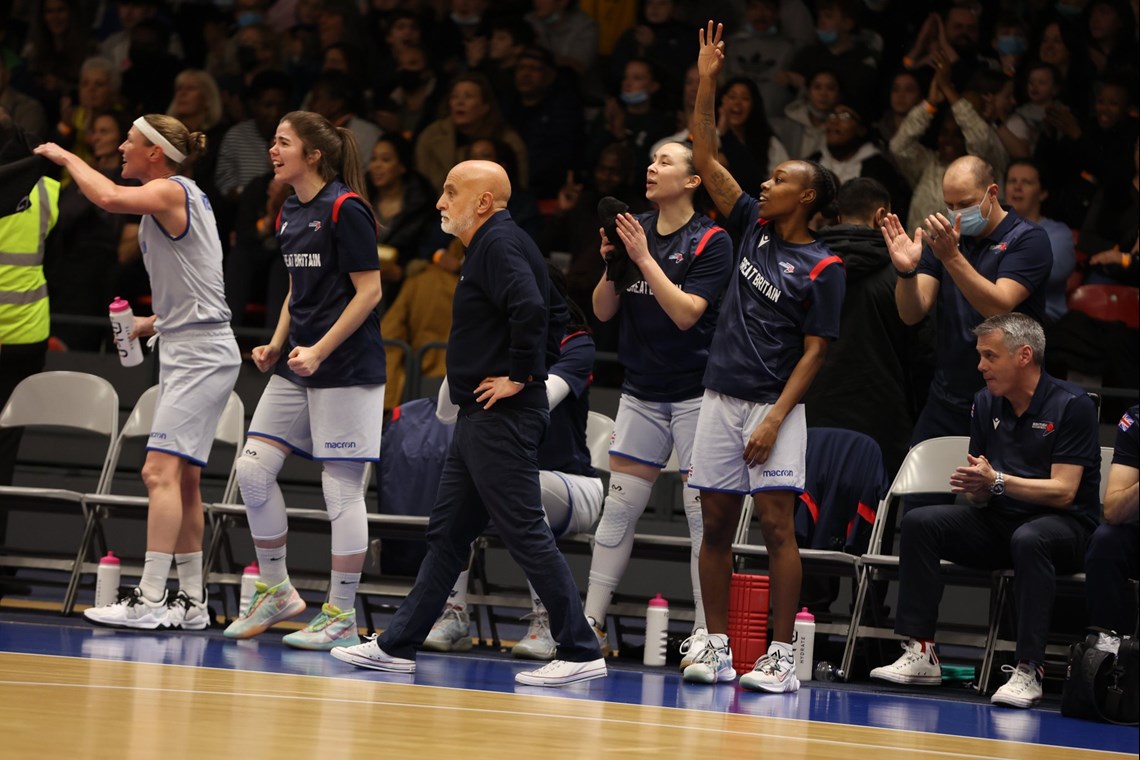 Georgia Gayle, another making her bow, made it 68-61 with a three with just under three minutes to play. Two from Samuelson from the line narrowed the gap to five but it wasn't to be.
GB travel to Estonia for their second group game on Sunday.
Coach Chema Buceta said
"We were close in some points in the game but we made some mistakes.
"But I was happy that the team was able to react and manage to get a decent result for the second leg next year.
"We have some new players in with no match experience at this level, and this is something we will have to improve in the future.
"Now we have to beat Estonia. This is our main goal now, we have to go game by game.
"Then we will have one year to build the players, build the team and go to Greece with six or seven points."
Boxscore HERE