There is plenty of emerging young English talent in the 24-man squad named for Great Britain's final window of FIBA EuroBasket 2022 Qualifiers this month.
The Group G games against Germany and France later this month are set to take place in a central Covid-19-secure 'bubble' in Podgorica, Montenegro.
GB go into the bubble with momentum following a crucial 74-59 win over Montenegro in November.
The likes of Callum Lawson, Matt Marsh, Aaron Menzies, Patrick Whelan and Deane Williams receive their first call-ups to the men's national team.
Worthing Thunder's NBL1 starlet Cameron Hildreth returns as does Rex Pflueger, Tarik Phillip and Akwasi Yeboah are all recalled after featuring in November's camp.
Veterans return
The 24-man squad is highlighted by an experienced core group of players who have committed to every window of this FIBA EuroBasket Qualifying round despite the ongoing adversity of the pandemic.
This special group of ever-presents includes Dan Clark, Ashley Hamilton, Myles Hesson, Dwayne Lautier-Ogunleye, Ben Mockford, Luke Nelson, Teddy Okereafor and Gabe Olaseni.
Ironman Okereafor could be set to tie the record for most consecutive international games played if he gets the nod against Germany and France. The current record of 49 consecutive games has stood for 45-years and was set by Bill McInnes in 1976.
Clark (106 caps) will edge closer to catching all-time cap winner Eric Boateng (116 caps).
Kavell Bigby-Williams, Kyle Johnson, Jacob Round, Ovie Soko, Josh Steel and Devon Van Oostrum along with Scot Gareth Murray, could all be poised to make a return.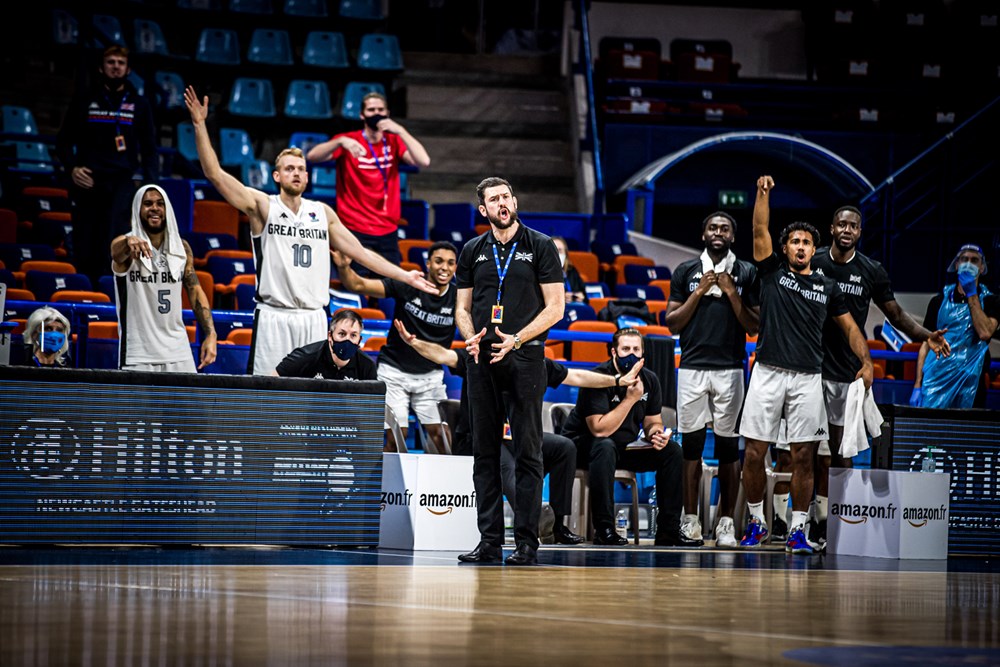 The GB Men have now won nine of their last 11 games with their only two losses coming on the road against sixth-in-the world France and 26th- ranked Montenegro. France lead Group G with a 3-1 record, while Great Britain and Montenegro are tied for second place.
Importantly, GB own the head-to-head tiebreaker over Montenegro based on aggregate point difference.
Germany are currently in fourth place, however, they are automatic qualifiers as EuroBasket 2022 hosts. Great Britain must finish ahead of either France or Montenegro in order to qualify for next summer's EuroBasket championship.
The coaching staff remains unchanged with Marc Steutel leading the team in his third window as acting head coach, supported on the bench by assistant coaches Jamie Smith and Andreas Kapoulas.
GB play Germany on 20 February, and France on 22 February. The final 12-man rosters will be confirmed ahead of each game.
24-man GB squad to face Germany and France
| | | | | | |
| --- | --- | --- | --- | --- | --- |
| NAME | POS | AGE | HEIGHT | CLUB TEAM (2020-21) | CAPS* |
| Kavell Bigby-Williams  | F/C  | 25 | 6'11"  | Pallacanestro Cantù (ITA) | 6 |
| Dan Clark  | F/C  | 32 | 6'11"  | Real Betis (ESP) | 106 |
| Ashley Hamilton  | F  | 32 | 6'7"  | Plymouth Raiders (GBR)  | 26 |
| Myles Hesson  | F  | 30 | 6'6"  | Élan Chalon (FRA)  | 43 |
| Cameron Hildreth  | G  | 18 | 6'5"  | Worthing Thunder (GBR)  | 0 |
| Kyle Johnson  | G  | 31 | 6'5"  | UMFN Njardvik (ISL) | 83 |
| Dwayne Lautier-Ogunleye  | G  | 24 | 6'3"  | Poiters Basket 86 (FRA)  | 6 |
| Callum Lawson | F | 24 | 6'6", | Thor Thorlakshofn (ISL) | 0 |
| Matt Marsh | F/C | 18 | 6'11" | ASVEL (FRA) | 0 |
| Aaron Menzies | C | 24 | 7'3" | Ourense (ESP) | 0 |
| Ben Mockford  | G  | 31 | 6'2"  | Bristol Flyers (GBR) | 41 |
| Gareth Murray | G | 36 | 6'7" | Glasgow Rocks (GBR) | 60 |
| Luke Nelson  | G  | 25 | 6'3"  | Göttingen (GER)  | 23 |
| Teddy Okereafor  | G  | 28 | 6'4"  | Bristol Flyers (GBR)  | 47 |
| Gabe Olaseni  | C  | 29 | 6'10"  | Büyükçekmece (TUR)  | 38 |
| Rex Pflueger  | G  | 24 | 6'6"  | Newcastle Eagles (GBR)  | 1 |
| Tarik Phillip  | G  | 27 | 6'3" | Tofas (TUR) | 8 |
| Jacob Round  | G  | 20 | 6'4"  | Levitec Huesca (ESP)  | 1 |
| Ovie Soko  | F  | 29 | 6'7"  | Le Mans (FRA)  | 10 |
| Josh Steel | G  | 24 | 6'4'' | Ciudada de Ponferrada (ESP) | 4 |
| Devon Van Oostrum | G | 28 | 6'3" | Landstede Hammers (NED) | 40 |
| Patrick Whelan | G | 24 | 6'5" | Real Murcia (ESP) | 0 |
| Deane Williams | F | 24 | 6'8" | Keflavik (ISL) | 0 |
| Akwasi Yeboah  | F  | 23 | 6'6"  | Saint-Quentin (FRA)  | 4 |