Rebound's Chris Hughes  picks his NBL Team of the Week and highlights some honourable mentions and team performances.   
Chris, a content producer, YouTube host and commentator, casts his eye over the five games involving NBL Division One teams from Week 14, including Sunday's epic game between Hemel Storm and Essex Rebels.   
Have your say on this week's choices and give a shout-out to the players you think deserve one using the hashtag #NBL2021. Don't forget to tag us!    
Twitter:  @NBLengland / @Rebound__  
Facebook:  @NBLengland  / @ReboundNBL  
Instagram:  @nblengland / @reboundnbl  
How it works 
The Basketball England NBL Player of the Week goes straight into the starting line-up.    
The other four players are picked with the following factors in mind:    
The Rebound team of the week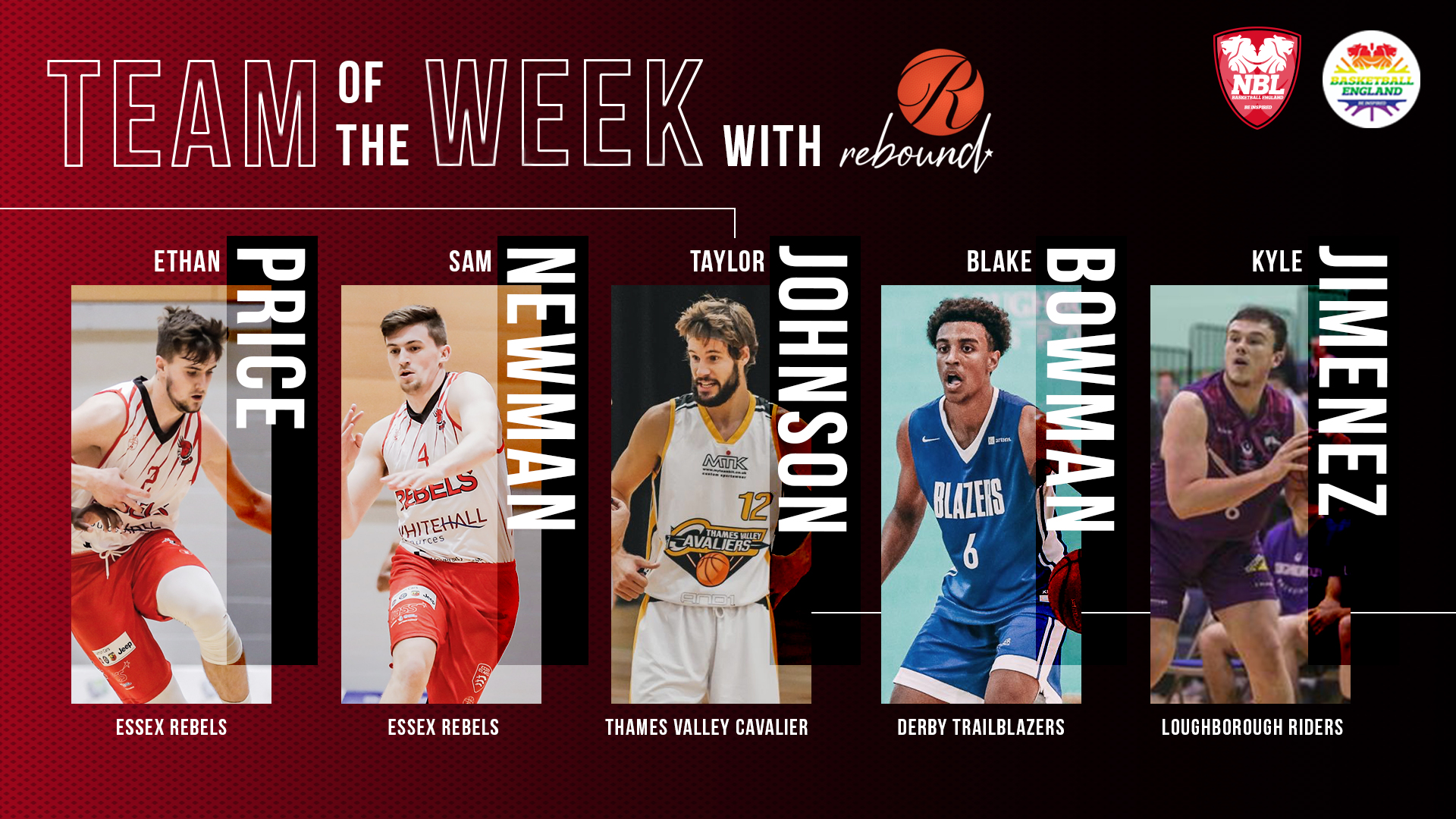 Ethan Price – Essex Rebels, forward   
31 POINTS

7 rebounds, 34 EFFiciency

   ​
It was a double-header weekend for Price and the Rebels but the young forward still had spring in his step and his dunks to get the dub versus high-flying Hemel Storm. Price raced to a mammoth first-half tally of 26 points to earn a rest in the third quarter after an early three.  
Storm threatened to fight back and Coach Norfolk reintroduced Price who ended the game with the winning bucket. He hit 12-15 field goals and 5-7 from three-point range in 32 minutes.
The talented former Ipswich forward also contributed 8p/7r/1a/1b in Saturday's home win versus Bradford Dragons.
Sam Newman – Essex Rebels, guard    
21 POINTS, 8 REBOUNDS, 5 ASSISTS, 3 STEALS, 26 EFFICIENCY    
The former Hemel Storm guard was on fire in Saturday's win over Bradford, inspiring a second-quarter 16-2 run with a quickfire burst (5p/2r/2a) in just two minutes of action.  
Newman's influence helped give the team momentum to finish the half 61-49 up and he  kept some in the tank for Sunday's game against his former side with a 14-point performance. The Hemel game further highlighted his all-round game with vital steals and assists. 
Taylor Johnson – Thames Valley Cavaliers, guard    
25 POINTS, 9 REBOUNDS, 2 ASSISTS, 2 STEALS, 28 EFFICIENCY    
Taylor Johnson's defensive game is sometimes overlooked and this weekend's boxscore may have been missing one or two blocks. 
It was a dominant all round game from the former Leicester Warriors guard. Taylor shot the lights out inside the three-point line with 11-12. One of few negative notes was his 0-2 from three-point range. 
What impressed was that a lot of those 11 field goals were tough shots, with Worthing packing the paint and ensuring Johnson had no easy looks. A highlight shot was a reverse lay-up over Tom Ward. 
Blake Bowman – Derby Trailblazers, forward    
27 POINTS, 7 REBOUNDS, 1ASSISTS, 1 STEAL, 23 EFFICIENCY    
Bowman has really stepped up a gear this season averaging 14.3p/5.8r/3.1a/1.1s/0.4b.  
What impressed in this close away win was his NBL D1 season-high in 3P% (57.1) from 4-7. Four threes in a game is also a personal NBL D1 season-high. 
Bowman registered three of Derby's four treys in the second half after Loughborough started it well with a 24-15 third quarter to start the fourth with a 11-point lead. Bowman and Co pulled off a comeback to get the road trip dub with a clutch three with four minutes on clock re-establishing his team's slender lead.  
Kyle Jimenez – Loughborough Riders, guard 
16 POINTS, 11 REBOUNDS, 13 ASSISTS, 2 STEALS, 34 EFFICIENCY  
Surprisingly, this was only Kyle Jimenez's third triple-double of the season in all competitions, leading all players - though on one occasion he was a point away and on another two just a rebound short. 
The league's leader in assists with a crazy average of 11.4 APG in NBL D1 action and 13 APG in L Lynch Trophy action is consistently a playmaking threat you cannot ignore and will struggle to stop.  
Loughborough went down by two points to Derby but the assist king was directly involved in all four of their last buckets. 
Team basketball    
A NEW HOPE FOR ESSEX AS THE REBELS STRIKE BACK!  
Essex went into this weekend's double-header weekend with a 0-5 record in all competitions.  
In the L Lynch Trophy earlier on this season they showed glimpses of their potential as a good perimeter shooting side but lacked a bit of defensive presence and or a shooter that could really shoot the lights out. 
In game one versus Bradford they put on a shooting clinic with 53 FG% and 44 3P%. 
Ethan Price got 26 points in the first half on Sunday against the Storm and over the two games honourable mentions for Tom Child, who shot well from beyond the arc, and Lee Hodges who showed just what Essex had been missing in his absence. 
ROCKETS OUT REBOUND NOTTINGHAM IN THE 19-POINT WIN 
Due to a Covid-19 outbreak it has been a while since we last saw Reading in action. 
They didn't disappoint with four guys getting double digits in points. Chuck Duru was one of four to shoot a FG% of 50 or more as the team shot a nice 44 FG%. 
A key factor was Reading's ability to out rebound their hosts by 23 (59-36) and get 27 offensive boards versus Hoods' 28 defensive boards. Reading put those extra rebounds to good affect with 25 second-chance points versus Nottingham's seven. 
The importance of rebounds in this game was further highlighted by Nottingham having a superior FG%, 3P% and an equal FT% and greater amount of steals and blocks. Those 16 extra shots were key. 
Reading's 'Impact player of the game' Live Kivuvu contributed 11 boards from the bench in less than 16 minutes of action. 
Honourable mentions    
Ronald Blain (NEW) – 23P /stats not available 
Morakinyo Williams (LEI) – 36P/stats not available
Greg Poleon (HEM) – 34P/14R/31EFF
Leome Francis (REA) –18P/8R/2A/2S/24EFF  
Victor Olarerin (NOT) – 25P/6R/2A/1S/1B/27EFF