After three days of growth, hard work and solid performances, Great Britain's U23s finished their trip to Tel Aviv for the FIBA League of Nations strongly with a win apiece for the Men and Women's sides.
The victories give both strong foundations to build on for future competition after facing into to the new challenge of 3x3 with grit and determination.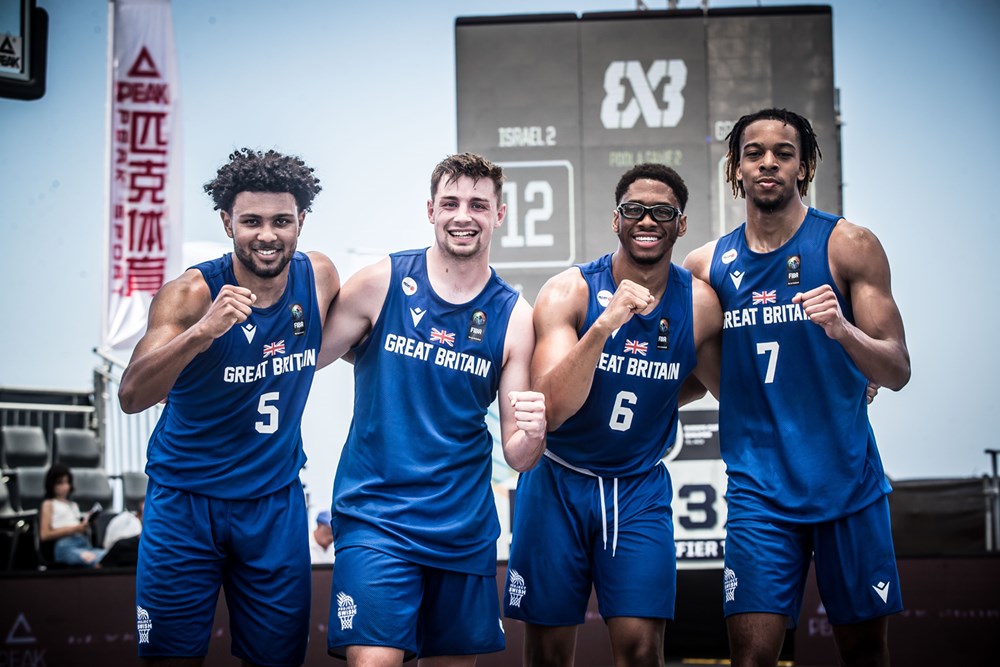 The first game of Day Three saw GB Women face-off against a strong Netherlands side, who stormed out to an early lead before a huge defensive effort put the brakes on the Dutch offence and Kenrick Liburd's side kept them scoreless for some four minutes.
Loren Christie kicked off the GB's scoring from the free-throw line, as Abby Lowe and Paige Robinson-Miller added key baskets too whilst Katie Bennett was tireless in looking to create opportunities with her movement and passing. Despite a late flurry of GB scores, the Dutch kept their opponents at arm's length and were eventual 16-8 winners.
Krumesh Patel's Men kicked off their day's action with a rematch against France – a fixture that had seen a fantastic battle between the two sides on Day Two – and this outing was just as exciting as the one that had come before it.
This time, though, it was the French who powered their way to an early 5-0 lead, in reverse of yesterday's fixture where it was GB who started strongest. Tosan Evbuomwan's buzzer-beating fadeaway two-pointer got GB's first points on the board with two minutes played, sparking a run that brought the game back to 5-4.
France opened a small gap up again, but GB fought back and a lovely Eurostep finish by Evan Walshe brought it back to 8-7 with five minutes on the clock. The two sides went blow-for-blow right until the final whistle, but the French just managed to hold on as GB missed a tough two-pointer with one second remaining meaning France were 16-15 winners in another great contest.
GB Women's stormed to an early 8-3 lead in their second game of the day against Israel. A fightback from the hosts was slowed as Lowe nailed a tough step-back two-pointer to keep the gap at five points, and Christie proved to be a nightmare match-up once again for the Israelis as her length caused problems on the perimeter as did her speed and size on the interior.
Two Israeli two-pointers closed the gap as the hosts had reduced the deficit to two points with 18 seconds to go, but Christie was fouled on a two-point attempt and converted one of her free throws to give GB a three-point lead which they saw out to the end for their second win of the week.
It was the opposite start in the Men's outing against Israel as the hosts were the ones who got points on the board quickly, maintaining a three-point gap to GB for the first five minutes of the game, before an outrageous converted and-one play from Evan Walshe brought the game back to 9-8 with four minutes to play.
Walshe made another tough lay-up and took a charge to give GB the possession that would tie the game up at 10-10 through a nice lay-up from Evbuomwan. Israel nailed a two-pointer for a 12-10 lead, before Eljay Morris responded with a two of his own and Walshe converted from the line to give GB a 14-12 lead with 30 seconds to go, where some great defensive work and smothering the boards saw GB Men's secure their first win of the week 17-14.
Coach Krumesh Patel said:
"I'm really proud of the group we have. Each day we tried to be better in small areas, and each day they delivered. The last day showed it - pushing winners France to the final second and beating hosts Israel who were finalists in Stop 2. It's only the start of the 3X3 journey, but the future is bright."
Coach Kenrick Liburd said:
"We have learned a great deal about competing at this level. On the whole we can be proud of our growth over the three days, probably depicted best by the second performance against France and the fact we picked up wins on the last two stops. Now we have to take what we have learned and make the required adjustments to be better moving forward."
GB Men's Results
GB 15-16 France
GB 14-12 Israel
GB Women's Results
Netherlands 16-8 GB
Israel 14-17 GB