Ashley Hamilton is excited by the new generation of talent that is pushing its way into the Great Britain men's squad.
GB's 24-man squad for the EuroBasket 2022 qualifiers against Germany (Saturday) and France (Monday) has a youthful flavour to compliment the established veteran core of which the Plymouth Raiders man is an integral part.
Cameron Hildreth and Kareem Queeley (below) were part of the travelling party for the last international window in November, with Hildreth since jumping up from NBL1 to join Hamilton in the BBL.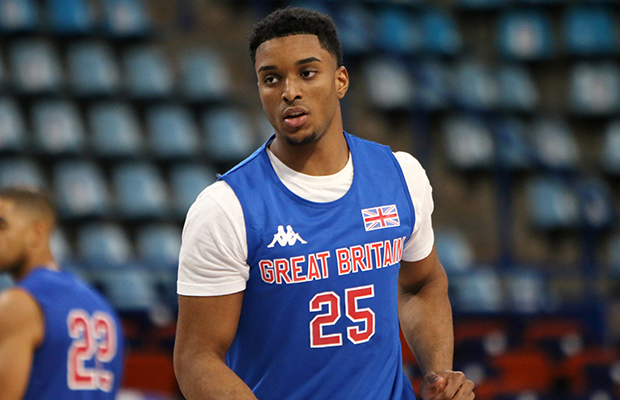 The likes of Jacob Round and Kavell Bigby-Williams are again part of the longer list made public recently and Callum Lawson, Matt Marsh, Aaron Menzies, Patrick Whelan and Deane Williams received their first call-ups too.
How much action they will see in this vital window remains to be seen with the final 12-man squad expected on Friday, but Hamilton is happy to see the young brigade challenging qualifying campaign ever-presents such as Dan Clark, Myles Hesson, Dwayne Lautier-Ogunleye, Ben Mockford, Luke Nelson, Teddy Okereafor and Gabe Olaseni.
'We want to win and shine a light on the talent we have in this country'
Hamilton told the GB Basketball website: "It's an exciting time for GB Basketball, but particularly in terms of the younger players coming through. I love seeing young talent in the British game and BBL, and what's great about the GB squad is we can get to know and help nurture these players too.
"Just to see them, be around and try to help them as much as possible is really important to us. Cam Hildreth is a recent example, having a dream debut in the BBL with Surrey Scorchers, hitting the game winner. It's fantastic to see these young players taking their opportunities and we're so happy for them and proud of them.
"As well as Cam, Jacob Round had an amazing senior GB debut against Luxembourg, Kareem Queeley was the first British player to win the Basketball Champions League, Kavell Bigby-Williams is doing great things in Italy … and that's just four of them! There are guys all over doing so well and it's really exciting to see and be a part of.
"We want to win and shine a light on the talent we have in this country."