Rebound's Chris Hughes picks his NBL Team of the Week and highlights some honourable mentions and team performances.
Chris, a content producer, YouTube host and commentator, casts his eye over the nine games involving NBL Division One teams from Week 16, including the final L Lynch Trophy quarter-final tie between Thames Valley Cavaliers and Nottingham McDonald's Hoods. 
Have your say on this week's choices and give a shout-out to the players you think deserve one using the hashtag #NBL2021. Don't forget to tag us!    
Twitter:  @NBLengland / @Rebound__  
Facebook:  @NBLengland  / @ReboundNBL  
Instagram:  @nblengland / @reboundnbl  
How it works 
The Basketball England NBL Player of the Week goes straight into the starting line-up.    
The other four players are picked with the following factors in mind:    
The Rebound team of the week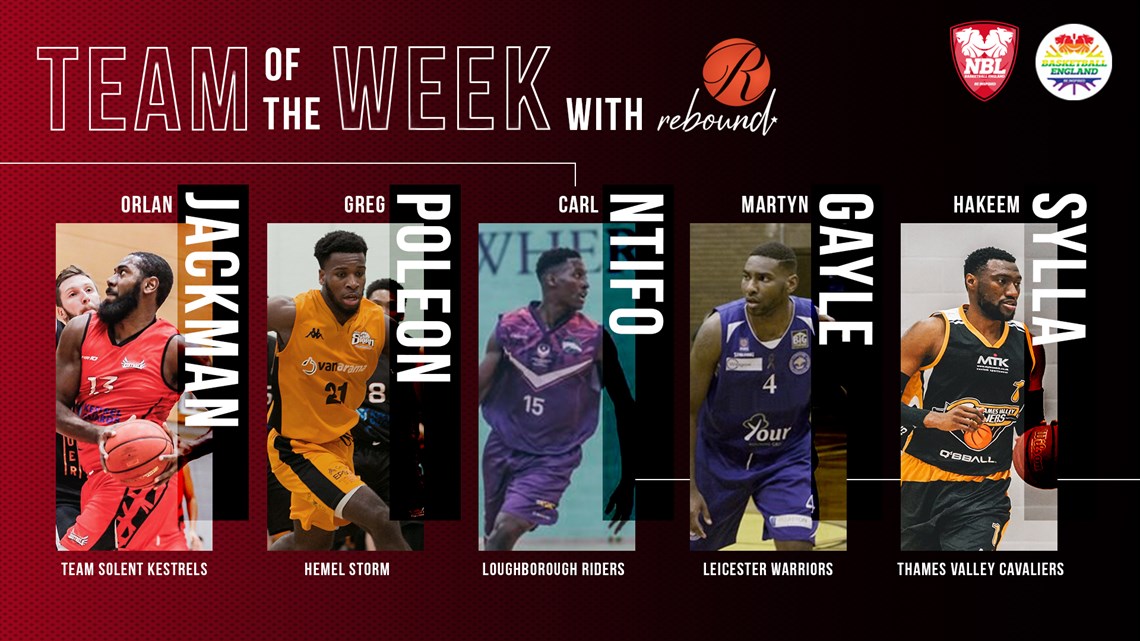 Orlan Jackman – Team Solent Kestrels, forward   
28 POINTS, 12 REBOUNDS, 2 ASSISTS, 1 STEAL, 40 EFFICIENCY    
Orlan Jackman put on a shooting masterclass going 10-11 from the field, and was especially deadly from beyond the arc, without a miss in three attempts.  
The former London City Royals forward went to work quickly with 18 first-half points. In the second quarter Jackman made two and one opportunities as Reading found it almost impossible to stop him in the paint. 
He is definitely putting his stamp on the team as Solent's most efficient player. He is Kestrels' second for average points (17.3), first in 3P% (48) and in rebounds (8.0) 
Greg Poleon – Hemel Storm, forw
ard
VS TEAM NEWCASTLE UNIVERSITY: 24 POINTS, 10 REBOUNDS, 1 ASSISTS, 31 EFFICIENCY 
VS WORTHING THUNDER 20 POINTS, 16 REBOUNDS, 3 ASSISTS, 1 BLOCK, 32 EFFICIENCY 
It was another double-header weekend for Greg Poleon in which he added another two double-doubles. The former Pace University star is one of the top bigs in the league, a walking double-double and an efficient shooter. 
He started Saturday's game by not missing a shot in the first quarter with eight points as Hemel quickly racked up a 25-12 lead. 
In Saturday's game Poleon contributed seven offensive rebounds, which were vital in a game of small margins as Hemel outscored Newcastle 20-8 in second-chance points from 12 offensive boards compared to Newcastle's five. 
Poleon is currently averaging 25.9P/11.4R/2.4A/0.3S/0.8B. Shooting 70 FG%/86.1 FT% 
Carl Ntifo – Loughborough Riders, forward    
VS NOTTINGHAM MCDONALD'S HOODS 19P/8R/1A/1S/28 EFF 
What really makes this performance pop is that the Loughborough forward managed all this in less than 14 minutes, while shooting 8-9 FGM and 3-3 FTM. 
Loughborough started the second quarter with a 9-2 run and Ntifo contributed six points to the run to give the riders an early 20-point lead. 
Late in the third Ntifo would go on a 11-2 run of his own including an and-one play. The big guy has form versus Nottingham this season. in the L Lynch Trophy he registered 16p/5r/1b.  
Martyn Gayle – Leicester Warriors, guard    
25 POINTS, 7 REBOUNDS, 9 ASSISTS, 2 STEALS, 1BLOCK, 34 EFFICIENCY 
Martyn Gayle flirted with a triple-double this weekend but what really caught the eye was his efficient shooting, making five of his six three-point attempts. 
Gayle is really finding his zone from range. In the last five games the veteran has been averaging 43.2 3P% from 19-44 versus an average of 26.0% from 10-39 threes attempted in his first five NBL D1 games. 
In my opinion his form has been a catalyst for his side's recent form. Leicester are now on a 2-0 run, in the last five games they have shown competitiveness and grit keeping losses to Oaklands and Newcastle to single digits. 
Hakeem Sylla – Thames Valley Cavaliers, forward 
VS NOTTINGHAM MCDONALD'S HOODS 23 POINTS, 10 REBOUNDS, 3 ASSISTS, 1 STEAL, 31 EFFICIENCY  
VS ESSEX REBELS 28 POINTS, 11 REBOUNDS, 2 ASSISTS, 1 STEAL, 32 EFFICIENCY 
It's hard to have a conversation about Thames Valley Cavaliers without mentioning the double-double machine that is Hakeem Sylla. 
Sylla is a big most NBL forwards struggle to match up with. In his opening eight D1 games, Hakeem has had 30+ efficiency on four occasions and six double-doubles. 
Did you know? Across of all of this weekend's games involving NBL D1 sides Hakeem Sylla was equal first (7) and third (6) for offensive rebounds and the Cavaliers were first (26) and second (22) in second-chance points.  
Team basketball    
SOLENT REACH HISTORIC 50-0 NBL D1 RECORD! 
Congratulations to the back-to-back defending NBL D1 champions and reigning play-off and National cup winners who are currently on a 50-0 NBL D1 run dating back to 2019 where they lost to Derby Trailblazers. 
Without sounding like a broken record, the Kestrels definitely love a third quarter and this weekend was no different with a 28-15 score versus Reading and a 38-11 quarter versus Oaklands. 
The likes of Ian Smith (v Reading) and Travis Charles (v Oaklands) both put on excellent performances that could have justified team of the week inclusions. 
Elliot Dadds' defensive efforts across both games with impressive +/- in both games more than deserved an honourable mention. In Saturday's game he led his side in steals (tied with Jackman) and blocks. In Sunday's game Mr Southampton led all players with four steals and was second in +/- (+52). 
HEMEL AND THAMES VALLEY IN SEVENTH HEAVEN 
Underestimate these two teams at your peril. Both of them impressed in the BBL Trophy and the Cavaliers especially were unlucky to lose. 
This weekend Hemel navigated a tough Team Newcastle University side and avoided a late comeback. In Sunday's game Zaire Taylor forced overtime but Hemel survived to apply pressure to Solent and Derby at the top of the table. 
Thames Valley had, on paper, the easier assignment facing Nottingham Hoods in L Lynch Trophy action and a trip to the resurgent Essex Rebels. The Cavaliers made light work in both and looking strong.  
Honourable mentions    
Taylor Johnson (TVC) vs HOODS – 21P/8R/2A/7S/28EFF; vs REBELS 23P/5R/2A/4S/31EFF 
Travis Charles (SOL) – 23P/6R/2A/26EFF 
Ian Smith (SOL) – 19P/4R/9A/3S/23EFF 
Morakinyo Williams (LEI) – 26P/3R/2A/1S/1B/28EFF 
Harrison Gamble (LOU) – 27P/9R/2A/27EFF 
.