There's no BBL or L Lynch Trophy action this week, but that doesn't mean it's a quiet weekend for NBL teams.
There's still eight games on offer, with six fixtures on Saturday and two more on Sunday.
The pick of the action could be Hemel's trip to Derby on Saturday afternoon, but there's still plenty more for basketball fans to enjoy.
We take a look at all the weekend's games below, with links to live stats and live streams at the bottom of the page.
Derby Trailblazers (8-2) v Hemel Storm (8-2)
Third hosts fourth to begin the weekend as Hemel travel to Derby on Saturday afternoon.
Derby have already topped the standings this season but away losses to Newcastle and Thames Valley have seen the Trailblazers drop off the pace of unbeaten leaders Solent.
Likewise, Hemel have been in good form so far but have come unstuck twice as well, most recently at home to Essex in late January, and that's hurt their title challenge.
The contest between one of the league's leading defensive forwards in Derby's Oliver Stanley (11.2rpg, league-best 1.6bpg) and Hemel's Greg Poleon (25.5ppg, 11.1rpg) is sure to make for quality viewing, but both sides possess deep and talented rosters.
Americans Malcolm Smith and Jacob Conway have both excelled this season for Derby, as have youngsters Charlie Brown and Blake Bowman, with Derby owning the league's fifth top scoring offence.
Guard duo Bode Adeluola and Mike Williams have provided plenty of support for Poleon, and forward Tayo Oyefusi can be a threat both in the paint and beyond the arc. Williams, Oyefusi and Jack Burnell all shoot over 40% from range for Storm, D1M's best 3pt shooting team.
.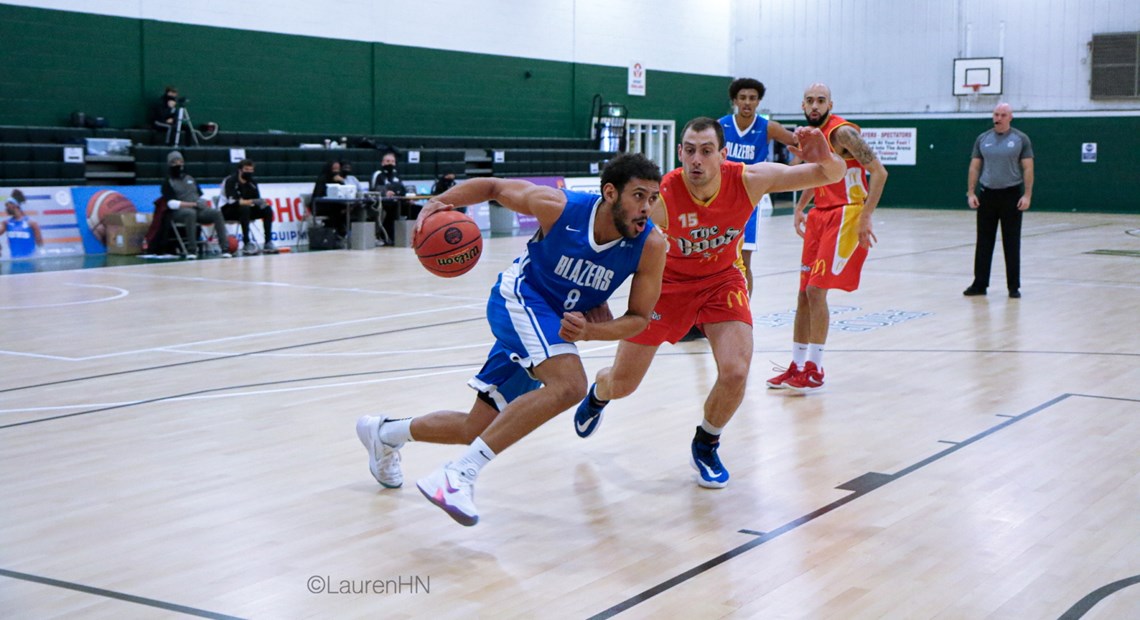 Elsewhere this weekend
It's a tough double-header weekend for Hemel as a trip to Derby on Saturday is followed by a visit from leaders Team Solent Kestrels (9-0) on Sunday evening.
The Kestrels recently passed a half-century of games unbeaten in all NBL competitions and don't seem to be showing any signs of slowing down, a daunting prospect for any opponent.
Loughborough Riders (3-9) must be wondering what they can do to change their luck this season after yet another close defeat last weekend, losing 79-76 to Hemel.
Oaklands Wolves (2-8) are next up for the Riders, a side that has lost their previous three games including a 98-77 defeat to Reading last time out.
Team Newcastle University (8-3) have won six of their last seven games and will look to keep that momentum going tomorrow as they entertain BA London Lions (2-5).
It's a lengthy trip up the country for the Lions, who have now lost five in a row and need to find a way to get back to winning ways.
Solent will try to begin their own double-header weekend with a win as they welcome Bradford Dragons (5-4) to Solent Sport Complex.
The Dragons are 3-2 on the road this season, but that does include a win against fifth-place Newcastle so perhaps they can spring another surprise here.
Saturday's fixtures continue with a resurgent Leicester Warriors (2-9) playing away to Reading Rockets (4-4).
The Warriors lost their first nine games of the season but have now won back-to-back contests against BA London Lions and Nottingham Hoods, whilst the Rockets have now grabbed a W in three of their last four.
Saturday closes with second place Thames Valley Cavaliers (8-1) going up against Nottingham Hoods (2-8).
The Hoods are on a tough stretch having lost five in a row, something the Cavs will no doubt try and take advantage of as they look to keep pace with leaders Solent.
Outside of the contest between Hemel and TSK, Sunday's only other matchup sees Worthing Thunder (4-7) travel to Essex Rebels (3-6).
Thunder have won two of their last three behind some solid team basketball and contributions from the likes of Zaire Taylor and Tom Ward.
Essex split a double-header last weekend with Newcastle and Nottingham and could move into the playoff positions should they be able to secure a win here.
This weekend's fixtures:
Saturday 27 February
2pm - Derby Trailblazers v Hemel Storm - LIVE STATS/LIVESTREAM
2:30pm - Loughborough Riders v Oaklands Wolves - LIVE STATS/LIVE STREAM
4pm - Team Newcastle University v BA London Lions - LIVE STATS/LIVE STREAM LOCATION
4:30pm - Team Solent Kestrels v Bradford Dragons - LIVE STATS/LIVE STREAM
6pm - Reading Rockets v Leicester Warriors - LIVE STATS/LIVESTREAM
6:30pm - Thames Valley Cavaliers v Nottingham Hoods - LIVE STATS/LIVE STREAM
Sunday 28 February
12pm - Essex Rebels v Worthing Thunder - LIVE STATS/LIVE STREAM
5pm - Hemel Storm v Team Solent Kestrels - LIVE STATS/LIVESTREAM LOCATION
Main image credit - Luke Simcock