As the calendar moves into March, NBL1 is now another step closer to the end of the regular season.
February closed with some exciting action though, with eight games spread across the final two days of the month.
There were wins for Hemel, Loughborough, Newcastle, Solent, Leicester, Thames Valley and Essex, with some sublime individual performances throughout the weekend.
There's a recap of all the action below, and each result is also clickable if you wish to view the live stats.
Poleon downs Derby
A near-perfect performance from forward Greg Poleon helped push Hemel past Derby 94-84.
The American hit 20-23 shots in the contest, missing just twice from 2pt range (18-20) and once from beyond the arc (2-3) to finish with a staggering 46 points.
Adding 10 rebounds, three assists and three steals, the former D1M Player of the Week finished with a jaw-dropping 57 efficiency rating to tip a tight contest in his side's favour.
The visitors led for the majority of the first half before baskets from Blake Bowman (30pts, 3ast) and Malcolm Smith (17pts) gave Derby the lead late in the third.
A Nick Allin triple would send Storm back in front at 64-62 as the quarter ended before a 30-22 final frame, including 18 points from Poleon, put the result beyond doubt.
Poleon was supported by guards Mike Williams and Bode Adeluola, who both had 14 points. Oliver Stanley rounded out the scoring behind Bowman and Smith for Derby, he had 12.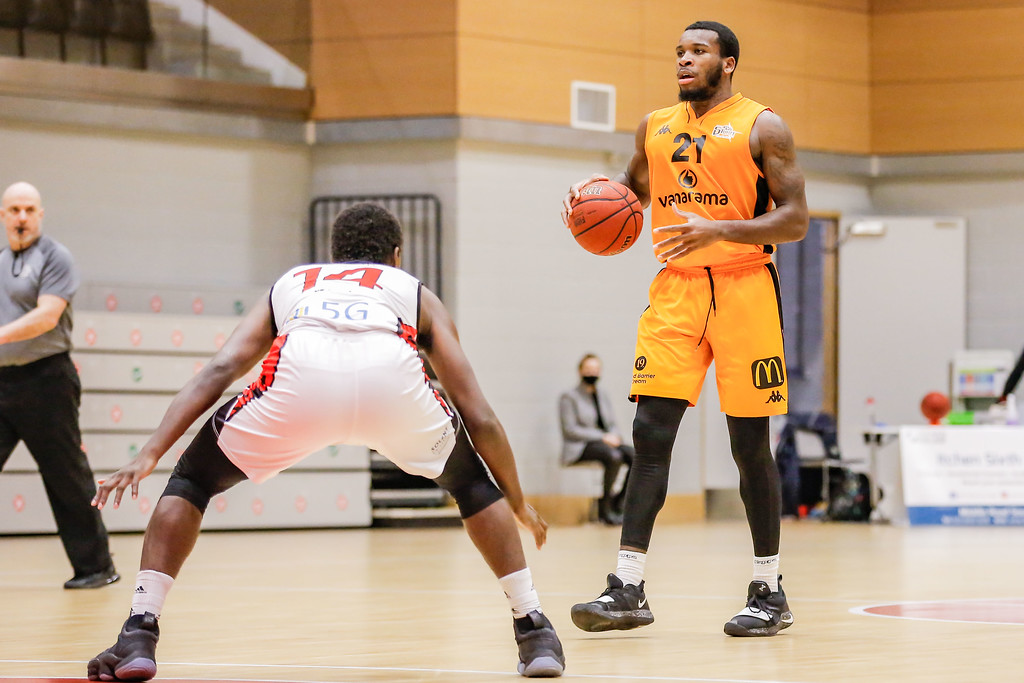 Elsewhere this weekend
A solid team effort from Loughborough Riders (4-9) saw them past Oaklands Wolves (2-9) 92-71.
Jonas Dieterich, Greg Wild, Harrison Gamble and Kyle Jimenez all passed the 14 point mark in the win as the Riders also dished 23 assists in the contest.
Team Newcastle University (9-3) continued their recent good form to beat BA London Lions (2-6) 77-53.
The Knights were in control of this one for the duration, building a double digit lead midway through the second period before accelerating from there. Ronald Blain top scored for the hosts with 18 points.
Team Solent Kestrels (11-0) started a successful double-header weekend with a win on Saturday, easing past Bradford Dragons (5-5) 92-53.
Solent held their opponents to just five points in the first quarter, all but ending the contest as the Dragons chased to get back into contention. 
A 27-6 final frame further extended Solent's advantage as the league leaders were powered by 22 points from Johnathan Lashley.
Trying to keep pace with Solent, second place Thames Valley Cavaliers (9-1) hammered Nottingham Hoods (2-9) 122-49.
The huge win was set up by a 35-7 opening quarter and an impressive 35 points from American Taylor Johnson.
Saturday's only other game was an exciting contest between Reading Rockets (4-5) and Leicester Warriors (3-9), with the Midlands side taking the points 104-98.
Reading started hot to lead by 12 late in the first period, but a 19-3 run by the visitors pushed them ahead going into the second half.
The hosts would eventually lead by one with 67 ticks remaining, but the Warriors scored the last seven points of the game to steal the win.
Martyn Gayle (26pts, 6reb) and Mo WIlliams (25pts, 10reb) both impressed for the visitors, as Leome Francis' 22 point, 15 rebound effort wouldn't be enough for the Rockets.
Two games completed the weekend on Sunday, with Solent capping off their double-header with another W as they won 76-59 on the road in Hemel.
26 points from American Travis Charles powered the South coast side's eleventh straight win, with Poleon leading the way for Hemel once again, he had 16.
Finally, Essex Rebels (4-6) grabbed their first win in four as they beat Worthing Thunder (4-8) 94-69.
The visitors started fast to lead by 10 midway through the first, but after that it was all Essex as the Rebels stormed back to establish their own double-digit lead by the half.
The advantage moved past 20 points in the final quarter, thanks in part to a 19 point, 14 rebound double-double from Sam Newman.
This weekend's results:
Saturday 27 February
2pm - Derby Trailblazers 84-94 Hemel Storm - LIVE STATS/LIVESTREAM
2:30pm - Loughborough Riders 92-71 Oaklands Wolves - LIVE STATS/LIVE STREAM
4pm - Team Newcastle University 77-53 BA London Lions - LIVE STATS/LIVE STREAM LOCATION
4:30pm - Team Solent Kestrels 92-53 Bradford Dragons - LIVE STATS/LIVE STREAM
6pm - Reading Rockets 98-104 Leicester Warriors - LIVE STATS/LIVESTREAM
6:30pm - Thames Valley Cavaliers 122-49 Nottingham Hoods - LIVE STATS/LIVE STREAM
Sunday 28 February
12pm - Essex Rebels 94-69 Worthing Thunder - LIVE STATS/LIVE STREAM
5pm - Hemel Storm 59-79 Team Solent Kestrels - LIVE STATS/LIVESTREAM LOCATION
Main image credit - Todd Lindley
.