With a hefty nine games to enjoy across week 20, NBL1 was as exciting as ever this past weekend.
There was an OT thriller in Nottingham as Leicester outlasted Bradford, a high-scoring win for Derby, double-header joy for Thames Valley and much more.
There's a recap of all the action below, and each result is also clickable if you wish to view the live stats.
Warriors battle to the end
Leicester overcame a fourth-quarter collapse to regroup and down Bradford Dragons 105-99.
The Warriors appeared to be coasting with the finish line in sight, leading by as many as 15 with 4:35 remaining.
A late 16-2 run would all but erase the Dragons' deficit however, though the hosts would still need a last-gasp Andreas Lycoudis triple with four ticks remaining to force OT at 88-88.
Eight points from Martyn Gayle would help the Warriors claim the extra period 17-11, eventually sealing a win that looked all but assured midway through the fourth.
Gayle finished on 23 points to go with five boards and was well supported by Mo Williams' 24 point, 11 rebound double-double.
Lycoudis' late antics saw the guard finish with 17 points and Bradford's young star Great Osobor finished with a 28-point, 14-rebound double-double of his own.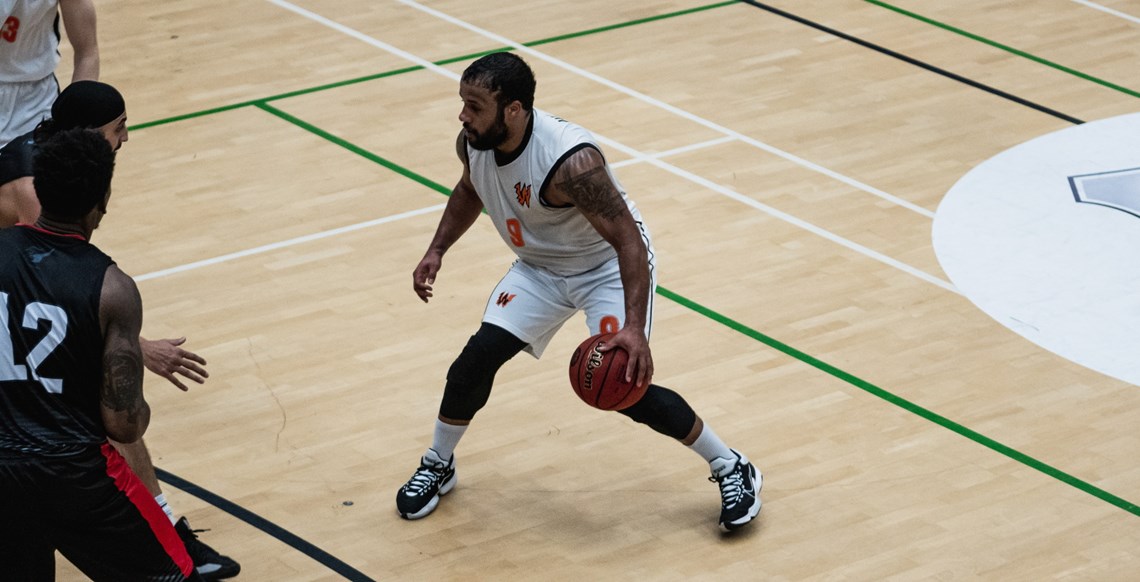 Elsewhere this weekend
There were mixed fortunes for BA London Lions (4-8) after they split a double-header.
Saturday saw the Lions fend off a late comeback from Reading Rockets (5-8), eventually prevailing 82-79 whilst on Sunday BA went down 94-81 to a Taylor Johnson inspired Thames Valley Cavaliers (12-1). The American forward finished with 26 points as teammate Hakeem Sylla notched a 21 point, 19 rebound double-double.
Team Solent Kestrels (13-0) remain unbeaten this season as they overcame Hemel Storm (11-4) 90-65.
It was a commanding performance from Solent over one of the league's stronger opponents, with Orlan Jackman excelling to drop 31 points to go with 11 boards.
Trying to keep pace with the Kestrels, second place Thames Valley started their double-header weekend with a 74-66 W against Worthing Thunder (4-9).
Sylla and Johnson both recorded double-doubles as TVC used a 23-10 third quarter to set up the win. Howard Crawford top scored for Thunder with 14.
It was a tough weekend for bottom side Nottingham Hoods (2-12) as they collected another pair of losses.
Saturday's lengthy trip to the North East resulted in a 91-68 defeat against Team Newcastle University (10-4) as the Knights pushed five players into double digits scoring, led by John Cork with 19 points.
Sunday didn't offer any respite as Hemel bounced back from their loss to Solent the previous day to easily beat the Hoods 109-68.
Greg Poleon (28pts), Mike Williams (22pts) and Bode Adeluola (20pts) all scored freely in that one, as Hemel also outrebounded their opponent 55-33.
In Sunday's other games, Loughborough Riders (6-9) grabbed a much needed 95-77 win over mid-table rivals Reading, with guard Kyle Jimenez once again on form.
The Loughborough man dished 11 assists to go with 23 points and six rebounds in a fine all-round performance, O'Showen Williams (28pts) top scored for the Rockets.
Finally, Derby Trailblazers (10-3) dropped an impressive 45 points in the second quarter of their high-scoring 124-93 victory over Oaklands Wolves (3-12).
The offensive explosion gave the hosts a 67-49 advantage at the half, though that lead would grow as the second half wore on.
Jacob Conway led the way for DTB on 24 points as Jordan Santiago's all round effort of 32 points, seven rebounds, five assists and five steals would be in vain.
This weekend's results:
Saturday 13 March
2pm - BA London Lions 82-79Reading Rockets - LIVE STATS
3pm - Thames Valley Cavaliers 74-66 Worthing Thunder - LIVE STATS/LIVE STREAM
3:30pm - Team Solent Kestrels 90-65 Hemel Storm - LIVE STATS/LIVESTREAM LOCATION
4pm - Team Newcastle University 91-68 Nottingham Hoods - LIVE STATS/LIVESTREAM LOCATION
6:15pm - Bradford Dragons 99-105 Leicester Warriors (after 1OT) - LIVE STATS
Sunday 14 March
2pm - BA London Lions 81-94 Thames Valley Cavaliers - LIVE STATS
2pm - Derby Trailblazers 124-93 Oaklands Wolves - LIVE STATS/LIVESTREAM
5pm - Reading Rockets 77-95 Loughborough Riders - LIVE STATS/LIVESTREAM
5pm - Hemel Storm 109-68 Nottingham Hoods - LIVE STATS/LIVESTREAM LOCATION
Main image credit - Luke Simcock
.