Rebound's Chris Hughes picks his NBL Team
of the Week and highlights 
five 
honourable mentions 
as well as two impressive 
team performances.  
Chris, a content producer, YouTube host and commentator, casts his eye over the eight games involving NBL Division One teams from week 20, including Team Solent Kestrels' match up with Hemel Storm 
Have your say on this week's choices and give a shout-out to the players you think deserve one using the hashtag #NBL2021. Don't forget to tag us!    
Twitter:  @NBLengland / @Rebound__  
Facebook:  @NBLengland  / @ReboundNBL  
Instagram:  @nblengland / @reboundnbl  
How it works 
The Basketball England NBL Player of the Week goes straight into the starting line-up.    
The other four players are picked with the following factors in mind:    
Efficiency 

 

Stats 

 

Team and opposition strength 

 

Periods of influence in the game 

 
The Rebound team of the week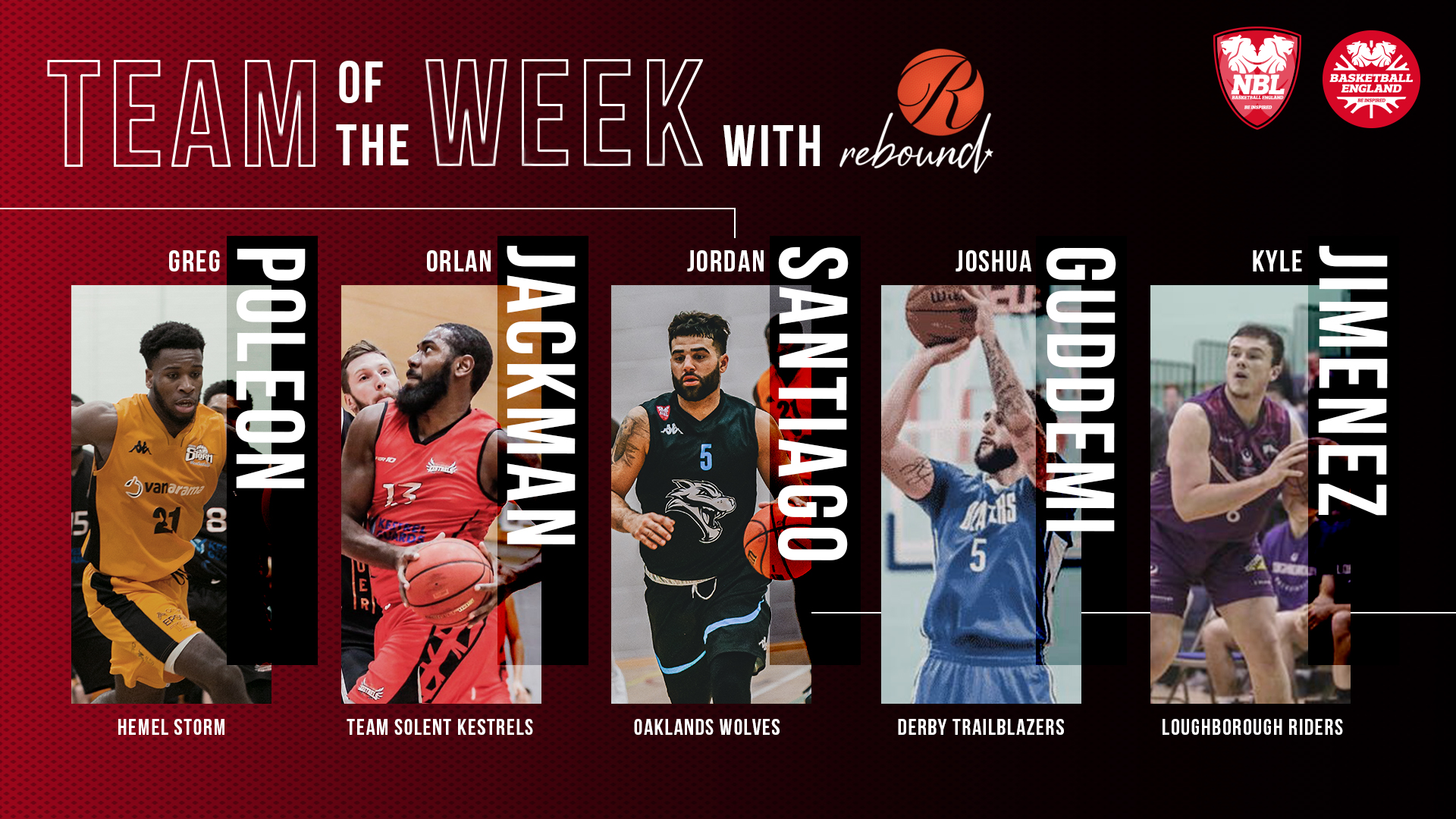 Greg Poleon
–
Hemel Storm, forward
28 POINTS, 12 REBOUDS, 3 ASSISTS, 1 STEAL, 37 EFFECIENCY 
It may not have come against against the strongest opposition – Nottingham are 2-12 this season – but the Storm big man just keeps racking up player of the week awards. 
He was 11-15 from the field, converted his sole three-point attempt and led his team on both the defensive and offensive glass. Business as usual. 
Orlan Jackman – Team Solent Kestrels, forward   
31 POINTS, 11 REBOUNDS, 1 ASSIST, 1 STEAL, 34 EFFICIENCY
On paper, this game against Hemel looked like it was going to be a lot closer than it actual turned out, especially with Solent nursing players back to fitness. Up stepped Orlan Jackman who produced the goods at both ends to keep the NBL D1 unbeaten record intact. 
Jackman was a sniper from long-range as he netted four of his seven three-point attempts shots as he finished the game making 10-15 field goals. He also showed of his range of finishing from power slams to finesse.  
The England International was part of a well-drilled defence that kept all five of Storm's starters under their NBL average in scoring and was one of the key reasons why Greg Poleon had a quieter game than the following day -  a return of 15 points was his second lowest tally this season. 
Jordan Santiago – Oaklands Wolves, gu
ard 
32 POINTS, 7 REBOUNDS, 5 ASSISTS, 5 STEALS, 34 EFFICIENCY 
What do Cameron Hildreth, Taylor Johnson, Greg Poleon, O'Showen Williams and Jordan Santiago all have in common? They are the only players to net  30 or more points against Derby Trailblazers in NBL D1 action this season. 
Santiago and Co asked further questions of Derby's defence in the fourth game game from five in which the Blazers have conceded 90 or more points. 
Santiago had ice in his veins from the charity stripe, going 8-9 as well as sinking two threes - a big reason why his side finished with 93 points. This was only the third time this season they had crossed the 90-point mark. 
Defensively the former Loughborough guard was head and shoulders above the pack as he led all players in steals (4). 
Joshua Guddemi – Derby Trailblazers, forward    
19 POINTS, 8 REBOUNDS, 3 ASSISTS, 1 STEAL, 1 BLOCK, 26 EFFICIENCY
Joshua Guddemi has sometimes been likened to Klay Thompson in appearance. This weekend the comparison extended to his performance.  
In 15 minutes and five seconds the former NCAA DII New Haven forward made eight buckets from a highly efficient 11 attempts, including 2-3 from three-point range. 
In the absence of Oliver Stanley who withdrew with injury mid-game the Derby forward also stepped up as a rebounding presence.  
In the short cameo off the bench, Guddemi was tied with Conway for most field goals made (8), but made them more efficiently.  
Kyle Jimenez – Loughborough Riders, guard 
23 POINTS, 6 REBOUNDS, 11 ASSISTS, 33 EFFICIENCY 
The league's assist king is showing no signs of slowing down - he is currently averaging a points and assists double-double (12.5p/10.2a).  
Jimenez's shooting was what really impressed as he registered a personal NBL D1 season high in points, field goals made and one his best field goal percentages, considering the quantity of shots taken (15) with a 60% success rate. 
And he made some tough shots, as seen in this clip below. 
Team basketball    
DERBY INVOLVED IN A 72-POINT SECOND QUARTER!  
It was an epic game at the Nottingham Wildcats Arena as Derby bossed a 45-27 second quarter against Oaklands.  
It was by definition a team win as so many great performances to pick from. Talented guard Charlie Brown did a bit of everything gets a honourable mention as he flirted with a triple-double with 7p/9r/10a/3s/2b.  
Twenty minutes was plenty for Bowman, Conway and Oberia who all impressed with limited minutes.   
The bench outscored the starters with 71 points as the squad came to the party after Oliver Stanley's game ended early due to injury. We wish him well in his recovery. 
Offence can be the best form of defence but this is the fourth time in the last five games in which Derby have conceded 90 or more points to an opposing team (they won 124-93), and the third time in recent games that they have struggled to keep an elite scorer under 30 or more.  
A STORM WAS FORCAST but solent WERE PREPARED 
What impressed in Solent's 25-point win over Hemel was the defensive effort. To keep Storm to 65 points is impressive and they also managed to keep all five starters to well under their season averages for points.  
This could have been a tough game for them considering they are nursing Elliot Dadds and Luke Busumbru to match fitness as well as awaiting Luke Gosney's return from injury. 
Orlan Jackman led all scorers with 31 points and his perimeter shooting as already mentioned was impressive, honourable mentions to guards Ian Smith and Andre Arissol who had similar stat lines, as the former was not too far off a triple-double.  
Honourable mentions    
Taylor Johnson (THA) – 13P/11R/4A/3S/21EF VS WOR; 26P/3R/2/A/28E VS BA
Hakeem Sylla (THA) – 21P/19R/1A/1S/32EFF VS BA; 18P/12R/1A/2S/21EFF VS WOR 
Harrison Gamble (LOU) – 21P/9R/4A/2S/29EFF 
Great Osobor (BRA) – 28P/14R/1A/3S/27EFF 
Charlie Brown (DER) – 7P/9R/10A/3S/2B/27EFF 
.