There were some huge results in NBL this weekend with multiple teams pulling off impressive upsets.
Solent's two-year unbeaten run is over, Worthing went the length of the country and knocked off high-flying Newcastle and Oaklands beat in-form Leicester.
There's a recap of all the action below, and each result is also clickable if you wish to view the live stats.
Thames Valley go top
Thames Valley enjoyed a statement win in their quest to claim a maiden D1M regular season title, beating rivals Solent 81-70.
The Kestrels had won 57 straight in all NBL competitions, but the Cavs managed to do the unthinkable and now sit atop the D1M standings.
Hakeem Sylla (16pts, 12reb), Lewis Champion (19pts) and Taylor Johnson (18pts, 8reb, 6ast) all enjoyed fine performances for the hosts, who avenged last weekend's L Lynch Trophy final defeat at the first opportunity.
An uncharacteristically slow start from the visitors saw them trail 26-10 after the first quarter, but the Kestrels showed their class to battle back and lead 38-37 by the half.
Coach Guymon's side would lead by two points going into the final frame, but the Cavs took the fourth 27-14 to claim a famous victory.
Travis Charles (15pts, 8reb) and Andre Arissol (13pts) were the only Solent players in double digits.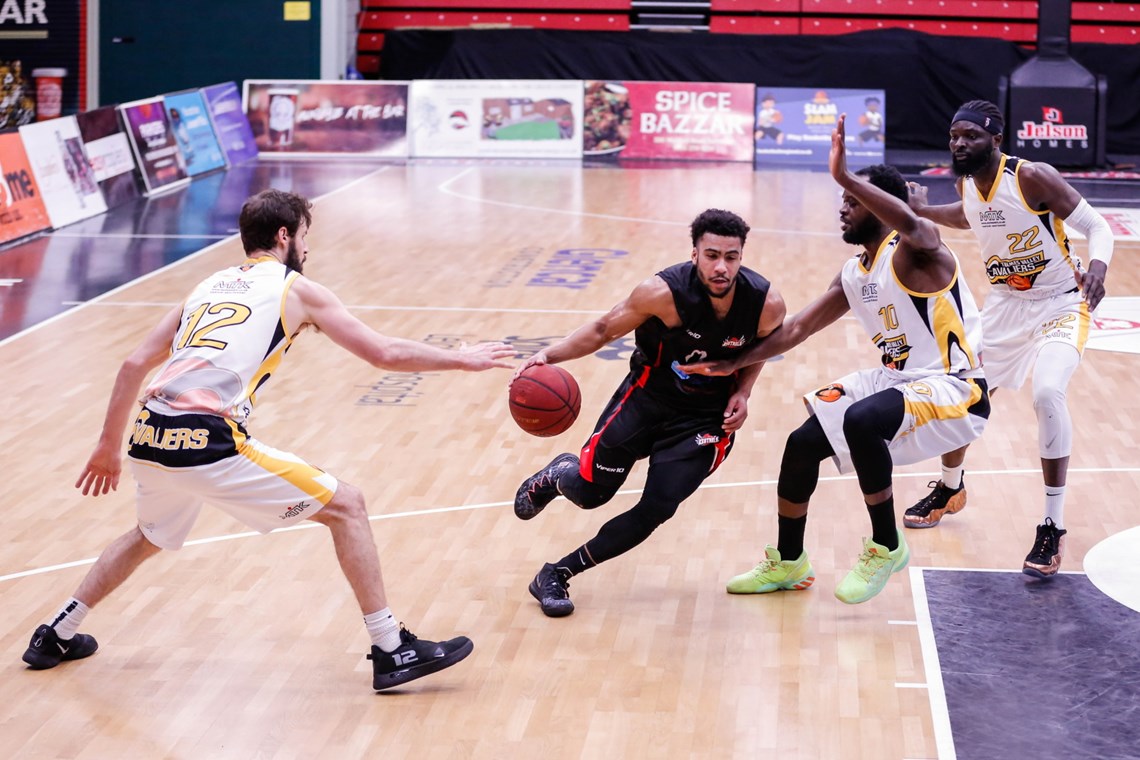 NBL Live
The NBL Live cameras were treated to not one but two incredible games this weekend, with Hemel and Reading then Oaklands and Derby both putting on a spectacle for NBL fans.
Hemel Storm (12-4) kicked off the double-header with a come-from-behind 82-80 victory over Reading Rockets (6-10).
Playing without star forward Greg Poleon, Storm trailed by double digits for sections of the first half.
Despite briefly gaining the lead in the third, the hosts were once again behind early in the final quarter, setting up a stunning comeback win.
Hemel outscored their opponents by 10 the rest of the way, including a dagger three from Tayo Oyefusi with 24 ticks remaining that finally put the hosts in front for good.
Mike Williams top-scored for Storm with 23 points, and forward Hafeez Abdul filled in admirably for Poleon, finishing with a 20-point, 13-rebound double-double.
O'Showen Williams led the way for Reading, he had 22 points, 9 boards and five assists.
Sunday's game was no less entertaining, with Derby Trailblazers (12-4) outlasting hosts Oaklands Wolves (4-13) 92-88.
The contest appeared to be going to form as fourth place Derby built a 20 point lead with the half time break in sight.
A 24-0 streak that spanned the interval saw the Wolves soon in front however, with the game now turned on its head.
Despite Jordan Santiago's ejection in the third, the hosts still held a narrow lead into the fourth quarter. With A.J. Roberts, James Cummings and Obi Egbunike all fouling out during the second half, the door was left ajar for Derby, who took the final frame 26-19 to seal the win.
Jacob Conway enjoyed a game-high 26 points for DTB, with captain Oliver Stanley chipping in a useful 14 point, 22 rebound double-double.
With Oaklands' various absentees come the final buzzer, guard Oliver Wright top scored with 19 points.
Elsewhere this weekend
It wasn't all bad news for the Wolves as they started their weekend with an 88-73 victory over in-form Leicester Warriors (5-11).
Oaklands pushed five players into double digits scoring, led by Jordan Santiago on 20 points, with the guard also going 4/5 from long range.
Yet another triple-double from guard Kyle Jimenez helped Loughborough Riders (7-10) to an 86-70 win against Bradford Dragons (6-9).
Jimenez closed on 10 points, 15 rebounds and 13 assists as the Riders grabbed the lead by the end of the first quarter and powered to a win from there.
Worthing Thunder (6-10) put a long road trip behind them to knock off Team Newcastle University (10-6) 105-91.
Ronald Blain played the full 40 minutes to pile up 36 points for the hosts, but it wouldn't be enough to overcome the team effort of Worthing as Max Richardson (26pts), Zaire Taylor (23pts), Howard Crawford (22pts) and Tom Ward (21pts) all passed the 20 point mark.
Finally, Essex Rebels (7-9) claimed a pair of home victories over the weekend, beginning with an 81-63 W vs BA London Lions (6-9).
With the Rebels leading by five at the half, the hosts restricted BA to just three points in the third quarter, effectively deciding what had previously been an even contest.
Sam Newman had 22 points for Essex, and Veron Eze scored 12 for the Lions.
On Sunday, the Rebels finished things off as they eased past Loughborough 96-88.
Newman continued his good form to finish with 29 points, with Ethan Price adding 19 more off the bench. Jonas Dieterich enjoyed a 25 point, 10 rebound double-double for Loughborough that included the highlight dunk below.
This weekend's results:
Saturday 27 March
1:30pm - Loughborough Riders 86-70 Bradford Dragons - LIVE STATS/ LIVE STREAM
3pm - Leicester Warriors 73-88 Oaklands Wolves - LIVE STATS
3pm - Essex Rebels 81-63 BA London Lions - LIVE STATS/LIVE STREAM
4pm - Team Newcastle University 91-105 Worthing Thunder - LIVE STATS/LIVE STREAM LOCATION
5pm - Hemel Storm 82-80 Reading Rockets - LIVE STATS/LIVE STREAM
6:30pm - Thames Valley Cavaliers 81-70 Team Solent Kestrels - LIVE STATS/LIVE STREAM
Sunday 28 March
3:30pm - Oaklands Wolves 88-92 Derby Trailblazers - LIVE STATS/ LIVE STREAM
3:30pm - Essex Rebels 96-88 Loughborough Riders - LIVE STATS/LIVE STREAM
Main image credit - Luke Simcock
.