Team Solent Kestrels are the 2020/21 NBL Division One regular season champions, sealing their third straight title this past weekend.
The Kestrels notched another D1M title following a win against Leicester on Saturday, with Thames Valley confirmed as second and Hemel third.
There were seven games across week 25, with some exciting basketball throughout as the regular season drew to a close.
There's a recap of all the action below, and each result is also clickable if you wish to view the live stats.
Solent do the three-peat
Solent beat Leicester 91-65 thanks to a 22 point, 10 rebound double-double from Player of the Year candidate Travis Charles.
The victory secured Solent's third regular season title in a row as the South coast side sealed the deal with a game to spare.
Anyone expecting Solent to blow Leicester out from the tip were made to wait, with the Warriors standing firm during the opening frame to trail by just two points at the first change.
The 12th placed side couldn't maintain that pace though as Solent moved through the gears, opening up a double digit lead by half time.
Strong play by Charles, Ian Smith (17pts) and Johnathan Lashley (11pts, 9reb) meant the Solent lead continued to grow after the break, passing the 20 point mark before the final quarter began.
Morakinyo Williams played well for Leicester, finishing with a game-high 27 points that earned the talented forward top spot in the  league's average points table with an impressive 25.3ppg.
Solent now have a bye week, along with second place Thames Valley, as part of the opening round of the NBL playoffs.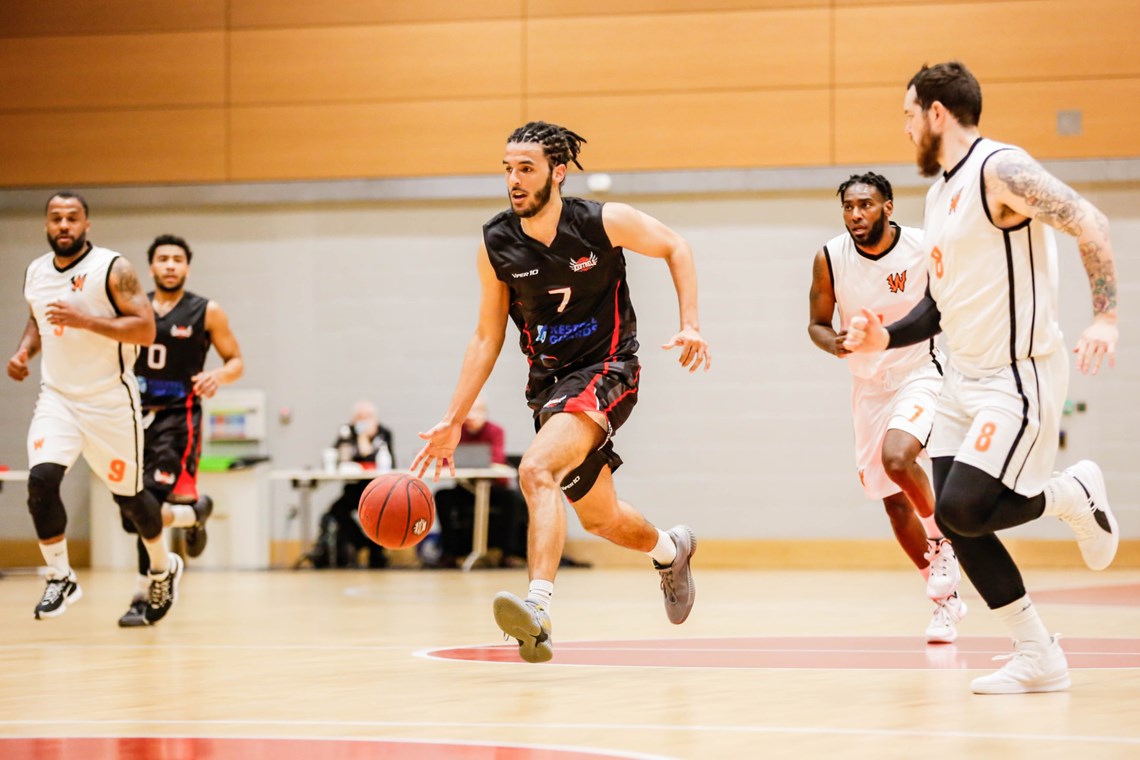 Elsewhere this weekend
In one of the games of the season, Thames Valley Cavaliers (17-2) overcame third place Hemel Storm (14-5) 97-91 after a period of OT.
In what was a thrilling contest throughout and packed with highlight plays, Hemel hit two three pointers in the final eight seconds to force OT, including a triple from Levi Noel with just two ticks to go.
Thames Valley would have the last laugh as they claimed the extra frame 8-2, but the contest was a fantastic advert for NBL basketball ahead of the impending post-season.
Mike Williams dropped an impressive 33 points for Storm, as 24 points and 17 boards from TVC's Hakeem Sylla secured the Cavs forward with a league-best 12.3RPG.
BA London Lions (7-12) finished their season with a win as they beat bottom side Nottingham Hoods (2-17) 84-69.
After an even first half, BA used a 22-13 third to set up the win behind a team-high 17 points from Edrick Okunola. Delaney Powell top scored for Nottingham with 19.
Elsewhere in the battle for ninth spot, Reading Rockets (7-12) lost in overtime 112-105 against Essex Rebels (9-10).
The defeat put the Rockets into a tie with Bradford and London on 14 points, but the Berkshire side held on to ninth by the narrowest of margins as their four point 76-72 victory over BA last Wednesday trumped the Lions' three point 82-79 win from earlier this season.
O'Showen Williams led the way for the hosts with 33 points, and Lee Hodges impressed for the Rebels with a 24 points, 13 rebound double-double.
Saturday night saw Derby Trailblazers (14-5) with an opportunity to lock up fourth spot, and the Midlands side did just that as they beat Loughborough Riders (8-11) 91-86.
The win meant Derby couldn't be caught by fifth place Newcastle, with young star Blake Bowman leading all scorers on 26.
That meant Team Newcastle University's (13-6) final game of the season against Bradford Dragons (7-12) was a dead rubber, but the game still contained plenty of excitement as the North East side won 78-75.
Trailing by five with two minutes remaining, Brandon Federici hit eight straight points including a triple on the buzzer to send the Knights back to the North-East happy, consigning Bradford to 11th spot in the process.
Federici and Ronald Blain both closed on 25 points, Andreas Lycoudis top scored for the Dragons with 17.
Likewise, Solent's final game of the season against Essex carried little meaning for the visitors, who rested a number of senior players on the way to a 84-79 defeat.
Without having to face the inside presence of Travis Charles, the Rebels scored 54 of their 84 points in the paint as forwards Ethan Price and Lee Hodges both finished on 17 points.
The victory pushed Essex into a tie with Worthing on 18 points, with the Rebels taking sixth place thanks to the head-to-head tiebreaker between the two sides.
This weekend's results:
Saturday 17 April
1pm - Team Solent Kestrels 91-65 Leicester Warriors - LIVE STATS/LIVE STREAM
2pm - Nottingham Hoods 69-84 BA London Lions - LIVE STREAM LOCATION
5pm - Hemel Storm 91-97 Thames Valley Cavaliers (After 1OT) - LIVE STATS/LIVE STREAM LOCATION
5:30pm - Derby Trailblazers 91-86 Loughborough Riders - LIVE STATS/LIVE STREAM
6pm - Reading Rockets 105-112 Essex Rebels (After 1OT) - LIVE STATS/LIVE STREAM LOCATION
Sunday 18 April
1pm - Essex Rebels 84-79 Team Solent Kestrels - LIVE STATS/LIVE STREAM
2pm - Bradford Dragons 75-78 Team Newcastle University - LIVE STATS/LIVE STREAM LOCATION
Main image credit - Luke Simcock
.